LINE GRAPH: A graph containing one or more lines or curves that are used to represent relations between two (or more) variables. A line graph is a useful method of illustrating scientific principles and hypotheses important for the economic analysis.



| | |
| --- | --- |
| Lesson 4: Production Possibilities | Unit 3: The Curve | Page: 12 of 24 |
---
---
The slope of the production possibilities frontier is opportunity cost.

What does this have to do with it's distinct, convex shape?
The reason is the law of increasing opportunity cost.
With few calibrators produced, opportunity cost is low and curve is flat.
With many calibrators produced, opportunity cost is high and slope is steep.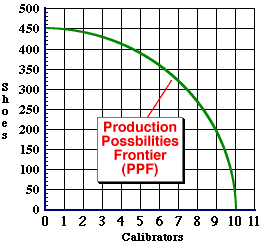 ---
| | |

WORLD VIEW

An aspect of a scientific theory that includes fundamental, and unverifiable, axioms, beliefs, and values about how the world works. One example of an unverifiable world view axiom is belief in the existence of a supreme, omnipotent, omniscience being--that is, God. Political philosophies, which are essential to economic theories and policies, are intertwined with alternative world views.




BEIGE MUNDORTLE
[What's This?]
Today, you are likely to spend a great deal of time browsing through a long list of dot com websites looking to buy either a set of steel-belted radial snow tires or a wall poster commemorating the 2000 Presidential election. Be on the lookout for crowded shopping malls.
Your Complete Scope

Francis Bacon (1561-1626), a champion of the scientific method, died when he caught a severe cold while attempting to preserve a chicken by filling it with snow.

"Man is born to live, not to prepare for life. "

-- Boris Pasternak, writer

OTC
Over the Counter

Tell us what you think about AmosWEB. Like what you see? Have suggestions for improvements? Let us know. Click the User Feedback link.