POLLUTION: Any waste that imposes an opportunity cost when it's returned to the natural environment. Pollution is one of the more prevalent examples of an externality cost and market failure. Examples include, but by no means are limited to, car exhaust, municipal sewage, industrial waste, and agricultural chemical runoff from farms. Pollution waste can be classified as degradable, persistent, or nondegradable, depending on how easily it can be broken down into nonharmful form by the natural environment. Pollution problems can never be eliminated, but they can be handled with efficiency if the amount of pollution is such that the cost of damages is the same as the cost of cleanup.



| | |
| --- | --- |
| Lesson 4: Production Possibilities | Unit 3: The Curve | Page: 12 of 24 |
---
---
The slope of the production possibilities frontier is opportunity cost.

What does this have to do with it's distinct, convex shape?
The reason is the law of increasing opportunity cost.
With few calibrators produced, opportunity cost is low and curve is flat.
With many calibrators produced, opportunity cost is high and slope is steep.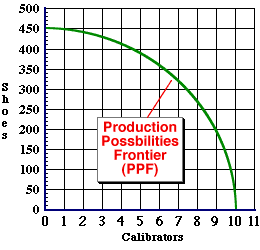 ---
| | |

AGGREGATE DEMAND DECREASE, LONG-RUN AGGREGATE MARKET

A shock to the long-run aggregate market caused by a decrease in aggregate demand resulting in and illustrated by a leftward shift of the aggregate demand curve. A decrease in aggregate demand in the long-run aggregate market results in an increase in the price level but no change in real production. The level of real production resulting from the aggregate demand shock is full-employment real production.


ORANGE REBELOON
[What's This?]
Today, you are likely to spend a great deal of time searching for a specialty store seeking to buy either a tall storage cabinet with five shelves and a secure lock or a birthday greeting card for your grandmother. Be on the lookout for a thesaurus filled with typos.
Your Complete Scope

A communal society, a prime component of Karl Marx's communist philosophy, was advocated by the Greek philosophy Plato.

"Now is the only time there is. Make your now wow, your minutes miracles, and your days pay. Your life will have been magnificently lived and invested, and when you die you will have made a difference."

-- Mark Victor Hansen

IRR
Internal Rate of Return

Tell us what you think about AmosWEB. Like what you see? Have suggestions for improvements? Let us know. Click the User Feedback link.