TECHNOLOGY: The sum total of knowledge and information that society has acquired concerning the use of resources to produce goods and services. This technology often takes the form of scientific knowledge (the best combination of chemicals to make a long-lasting floor wax), but can also be plain old common sense (irrigate during a drought, not during a flood). Whether scientific or not, technology affects the technical efficiency with which resources are combined in production. An improvement in technology is thus an increase in the technical efficiency of production--more output with given inputs or fewer inputs for a given output. Technology is often embodied in capital goods. Bigger, better, faster, and less expensive computers are the result of advances in silicon chip technology. However, technology is also embodied in labor as human capital.



| | |
| --- | --- |
| Lesson 4: Production Possibilities | Unit 3: The Curve | Page: 12 of 24 |
---
---
The slope of the production possibilities frontier is opportunity cost.

What does this have to do with it's distinct, convex shape?
The reason is the law of increasing opportunity cost.
With few calibrators produced, opportunity cost is low and curve is flat.
With many calibrators produced, opportunity cost is high and slope is steep.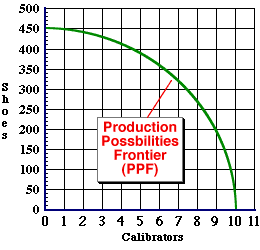 ---
| | |

PRINCIPLE

A generally accepted, verified, proven, fundamental law of nature. A principle captures a cause-and-effect relation about the workings of the world that has been tested and verified through the scientific method. The law of demand, law of increasing opportunity cost, and law of diminishing marginal utility are three fundamental (and extremely important) economic principles.


RED AGGRESSERINE
[What's This?]
Today, you are likely to spend a great deal of time visiting every yard sale in a 30-mile radius wanting to buy either a key chain with a built-in flashlight and panic button or a green and yellow striped sweater vest. Be on the lookout for malfunctioning pocket calculators.
Your Complete Scope

Helping spur the U.S. industrial revolution, Thomas Edison patented nearly 1300 inventions, 300 of which came out of his Menlo Park "invention factory" during a four-year period.

"A stumble may prevent a fall. "

-- Margaret Thatcher, British prime minister

ATO
At The Opening

Tell us what you think about AmosWEB. Like what you see? Have suggestions for improvements? Let us know. Click the User Feedback link.