CENTRAL PLANNING: A system of extensive central government control of an economy, including organizing production and making allocation decisions. This was the popular method of allocating resources and answering the three basic questions of allocation under the communism/socialism economic systems of the Soviet Union, China, and others during the 1950s, 1960s, and 1970s. Applying the communist/socialist philosophy that private property and market allocation were "bad," central planning relied on extremely detailed plans made by government. These plans would set specific production quotas for individual products, parts, components, and inputs fabricated by all of the factories and farms across the economy. This was a daunting, complex task that required detailed production information for hundreds of thousands of different commodities.



| | |
| --- | --- |
| Lesson 4: Production Possibilities | Unit 3: The Curve | Page: 12 of 24 |
---
---
The slope of the production possibilities frontier is opportunity cost.

What does this have to do with it's distinct, convex shape?
The reason is the law of increasing opportunity cost.
With few calibrators produced, opportunity cost is low and curve is flat.
With many calibrators produced, opportunity cost is high and slope is steep.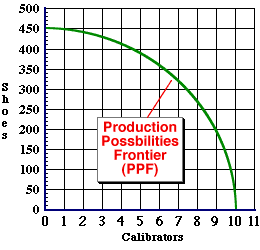 ---
| | |

AXIOM

A basic precondition or assumption underlying a theory. Axioms are basic, unverifiable world view assumptions--including personal beliefs, political views, and cultural values--that form the foundation of a theory.


PINK FADFLY
[What's This?]
Today, you are likely to spend a great deal of time browsing through a long list of dot com websites hoping to buy either a T-shirt commemorating Thor Heyerdahl's Pacific crossing aboard the Kon-Tiki or a wall poster commemorating the 2000 Olympics. Be on the lookout for a thesaurus filled with typos.
Your Complete Scope

Before 1933, the U.S. dime was legal as payment only in transactions of $10 or less.

"When I stand before God at the end of my life, I would hope that I would not have a single bit of talent left, and could say, "I used everything you gave me.¾"

-- Erma Bombeck, writer

BIS
Bank for International Settlements

Tell us what you think about AmosWEB. Like what you see? Have suggestions for improvements? Let us know. Click the User Feedback link.