INDUCED CONSUMPTION: Household consumption expenditures that depend on income or production (especially disposable, national income, or gross national product). An increase in household disposable income triggers an increase in induced consumption expenditures. Induced consumption is graphically depicted as the slope of the consumption or propensity-to-consume line, and are measured by the marginal propensity to consume. The induced relation between income and consumption, as well as other induced expenditures, form the foundation of the multiplier effect triggered by changes in autonomous expenditures.



| | |
| --- | --- |
| Lesson 4: Production Possibilities | Unit 3: The Curve | Page: 12 of 24 |
---
---
The slope of the production possibilities frontier is opportunity cost.

What does this have to do with it's distinct, convex shape?
The reason is the law of increasing opportunity cost.
With few calibrators produced, opportunity cost is low and curve is flat.
With many calibrators produced, opportunity cost is high and slope is steep.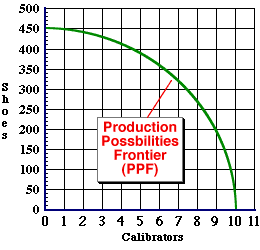 ---
| | |

INCOME ELASTICITY OF DEMAND

The relative response of a change in demand to a change in income. More specifically the income elasticity of demand is the percentage change in demand due to a percentage change in buyers' income. This notion of elasticity captures the buyers' income demand determinant. Three other notable elasticities are the price elasticity of demand, the price elasticity of supply, and the cross elasticity of demand.


BEIGE MUNDORTLE
[What's This?]
Today, you are likely to spend a great deal of time going from convenience store to convenience store hoping to buy either blue cotton balls or a genuine down-filled pillow. Be on the lookout for celebrities who speak directly to you through your television.
Your Complete Scope

A U.S. dime has 118 groves around its edge, one fewer than a U.S. quarter.

"Sometimes when you innovate, you make mistakes. It is best to admit them quickly and get on with improving your other innovations. "

-- Steve Jobs, Apple Computer founder

GAB
General Agreements to Borrow

Tell us what you think about AmosWEB. Like what you see? Have suggestions for improvements? Let us know. Click the User Feedback link.