Today's Index
Yesterday's Index
249.2


Help us compile the AmosWEB Free Lunch Index. Tell us about your last lunch.

More About the Index

Favorite compass direction?

ANDEAN COMMUNITY: The Andean Community (CAN) is a subregional organization endowed with an international legal status, which is made up of Bolivia, Colombia, Ecuador, Peru and Venezuela. The main objectives of the Andean Community are to promote the balanced and harmonious development of the member countries under equitable conditions, to boost their growth through integration and economic and social cooperation and to enhance participation in the regional integration process with a view to the progressive formation of a Latin American common market. The Andean Community started operating on August 1, 1997 with a General Secretariat, whose headquarters are in Lima (Peru), as its executive body.




























TOTAL PRODUCT CURVE:
A curve that graphically represents the relation between total production by a firm in the short run and the quantity of a variable input added to a fixed input. When constructing this curve, it is assumed that total product changes from changes in the quantity of a variable input (like labor), while other inputs (like capital) are fixed. This is one of three key product curves used in the analysis of short-run production. The other two are marginal product curve and average product curve.
The total product curve illustrates how total product is related to a variable input. While the standard analysis of short-run production relates total product to the variable use of labor, a total product curve can be constructed for any variable input. A more general mathematical concept capturing the relation between total product and its assorted inputs, both variable and fixed, can be found in the production function.

Total Product Curve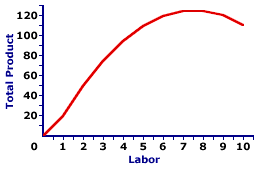 The graph at the right pictorially represents the relation between total product and the variable input. This particular curve is the hourly production of Super Deluxe TexMex Gargantuan Tacos (with sour cream and jalapeno peppers) as Waldo's TexMex Taco World restaurant employs additional workers. The number of workers, measured on the horizontal axis, ranges from 0 to 10 and the total production of Gargantuan Tacos, measured on the vertical axis, ranges from 0 to 125.

The most distinctive feature is the shape of this total product curve. The curve emerges steeply from the origin (no workers produce no tacos), then begins to flatten, and eventually drops off. The curve reaches its peak of 125 Gargantuan Tacos at both 7 and 8 workers.

To the left of this peak, extra workers increase the production of tacos and to the right extra workers reduce total taco production.

While it might not be totally obvious from the diagram, the slope of this curve becomes increasingly steeper for the first two workers, then gradually flattens for the next five workers before finally turning negative. The changing slope of this curve is the direct result of increasing marginal returns that gives way to decreasing marginal returns and the law of diminishing marginal returns.

One reason to take note of the shape of this curve is that other "natural" relations, both within economics and beyond, follow a similar pattern. A graph of the total utility derived from the consumption of several Hot Momma Fudge Bananarama Ice Cream Sundaes has a similar shape. So too does the plot of a person's life cycle of total income by age. In fact, this curve can be used to represent the life cycle of many natural phenomena, such as the growth of a tree, the public's adoption of a new product innovation, or the number of weeds in Duncan Thurly's backyard as spring days turn to summer.




---
Recommended Citation:

TOTAL PRODUCT CURVE, AmosWEB Encyclonomic WEB*pedia, http://www.AmosWEB.com, AmosWEB LLC, 2000-2014. [Accessed: April 16, 2014].
---
Check Out These Related Terms...

| | | | | | | | | |
---
Or For A Little Background...

| | | | | | | | | | | | | |
---
And For Further Study...

| | | | | | | | | | |
---
Search Again?


State of the ECONOMY

U 6 Unemployment
February 2014
12.6% Down a little from January
Includes those who have given up looking. BLS

GREEN LOGIGUIN
[What's This?]
Today, you are likely to spend a great deal of time strolling around a discount warehouse buying club wanting to buy either software that won't crash your computer or any book written by Stephan King. Be on the lookout for defective microphones.
Your Complete Scope

Rosemary, long associated with remembrance, was worn as wreaths by students in ancient Greece during exams.

"Divide each difficulty into as many parts as is feasible and necessary to resolve it."

-- Rene Descartes

JLEO
Journal of Law, Economics and Organization

Tell us what you think about AmosWEB. Like what you see? Have suggestions for improvements? Let us know. Click the User Feedback link.