GROSS DOMESTIC PRODUCT, EXPENDITURES: A method of estimating gross domestic product (GDP) based on identifying the aggregate expenditures (consumption, investment, government purchases, and net exports) made by the four basic macroeconomic sectors (household, business, government, and foreign). This is one of two methods used by the Bureau of Economic Analysis in the National Income and Product Accounts to estimate gross domestic product.




























AVERAGE PRODUCT CURVE:
A curve that graphically illustrates the relation between average product and the quantity of the variable input, holding all other inputs fixed. This curve indicates the per unit output at each level of the variable input. The average product curve is one of three related curves used in the analysis of the short-run production of a firm. The other two are total product curve and marginal product curve.
The average product curve illustrates how average product is related to a variable input. While the standard analysis of short-run production relates average product to labor, an average product curve can be constructed for any variable input.

Average Product Curve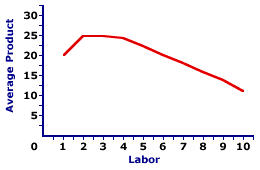 The diagram to the right graphically represents the relation between average product and the variable input. This particular curve is derived from the hourly production of Super Deluxe TexMex Gargantuan Tacos (with sour cream and jalapeno peppers) as Waldo's TexMex Taco World restaurant employs additional workers. The number of workers, measured on the horizontal axis, ranges from 0 to 10 and the average Gargantuan Taco production per worker, measured on the vertical axis, ranges from 0 to 25.

The shape of this average product curve is worth noting. For the first two workers of variable input, average product increases. This is reflected in a positive slope of the average product curve. After the third worker, the average product declines. This is seen as a negative slope. While average product continues to decline, it never reaches zero nor becomes negative. To do so would require total product to become zero and negative, which just does not happen.

The hump-shape of the average product curve indirectly results from increasing and decreasing marginal returns. The upward-sloping portion of the average product curve, up to the second worker, is indirectly due to increasing marginal returns. The downward-sloping portion of the average product curve, after the third worker, is indirectly due to decreasing marginal returns. and the law of diminishing marginal returns.




---
Recommended Citation:

AVERAGE PRODUCT CURVE, AmosWEB Encyclonomic WEB*pedia, http://www.AmosWEB.com, AmosWEB LLC, 2000-2023. [Accessed: February 4, 2023].
---
Check Out These Related Terms...

| | | | | | | | | |
---
Or For A Little Background...

| | | | | | | | | | | | | |
---
And For Further Study...

| | | | | | | |
---
Search Again?


WHITE GULLIBON
[What's This?]
Today, you are likely to spend a great deal of time visiting every yard sale in a 30-mile radius hoping to buy either a large flower pot shaped like a Greek urn or a small palm tree that will fit on your coffee table. Be on the lookout for rusty deck screws.
Your Complete Scope

The first "Black Friday" on record, a friday marked by a major financial catastrophe, occurred on September 24, 1869 -- A FRIDAY -- when an attempted cornering of the gold market induced a financial crises and economy-wide depression.

"The greater danger for most of us is not that our aim is too high and we miss it, but that it is too low and we reach it."

-- Michelangelo Buonarroti, Painter and Sculptor

APT
Arbitrage Pricing Theory

Tell us what you think about AmosWEB. Like what you see? Have suggestions for improvements? Let us know. Click the User Feedback link.