RETAINED EARNINGS: Officially termed undistributed corporate profits, these are corporate profits that are neither paid as corporate profits taxes nor paid to shareholders as dividends. Undistributed corporate profits are important for the derivation of personal income from national income. Because undistributed corporate profits are income that is earned by the shareholders, but not received, it falls in the general category of income earned but not received (IEBNR), and is subtracted from national income in the derivation of personal income.





























ARC ELASTICITY:
The average elasticity for discrete changes in two variables. The distinguishing characteristic of arc elasticity is that percentage changes are calculated based on the average of initial and ending values of each variable, rather than initial values. Arc elasticity is generally calculated using the midpoint elasticity formula. The contrast to arc elasticity is point elasticity. For infinitesimally small changes in two variables, arc elasticity is the same as point elasticity.
Arc elasticity is best considered the average elasticity over a range of values for a relation. Like any average, some values within the range are likely to be greater and some less. However, it provides a quick approximation of elasticity when more precise and sophisticated calculation techniques are not possible.
Working Through an Example
A Standard Demand Curve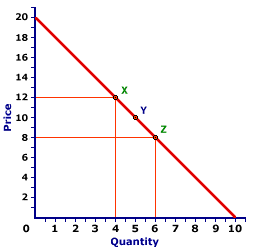 The demand curve displayed to the right can be used to illustrate the measurement of arc elasticity using the midpoint elasticity formula. If the price declines from $12 to $8, the quantity demanded increases from 4 to 6, from point X to point Z. Using this midpoint formula (with price designated as P and quantity designated as Q) average price elasticity of demand is:
midpoint
elasticity
=
(Q[Z] - Q[X])

---

(Q[Z] + Q[X])/2
÷
(P[Z] - P[X])

---

(P[Z] + P[X])/2

midpoint
elasticity
=
(6 - 4)

---

(6 + 4)/2
÷
(8 - 12)

---

(8 + 12)/2
=
(2)

---

(5)
÷
(-4)

---

(10)

midpoint
elasticity
=
0.4
÷
-0.4
=
-1.0
Ignoring the minus sign, the price elasticity of demand over this segment of the demand curve from X to Z is 1.0.
An Average Value
This value of 1.0 is actually an average for the entire range between points X and Z. Precise estimates of point elasticity shows that the elasticity is 0.67 at point X and 1.5 at point Z. Moreover, the elasticity is different at each point on a straight line demand curve such as this one. The only point in which the elasticity is exactly equal to 1.0 is at point Y, the midpoint between X and Z.

This last observation is worth emphasizing. The midpoint elasticity formula effectively estimates the point elasticity at the very midpoint of the overall segment. This means that the elasticity of any point on a demand curve (point elasticity) can be obtained by calculating the arc elasticity with the midpoint elasticity formula such that the desired point is dead center in the middle, the midpoint of the arc.




---
Recommended Citation:

ARC ELASTICITY, AmosWEB Encyclonomic WEB*pedia, http://www.AmosWEB.com, AmosWEB LLC, 2000-2023. [Accessed: November 29, 2023].
---
Check Out These Related Terms...

| | | | | |
---
Or For A Little Background...

| | | | | |
---
And For Further Study...

| | | | | |
---
Search Again?




BEIGE MUNDORTLE
[What's This?]
Today, you are likely to spend a great deal of time lost in your local discount super center hoping to buy either hand lotion, a big bottle of hand lotion or a lighted magnifying glass. Be on the lookout for gnomes hiding in cypress trees.
Your Complete Scope

Paper money used by the Commonwealth of Massachusetts prior to the U.S. Revolutionary War, which was issued against the dictates of Britain, was designed by patriot and silversmith, Paul Revere.

"The world is not dangerous because of those who do harm but because of those who look at it without doing anything. "

-- Albert Einstein, physicist

ITO
International Trade Organization

Tell us what you think about AmosWEB. Like what you see? Have suggestions for improvements? Let us know. Click the User Feedback link.