EXPORTS:
Goods and services produced by the domestic economy and purchased by the foreign sector. Exports are goods sold to other countries. Exports are the counter to imports--goods produced by the foreign sector and purchased by domestic economy. Exports, together with imports, are the essence of foreign trade--goods and services that are traded among the citizens of different nations. Exports and imports are frequently combined into a single term, net exports (exports minus imports).
Exports are goods and services that the domestic business sector sells to the foreign sector. In most cases, exports are tangible goods that are physically shipped to the foreign sector for purchase within the boundaries of other countries. In some cases, though, exports are tangible goods or intangible services that are actually purchased and consumed by foreign citizens in the domestic economy.
Foreign Selling
The domestic business sector sells exports to the foreign sector. Examples of export purchases can be had with a look at Shady Valley.
A World of Trade
Exports are one half of the trade that takes place among countries. The other half is imports--goods and services produced by the foreign sector and purchased by the domestic economy. In fact, exports and import are two perspectives on the same basic process. The export of one country is the import of another.

To see how exports fit into the world of global trade, consider a few notions:
A Circular Flow Injection
The Circular Flow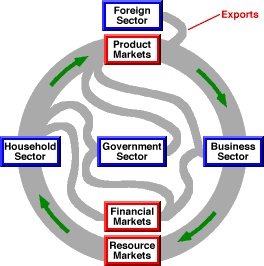 The role that exports play in the macroeconomy can be illustrated by the circular flow model. The circular flow captures the continuous movement of production, consumption, income, and factor payments between producers and consumers.

A basic representation of the circular flow is displayed to the right. The components of this model are the four macroeconomic sectors--household, business, government and foreign--and the three macroeconomic markets--product, resource, and financial.

Exports are the payment flow from the foreign sector to the domestic business sector in exchange for the physical flow of goods and services from the domestic business sector to the foreign sector. The key implication from the circular flow analysis is that an increase in exports EXPANDS the total volume contained in the domestic flow. That is, exports are considered an injection into the circular flow.

This expanded volume has two important, interrelated implications:
The Good and The Bad
The circular flow indicates that exports inject income into the domestic economy. This is good. However, not all is good with exports. Like much of life, exports have both good and bad.


---
Recommended Citation:

EXPORTS, AmosWEB Encyclonomic WEB*pedia, http://www.AmosWEB.com, AmosWEB LLC, 2000-2023. [Accessed: January 26, 2023].
---
Check Out These Related Terms...

| | | | | | | | | |
---
Or For A Little Background...

| | |
---
And For Further Study...

| | | | | | | | | |
---
Related Websites (Will Open in New Window)...

| | | |
---
Search Again?