MARGINAL COST CURVE: A curve that graphically represents the relation between marginal cost incurred by a firm in the short-run product of a good or service and the quantity of output produced. This curve is constructed to capture the relation between marginal cost and the level of output, holding other variables, like technology and resource prices, constant. The marginal cost curve is U-shaped. Marginal cost is relatively high at small quantities of output, then as production increases, declines, reaches a minimum value, then rises. This shape of the marginal cost curve is directly attributable to increasing, then decreasing marginal returns (and the law of diminishing marginal returns).





























COLLUSION, EFFICIENCY:
Colluding oligopolistic firms generally produce less output and charge a higher price than would be the case for a perfectly competitive industry. The efficiency of colluding oligopolistic firms is essentially the same as that for monopoly. In essence, colluding oligopolistic firms function just as if the market is a monopoly. The price charged by the colluding firms is higher than the marginal cost of production and the quantity is less. Most notably, price is greater than marginal, a violation of the key condition for efficiency.
The reason that colluding oligopolistic firms are inefficient is found with market control. Because the colluding firms control the market like a monopoly, the market demand curve is THE demand curve facing the colluding firms. Because the demand curve is negatively sloped, price is greater than marginal revenue. And because these firms seek to maximize industry-wide profit by equating marginal revenue with marginal cost, the price charged is greater than marginal cost.
Profit Maximization
Collusion Inefficiency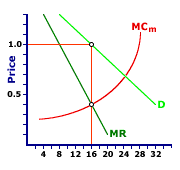 Consider the hypothetical production and sale of soft drinks in the Shady Valley area, controlled by two colluding oligopolistic firms, OmniCola and Juice-Up.

A typical profit-maximizing output determination using the marginal revenue and marginal cost approach is presented in this diagram to the right. OmniCola and Juice-Up seek to maximize profit for this two-firm industry by producing output that equates industry-wide marginal revenue (MR) and industry-wide marginal cost (MCm), which is 16,000 cans of soft drinks in this example. The corresponding price charged is $1 per can.

This profit-maximizing production is not efficient. In particular, the price is $1, but the marginal cost is only $0.40. Society is producing and consuming a good that it values at $1 (the price). However, in so doing, it is using resources that could have produced other goods valued at $0.40 (the marginal OPPORTUNITY cost). Society gives up $0.40 worth of value and receives $1.

This is a good thing. It is so good, that society should do more. However, the colluding firms are not letting this happen. They are not devoting as many resources to the production of soft drinks as society would like.
An Efficient Alternative
The degree of inefficiency can be illustrated with a comparison to perfect competition. Such a comparison is easily accomplished by clicking the [Perfect Competition] button. A primary use of perfect competition is to provide a benchmark for the comparison with other market structures, such as colluding oligopolistic firms.

A comparison between these colluding oligopolistic firms and perfect competition indicates:
The colluding firms produce less output than perfect competition. In this example, they produce 16,000 cans of soft drinks compared to about 24,250 cans for perfect competition. The colluding firms do not allocate enough resources to the production of soft drinks.


The colluding firms charge a higher price than perfect competition. In this example, the collusion price is $1 per can versus $0.69 per can for perfect competition. The colluding firms are NOT efficient because they produce at a quantity in which price is greater than marginal cost.

---
Recommended Citation:

COLLUSION, EFFICIENCY, AmosWEB Encyclonomic WEB*pedia, http://www.AmosWEB.com, AmosWEB LLC, 2000-2022. [Accessed: November 26, 2022].
---
Check Out These Related Terms...

| | | |
---
Or For A Little Background...

| | | | | | | | | | |
---
And For Further Study...

| | | |
---
Search Again?




BLACK DISMALAPOD
[What's This?]
Today, you are likely to spend a great deal of time at the confiscated property police auction wanting to buy either a birthday gift for your uncle or a pair of red and purple designer socks. Be on the lookout for mail order catalogs with hidden messages.
Your Complete Scope

Parker Brothers, the folks who produce the Monopoly board game, prints more Monopoly money each year than real currency printed by the U.S. government.

"There is more to life than increasing its speed. "

-- Mohandas Gandhi, activist

TSE
Tokyo Stock Exchange

Tell us what you think about AmosWEB. Like what you see? Have suggestions for improvements? Let us know. Click the User Feedback link.