OAS: (Organization of American States ) In 1948, 21 nations of the hemisphere met in Bogota, Colombia, to adopt the Charter of the Organization of American States (OAS). Since then, the OAS has expanded to include the nations of the Caribbean, as well as Canada. Currently, all 35 independent countries of the Americas have ratified the OAS Charter and belong to the Organization. Cuba remains a member, but its government has been excluded from participation in the OAS since 1962. The OAS is the region's premier political forum for multilateral dialogue and action. Among OAS' major goals they work for strengthening freedom of speech and thought as a basic human right, promoting greater participation by civil society in decision-making at all levels of government, improving cooperation to address the problem of illegal drugs and supporting the process to create a Free Trade Area of the Americas.



| | |
| --- | --- |
| Lesson 4: Production Possibilities | Unit 3: The Curve | Page: 12 of 24 |
---
---
The slope of the production possibilities frontier is opportunity cost.

What does this have to do with it's distinct, convex shape?
The reason is the law of increasing opportunity cost.
With few calibrators produced, opportunity cost is low and curve is flat.
With many calibrators produced, opportunity cost is high and slope is steep.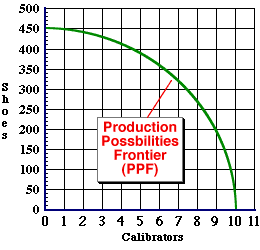 ---
| | |

EMPLOYED

The condition in which a resource (especially labor) is actively engaged in a productive activity usually in exchange for an explicit factor payment (such as wage or salary). This general condition forms the conceptual basis for one of the three categories used by the Bureau of Labor Statistics (BLS) to classify an individual's labor force status. The specific BLS classification is employed persons. The other two BLS categories are unemployed persons and not in the labor force.


PINK FADFLY
[What's This?]
Today, you are likely to spend a great deal of time calling an endless list of 800 numbers wanting to buy either a wall poster commemorating the first day of winter or blue cotton balls. Be on the lookout for rusty deck screws.
Your Complete Scope

Rosemary, long associated with remembrance, was worn as wreaths by students in ancient Greece during exams.

"A leader, once convinced that a particular course of action is the right one, must . . . be undaunted when the going gets tough."

-- President Ronald Reagan

CPI
Consumer Price Index

Tell us what you think about AmosWEB. Like what you see? Have suggestions for improvements? Let us know. Click the User Feedback link.