ARP: The abbreviation for average revenue product, which is total revenue generated per unit of a variable input, keeping all other inputs unchanged. Average revenue product, usually abbreviated ARP, is found by dividing total revenue by the variable input. Average revenue product is most often used in the analysis of the demand for productive inputs.





























MARGINAL BENEFIT OF SEARCH:
The incremental benefit generated by additional search effort is the marginal benefit of search. Marginal benefit of search, also termed marginal search benefit, is comparable to marginal revenue of short-run production analysis and marginal utility of consumer demand theory. Marginal benefit of search decreases with an increase in search effort and is represented by the marginal benefit of search curve. This is one half of the efficient information search decision. The other is marginal cost of search.
Marginal benefit of search is the additional benefit generated through extra effort directed toward the production of, or search for, information. The benefit of information search includes lower prices, new production techniques, and the intrinsic satisfaction of knowing. The extra benefit generated by search effort decreases with the amount of search. With enough search effort the marginal benefit of search declines to zero.

The marginal benefit of search is combined with the marginal cost of search to identify the efficient amount of information search. Acquiring information is beneficial, but doing so incurs a cost. Information is produced. Information is consumed. Efficiency is achieved by equating the incremental opportunity cost incurred in the production or acquisition of information (marginal cost of search) with the increment benefit generated from the information (marginal benefit of search).
Benefit Sources
The Curve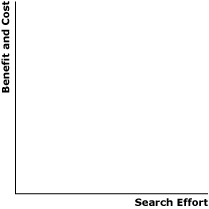 One half of the efficient search decision depends on the benefit generated by the information. This is embodied in the marginal benefit of search. Information search generates several different types of benefit:
Price Differentials: One benefit generated by search effort is uncovering lower prices. To the extent that price differentials exist for a product, search effort is more beneficial. If, for example, the price of Wacky Willy Stuffed Amigos varies from $4.95 to $5.00, search effort can generate only up to $0.05 in saving benefit. Alternatively, if the price ranges from $1.00 to $10.00, then search effort can generate up to $9.00 in saving.


Total Expense: Related to price differentials is the total expenditure on a good. More expensive goods are likely to have greater absolute price differentials that less expensive goods. For example, a 10% price differential for a $20,000 OmniMotors XL GT 9000 generates a larger absolute value ($2,000) and is potentially more beneficial than the same proportional differential on a $5.00 Wacky Willy Stuffed Amigo ($0.50).


Purchase Frequency: Because the overall saving is greater, goods purchased more frequently generate greater search effort benefits than those purchased less frequently. Saving $0.05 on the daily purchase of a cup of coffee, for example, generates greater total search benefit ($18.25) than saving $10 on a pair of shoes purchased once a year.


Price Fluctuations: Also related to price differentials is fluctuations in prices. A good with readily steady and consistent prices generates less search benefit than one that fluctuates more. Because the price of fresh peaches fluctuates between growing and non-growing seasons, search benefit is greater than for canned peaches with a more stable price.


Production Techniques: On the production side, variation in production techniques or technology also affects search benefit. Goods that employ a wide variety of techniques or are subject to technological advances provide greater search benefit. For example, searching for new ways to manufacture a cell phone, with constantly evolving technology, is bound to prove more beneficial that new ways to make a stuffed animal.


Satisfaction Differentials: Lastly, individual preferences generate differential search benefit. Some people are naturally more curious than others and obtain greater intrinsic satisfaction from information.
Marginal benefit of search decreases with an increase in search effort. For example, the first hour spent searching for the best price of Wacky Willy Stuffed Amigos might generate a range of different prices, from a high of $7 to a low of $5, resulting in a beneficial saving of $2. An additional hour of search might reveal a new low price of $4, for a marginal benefit of $1. Further search effort provides incrementally smaller benefits until no lower prices are revealed and the marginal benefit is zero.
Marginal Benefit of Search Curve
The marginal benefit of search is represented by the negatively-sloped marginal benefit curve. Click the [MBS] button to reveal this curve. The MBS curve is negatively-sloped like a standard market demand curve.


---
Recommended Citation:

MARGINAL BENEFIT OF SEARCH, AmosWEB Encyclonomic WEB*pedia, http://www.AmosWEB.com, AmosWEB LLC, 2000-2023. [Accessed: December 3, 2023].
---
Check Out These Related Terms...

| | | | | | | | | | |
---
Or For A Little Background...

| | | | | | | | | | |
---
And For Further Study...

| | | | | | | | | | | | | | | |
---
Search Again?




PURPLE SMARPHIN
[What's This?]
Today, you are likely to spend a great deal of time at a garage sale seeking to buy either a birthday greeting card for your grandmother or a coffee cup commemorating yesterday. Be on the lookout for florescent light bulbs that hum folk songs from the sixties.
Your Complete Scope

Natural gas has no odor. The smell is added artificially so that leaks can be detected.

"If a man hasn't discovered something that he will die for, he isn't fit to live. "

-- Martin Luther King Jr., clergyman

GLS
Generalized Least Squares

Tell us what you think about AmosWEB. Like what you see? Have suggestions for improvements? Let us know. Click the User Feedback link.