ADB: An abbreviation that stands for either the African Development Bank the Asian Development Bank. The African Development Bank is a regional multilateral development institution engaged in promoting the economic development and social progress of its member countries in Africa. The Bank, established in 1964, started functioning in 1966 with its Headquarters in Abidjan, Cote d' lvoire. The Bank borrows funds from the international money and capital markets. Its shareholders are the 53 countries in Africa as well as 24 countries in the Americas, Europe, and Asia. The Asian Development Bank is a multilateral development finance institution dedicated to reducing poverty in Asia and the Pacific that engages in mostly public sector lending for development purposes in its developing member countries. They pursue this goal by helping to improve the quality of people's lives providing loans and technical assistance for a broad range of development activities. ADB raises fund through bond issues on the world's capital markets but they also rely on members' contributions. The ADB was established in 1966 and has its headquarters in Manila, Philippines. As of September of 2003, the ADB had 58 member countries.





























MARKET SUPPLY:
The combined supply of everyone willing and able to sell a good in a market. Market supply is one half of the market. The other is market demand. It is graphically represented by a positively-sloped market supply curve, which can be derived by combining, or adding, the individual supplies of every seller in the market.
Market supply captures the selling side of a market exchange. Guided by the law of supply, sellers are willing and able to sell a larger quantity at a higher price. This relation is illustrated by an upward-sloping market supply curve.
The Market Supply Curve
Market Supply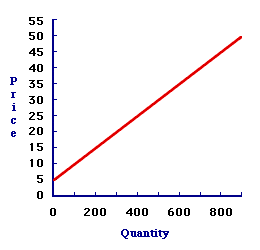 Market supply primarily focuses on the one-to-one relation between the supply price and the quantity supplied. The quantity supplied at higher prices is more than the quantity supplied at lower prices.

A representative market supply curve is illustrated in this exhibit. Note that the curve, or line, has a positive slope. At a relatively low price of $10, the quantity supplied is 100. At a relatively higher price of $40, the quantity supplied is 700.
A Few Determinants
While market supply focuses on the relation between supply price and quantity supplied, it is also affected by the five ceteris paribus supply determinants: (1) resource prices, (2) production technology, (3) the prices of substitute or complement goods, (4) sellers' expectations, and (5) the number of sellers in the market. While a change in supply price causes a change in quantity supplied (a movement along a given market supply curve), a change in any of these five supply determinants causes a change in supply (a shift or repositioning of the market supply curve).
Deriving Market Supply
Market supply is the combined supply of every seller in the market. It is derived by adding the quantity supplied by each seller at different prices. Suppose, for example, that the Shady Valley market for crab puffs contains three sellers--MegaMart Discount Super Center, The Corner Store, and Harry's Hor D'oeuvres. The quantity that each is willing and able to sell at a range of prices is illustrated in this table.

Market Supply
the Numbers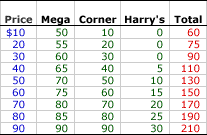 MegaMart provides an ample supply of crab puffs. At the price of 10 cents each, it is willing and able to sell 50 crab puffs. However, as the price rises, the quantity it is willing and able to sell increases (reflecting the law of supply). The Corner Store is a second crab puff seller in town. At a 10 cent price, it is willing and able to sell 10 crab puffs. This quantity supplied also increases at higher prices. Harry's Hor D'oeuvres is less proficient at crab puff production and supply. At a 10 cent price, it does not supply crab puffs. It is able to supply 5 crab puffs at a 40 cent price and quantity supplied increases as the price rises.

The total market supply for crab puffs in Shady Valley is the combined supply of these three sellers. If, for example, the market price is 10 cents, the market supply is 60 crab puffs. This is the sum of 50 from MegaMart, 10 from The Corner Store, and 0 from Harry's Hor D'oeuvres. Each quantity in the far right column of the table is derived in a similar fashion. If the market price is 70 cents, then the market supply is 170 crab puffs, the sum of 80 from MegaMart, 70 from The Corner Store, and 20 from Harry's Hor D'oeuvres.

While this market supply is the combination of only three sellers, the procedure for deriving market supply is the same for markets with hundreds, thousands, or even millions of sellers. Market supply is derived by adding the quantities supplied of all sellers at every price.
Other Supplies
The term "market supply" is often used synonymously with the term "supply." When economists speak of "supply" they are usually referring to "market supply." When the term "market" is added as a modifier to "supply," it is done so to focus attention on the combined supply of ALL sellers in the market. In contrast, the unmodified term "supply" could refer to individual supply, market supply, or some other general notion of supply.

Adding "market" to "supply" also sets this phrase apart from other special types of "supply." A short list includes aggregate supply, which is the total production of goods and services in the macroeconomy; factor supply, which is the supply of the services of the factors of production; and money supply, which is the total amount of money circulating around the economy.


---
Recommended Citation:

MARKET SUPPLY, AmosWEB Encyclonomic WEB*pedia, http://www.AmosWEB.com, AmosWEB LLC, 2000-2023. [Accessed: September 30, 2023].
---
Check Out These Related Terms...

| | | | | | |
---
Or For A Little Background...

| | | | | | |
---
And For Further Study...

| | | | | | | | | | | |
---
Search Again?




BROWN PRAGMATOX
[What's This?]
Today, you are likely to spend a great deal of time wandering around the shopping mall seeking to buy either a coffee cup commemorating the 1960 Presidential election or a how-to book on fixing your computer, with illustrations. Be on the lookout for jovial bank tellers.
Your Complete Scope

Francis Bacon (1561-1626), a champion of the scientific method, died when he caught a severe cold while attempting to preserve a chicken by filling it with snow.

"I believe that every right implies a responsibility, every opportunity, an obligation, every possession, a duty. "

-- John D. Rockefeller, industrialist

AGI
Adjusted Gross Income

Tell us what you think about AmosWEB. Like what you see? Have suggestions for improvements? Let us know. Click the User Feedback link.