RESERVATION PRICE: The lowest price at which a supplier is willing to supply any amount of a good. This is usually based on the minimum cost of production. For labor, it's the lowest wage that makes it worthwhile to get up in the morning, miss your favorite daytime television shows, and go to work.





























SELLERS' MARKET:
A disequilibrium condition in a competitive market that has a shortage or excess demand. Because the quantity demanded is greater than the quantity supplied, sellers have the "upper hand" when negotiating. A sellers' market also goes by the more common term of shortage. The alternative to a sellers' market is a buyers' market, which has a surplus or excess supply.
A sellers' market exists because the quantity demanded by the buyers exceeds the quantity supplied by the sellers... at a given market price. In this situation, buyers seek to buy more of the good than sellers are willing to sell, hence sellers can pick and choose whom they sell to among prospective the buyers. Buyers are lucky to find a good to purchase.

Sellers' Market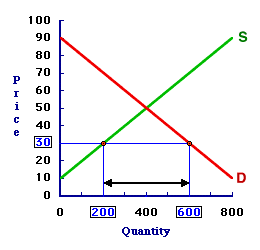 A sellers' market is illustrated by the market for 8-track tapes displayed in this exhibit. This graph was generated with data from the 88th Annual Trackmania 8-Track Tape Collectors Convention at the Shady Valley Exposition Center.

Sellers have the "upper hand" in this market due to the excess demand of 8-track tapes. This shortage is indicated as the difference between the quantity demanded and the quantity supplied at the designated market price. In particular, the 30-cent price generates a quantity demanded of 600 tapes and a quantity supplied of 200 tapes. Buyers are willing and able to buy 400 tapes more than sellers are willing and able to sell. This excess demand of 400 tapes is what gives the sellers the upper hand.

Note that a sellers' market does not mean the lack of competition among suppliers have given some sellers market control. A sellers' market is a competitive market that simply has a temporary imbalance between the quantity demanded by the buyers and the quantity supplied by the sellers. A change in the market price would eliminate the sellers' market, and possibly even create a buyers' market.




---
Recommended Citation:

SELLERS' MARKET, AmosWEB Encyclonomic WEB*pedia, http://www.AmosWEB.com, AmosWEB LLC, 2000-2021. [Accessed: September 20, 2021].
---
Check Out These Related Terms...

| | | | | | |
---
Or For A Little Background...

| | | | | | | | | |
---
And For Further Study...

| | | | | | | | |
---
Search Again?




PINK FADFLY
[What's This?]
Today, you are likely to spend a great deal of time touring the new suburban shopping complex looking to buy either a brown leather attache case or car battery jumper cables. Be on the lookout for spoiled cheese hiding under your bed hatching conspiracies against humanity.
Your Complete Scope

Helping spur the U.S. industrial revolution, Thomas Edison patented nearly 1300 inventions, 300 of which came out of his Menlo Park "invention factory" during a four-year period.

"No amount of business school training or work experience can teach what is ultimately a matter of personal character. "

-- Truett Cathy, Chick-fil-A Inc. founder

ILS
Indirect Least Squares, International Labor Standards

Tell us what you think about AmosWEB. Like what you see? Have suggestions for improvements? Let us know. Click the User Feedback link.