ENTRY BARRIER: An institutional, government, technological, or economic restriction on the entry of firms into a market or industry. The four primary barriers to entry are: resource ownership, patents and copyrights, government restrictions, and start-up costs. Barriers to entry are a key reason for market control and the inefficiency that this generates. In particular, monopoly, oligopoly, monopsony, and oligopsony often owe their market control to assorted barriers to entry. By way of contrast, perfect competition, monopolistic competition, and monopsonistic competition have few if any barriers to entry and thus little or no market control.





























TOTAL REVENUE, PERFECT COMPETITION:
The revenue received by a perfectly competitive firm for the sale of its output. Total revenue is one two bits of information a perfectly competitive firm needs to calculate economic profit, the other is total cost. In general, total revenue is the price times quantity--the price received for selling a good times the quantity of the good sold at that price. For a perfectly competitive firm, which receives a single unchanging price for all output sold, the calculation is relatively easy. Two other revenue measures directly related to total revenue are average revenue and marginal revenue. Total revenue is often depicted as a total revenue curve.
Total revenue is important to the analysis a perfectly competitive firm's short-run production decision. A perfectly competitive firm generally seeks to produce the quantity of output that maximizes profit, which is the difference between total revenue and total cost.

Total revenue can be represented in a table or as a curve. For a perfectly competitive firm, the total revenue curve is a straight line that emerges from the origin.

The total revenue received by a firm is price times quantity, often expressed as this simple equation:
| | | | | |
| --- | --- | --- | --- | --- |
| total revenue | = | price | x | quantity |
The essence of total revenue is best illustrated by perfect competition. Perfect competition is a market structure with a large number of small firms, each selling identical goods. Perfectly competitive firms have perfect knowledge and perfect mobility into and out of the market. These conditions mean perfectly competitive firms are price takers, they have no market control and receive the going market price for all output sold.

Total Revenue,
Zucchini Style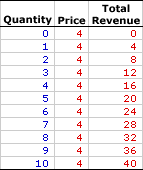 The table to the right summarizes the total revenue received by a hypothetical firm, Phil the zucchini grower, for selling zucchinis in a perfectly competitive zucchini market. The first column is the quantity of zucchinis sold, ranging from 0 to 10 pounds. The second column is the price Phil receives for selling his zucchinis, which is $4 per pound. The third column is then the total revenue Phil receives for producing and selling alternative quantities of zucchinis. If Phil sells only one zucchini, then he receives only $4. If he sells five zucchinis, he receives $20. In each case, total revenue in column three is calculated as the quantity in the first column multiplied by the price in the second column.

Consider a few highlights of these total revenue numbers.
First, total revenue is zero if Phil sells no zucchinis. This makes sense. If nothing is sold, no revenue is received.


Second, the price remains unchanged. Phil can sell 1 pound of zucchinis or 10 pounds of zucchinis for the same $4 price.


Third, as Phil sells more zucchinis he receives more total revenue. Moreover, because the price remains fixed, the only way for Phil to obtain more total revenue is to sell more zucchinis.


Fourth and last, for each extra pound of zucchinis Phil sells, he receives an extra $4 of revenue. This suggests an important role of marginal revenue in the short-run production analysis of a perfectly competitive firm.
Total Revenue Curve,
Zucchini Style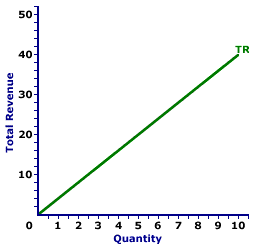 Total revenue is commonly represented by a total revenue curve, such as the one displayed in the exhibit to the right. This particular total revenue curve is that for zucchini sales by Phil the zucchini grower.

The vertical axis measures total revenue and the horizontal axis measures the quantity of output (pounds of zucchinis). Although quantity on this particular graph stops at 10 pounds of zucchinis, the nature of perfect competition indicates it could go higher.

This curve indicates that if Phil sells 1 pound of zucchinis, then he receives $4 of total revenue. Alternatively, if he sells 10 pounds, then he receives $40 of total revenue. Should he sell 100 pounds, then he would move well beyond the graph, with $400 of total revenue.

The "curve" is actually a "straight line" because Phil is a price taker in the zucchini market. He receives $4 for each pound of zucchinis sold whether he sells 1 pound or 10 pounds. The constant price is what makes Phil's total revenue curve a straight line.




---
Recommended Citation:

TOTAL REVENUE, PERFECT COMPETITION, AmosWEB Encyclonomic WEB*pedia, http://www.AmosWEB.com, AmosWEB LLC, 2000-2023. [Accessed: December 8, 2023].
---
Check Out These Related Terms...

| | | | | | | | |
---
Or For A Little Background...

| | | | | | | | |
---
And For Further Study...

| | | | | | | | |
---
Related Websites (Will Open in New Window)...

| | | |
---
Search Again?




BROWN PRAGMATOX
[What's This?]
Today, you are likely to spend a great deal of time browsing about a thrift store seeking to buy either arch supports for your shoes or an AC adapter that works with your MPG player. Be on the lookout for rusty deck screws.
Your Complete Scope

A communal society, a prime component of Karl Marx's communist philosophy, was advocated by the Greek philosophy Plato.

"If you don't know where you are going, any road will get you there."

-- Lewis Carroll, writer

AACP
American Assocation of Commercial Publications

Tell us what you think about AmosWEB. Like what you see? Have suggestions for improvements? Let us know. Click the User Feedback link.