SOCIAL SECURITY TAX: A tax on wage earnings that's used to fund the Social Security system. In principle, the Social Security tax is divided equally between employer and employee--your share is listed under the FICA heading of your paycheck. In practice, however, employees really end up paying both employee and employer contributes. The reason is that employers need to consider the entire cost of hiring an employee, including wages, fringe benefits, and assorted taxes. The more they pay in these nonwage items, like Social Security taxes, the less they pay in wages. In that the Social security tax is only on earnings, and excludes profit, interest, and rent, it tends to be a regressive tax.





























INVESTMENT, PRODUCTION POSSIBILITIES:
Investment typically refers to the purchase of productive capital by business in anticipation of increasing production and (presumably) generating more profit. More generally, investment can be considered as sacrificing the current satisfaction of wants and needs (consumption goods) to expand productive capability (capital goods). Production possibilities analysis can be used to illustrate the tradeoff between consumption and capital as a movement along a production possibilities curve.
Production possibilities, which analyzes the alternative combinations of two goods that an economy can produce with given resources and technology, indicates investment as a movement along the production possibilities curve and the sacrifice of consumption goods for capital goods.
Doing Investment
To most people the notion of investment probably translates into something like "to invest in the stock market," that is, to buy corporate stock. Similar "investments" might also include investing in "land deals," "oil wells," or "gold futures." These are considered investments because investors hope to get more out than they put in. Of course, there is risk involved. They could get less out than they put in.

The economic notion of investment is related to, but slightly different from, this common view. In particular, investment is the acquisition of productive capital goods that are used to expand future production capabilities.

Three points need to be noted about the connection between the common view and the economic view of investment.
The idea of expanding "future production capabilities" is what makes the connection between the economic view of investment and the common view, that is, getting more out than is put in.


The phrase "productive capital goods" can be broadly interpreted, including "standard" capital tools and equipment, but also education, human capital, technology, and anything that makes resources more productive.


The notion that investment is an "acquisition" means that resources must be used to produce or acquire capital goods, which further means that alternatives are foregone.
Production Possibilities
How does investment relate to production possibilities?
First, the acquisition of capital goods entails foregone alternatives, especially consumer goods used to satisfy wants and needs. In fact, this tradeoff between producing capital goods and consumer goods is ideally suited for analysis with production possibilities.


Second, production capabilities are expanded by "increasing the quantities or qualities of resources," which is THE means of achieving economic growth. In other words, investment in capital goods and other productive resources cause the production possibilities frontier to shift out.
The Tradeoff
Investment involves a tradeoff between producing capital goods and consumption goods. Resources used to produce capital goods (which expand the economy's production capabilities and shift out the production possibilities frontier) cannot be used to produce consumer goods (which provide for the immediate satisfaction of wants and needs). This is one of the most fundamental tradeoffs in the economy. To produce more in the future, the economy must accept less satisfaction in the present.

The capital-consumption tradeoff can be illustrated with two goods crab puffs and storage sheds. Crab puffs are a consumption good (feeding hungry party guests), and storage sheds are a capital good (often used by businesses to store productive inputs).
Selecting an Option
The production possibilities curve presented here illustrates the tradeoff between crab puffs and storage sheds. Consider these alternatives:
If the economy chooses to produce at point A (0 sheds and 450 dozen crab puffs), then it is doing NO investing. It is giving up no consumption goods. All resources are being used to satisfy current consumption.


If the economy decides to move from point A to point E, then it IS investing. This move means the production of 4 sheds at a cost of giving up 40 dozen crab puffs. Click the [A to E] button to demonstrate.


Further investment can be had by moving from point E to point I. This move increases the number of sheds produced from 4 to 8, but the cost of the additional 4 sheds is 140 dozen crab puffs. Click the [E to I] button to demonstrate.
At which point should the economy produce? A? E? I? Or another? That choice depends, in part, on the resulting shift of the curve and what this means for future production possibilities.
Alternative Shifts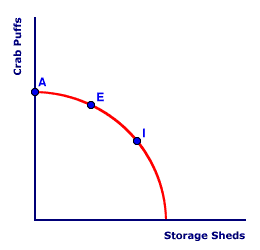 Whether the economy chooses to produce at point A, E, or I, depends in part on how far the production possibilities frontier shifts as a result of additional capital goods. Consider a few alternatives.
Point A: Production is 450 crab puffs and 0 sheds. Click point A on the curve to see that nothing happens. The economy is not adding to the quantity of capital. With no additional capital, fixed resources remain fixed and the production possibilities curve remains unchanged. As such, tomorrow's production possibilities frontier looks just like today's frontier. There is no growth and no shift in the curve.


Point E: Production is 410 crab puffs and 4 sheds. Click point E on the curve to demonstrate this option. Producing 4 sheds adds to the economy's quantity of capital. The cost of these 4 sheds is 40 dozen crab puffs. Expanding the quantity of capital increases resources and shifts the production possibilities curve. Tomorrow's production possibilities curve is farther out than today's curve. There is growth and a shift in the curve.


Point I: Production is 270 crab puffs and 8 sheds. Click point I on the curve to demonstrate this option. Producing 8 sheds adds even more to the economy's capital. The cost of these 8 sheds is 180 dozen crab puffs compared to A. The extra 4 sheds compared to point E is 140 dozen crab puffs. These 8 sheds increase the quantity of resources even more than the 4 sheds at point E, leading to an even greater shift of production possibilities curve. Tomorrow's production possibilities curve is even farther out than today's curve. There is more growth and a bigger shift in the curve.
So What?
What does this investment tradeoff mean? Scarcity is THE fundamental problem facing the economy. Society has unlimited wants and needs but not enough resources to satisfy them all. What can be done about scarcity? All available resources could be used to satisfy as many wants and needs as possible--right here, right now. This means producing consumption goods. Or society could set aside a few resources to produce capital--the basic act of investment. While this requires sacrificing current satisfaction--right here, right now--it enables more production later. This makes scarcity less of a problem, later.

Investing in capital goods (and sacrificing current consumption) expands the production capability of the economy. This is THE source of economic growth and progress. This is THE method of lessening the problem of scarcity. But if a little investment is good, then a lot of investment must be better, right? Not necessarily.

Consider an extreme case. Suppose all resources are used to produce capital goods this year. Then next year should see a big boost in economic growth, right? Unlikely! The reason, of course, is that everyone will be dead long before next year begins. With no consumption, people die. The trick is to strike a balance between capital goods and consumption goods. The trick is to sacrifice some today for more tomorrow. But, how much is sacrificed today? That answer is unknown because it requires information about consumer preferences (which is beyond production possibilities analysis) and enters into the realm of normative economics.




---
Recommended Citation:

INVESTMENT, PRODUCTION POSSIBILITIES, AmosWEB Encyclonomic WEB*pedia, http://www.AmosWEB.com, AmosWEB LLC, 2000-2021. [Accessed: May 10, 2021].
---
Check Out These Related Terms...

| | | | | | | | |
---
Or For A Little Background...

| | | | | | | | | |
---
And For Further Study...

| | | | | | | | | | | | |
---
Search Again?




RED AGGRESSERINE
[What's This?]
Today, you are likely to spend a great deal of time browsing about a thrift store hoping to buy either a handcrafted bird house or a weathervane with a chicken on top. Be on the lookout for malfunctioning pocket calculators.
Your Complete Scope

The first paper notes printed in the United States were in denominations of 1 cent, 5 cents, 25 cents, and 50 cents.

"Nothing great has ever been achieved except by those who dared believe that something inside them was superior to circumstances. "

-- Bruce Barton, Advertising executive

MSCI
Morgan Stanley Capital Index

Tell us what you think about AmosWEB. Like what you see? Have suggestions for improvements? Let us know. Click the User Feedback link.