CAPITALISM: A type of economy based on -- (1) private ownership of most resources, goods, and other stuff (private property); (2) freedom to generally use the privately-owned resources, goods, and other stuff to get the most wages, rent, interest, and profit possible; and (3) a system of relatively competitive markets. While government establishes the legal "rules of the game" for capitalism and provides assorted public goods, like national defense, education, and infrastructure, most production, consumption, and resource allocation decisions are left up to individual businesses and consumers. The term capitalism is derived from the notion that capital goods are under private, rather than government, ownership (compare communism, socialism.





























MARGINAL FACTOR COST CURVE, PERFECT COMPETITION:
A curve that graphically represents the relation between marginal factor cost incurred by a perfectly competitive firm for hiring an input and the quantity of input employed. A profit-maximizing perfectly competitive firm hires the quantity of input found at the intersection of the marginal factor cost curve and marginal revenue product curve. The marginal factor cost curve for a perfectly competitive firm with no market control is horizontal.
Perfect competition is a market structure with a large number of small participants (buyers and sellers). The good exchanged in the market is identical, regardless of who sells or who buys. Participants have perfect knowledge and perfect mobility into and out of the market. These conditions mean perfectly competitive buyers are price takers, they have no market control and must pay the going market price for all good sold.

The marginal factor cost curve reflects the degree of market control held by a firm. For a perfectly competitive firm with no market control, the marginal factor cost curve is a horizontal line. For firms with more market control, especially monopsony, the marginal factor cost curve is positively sloped and lies above the average factor cost curve.

Marginal Factor Cost Curve,
Perfect Competition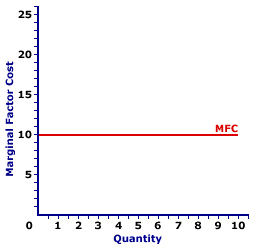 Marginal factor cost is commonly represented by a marginal factor cost curve, such as the one labeled MFC and displayed in the exhibit to the right. This particular marginal factor cost curve is that for labor hired by Maggie's Macrame Shoppe. Maggie's Macrame Shoppe is one of thousands of small retail stores in the greater Shady Valley metropolitan area that hires labor with identical skills. As such, Maggie pays the going wage for labor.

The vertical axis measures marginal factor cost and the horizontal axis measures the quantity of input (workers). Although quantity on this particular graph stops at 10 workers, the nature of perfect competition indicates it could easily go higher.

First and foremost, the marginal factor cost curve is horizontal at the going factor price of $10. This indicates that if Maggie hires the first worker, then her total factor cost increases by $10. Alternatively, if she hires the tenth worker, then her total factor cost increases by $10. Should she hire a hundredth worker, then she might move well beyond the graph, but her total factor cost increases by $10.

The "curve" is actually a "straight line" because Maggie is a price taker in the labor market. She pays $10 for each worker whether she hires 1 worker or 10 workers or 100 workers. Her extra factor cost of hiring an extra worker is always $10. The constant price is what makes Maggie's marginal factor cost curve a straight line, and which indicates that Maggie has no market control.




---
Recommended Citation:

MARGINAL FACTOR COST CURVE, PERFECT COMPETITION, AmosWEB Encyclonomic WEB*pedia, http://www.AmosWEB.com, AmosWEB LLC, 2000-2021. [Accessed: September 20, 2021].
---
Check Out These Related Terms...

| | | | | | | | | |
---
Or For A Little Background...

| | | | | | | | | | | |
---
And For Further Study...

| | | | | | | | |
---
Search Again?




PURPLE SMARPHIN
[What's This?]
Today, you are likely to spend a great deal of time touring the new suburban shopping complex wanting to buy either a replacement remote control for your television or a replacement nozzle for your shower. Be on the lookout for infected paper cuts.
Your Complete Scope

A scripophilist is one who collects rare stock and bond certificates, usually from extinct companies.

"No amount of business school training or work experience can teach what is ultimately a matter of personal character. "

-- Truett Cathy, Chick-fil-A Inc. founder

AP
Average Product

Tell us what you think about AmosWEB. Like what you see? Have suggestions for improvements? Let us know. Click the User Feedback link.