MARKET SOCIALISM: A type of economy based on--(1) government, rather than individual, ownership of many resources, especially those like heavy manufacturing, energy reserves, widely used raw materials (lumber, steel), and transportation systems, that are deemed critical to the operation of the economy; (2) answering three questions of allocation with a combination of central planning by government and decentralized decision-making by individual factories and the owners of non-critical resources; (3) the limited use of markets to exchange farm products and retail consumer goods; (4) economic and monetary incentives, such as bonus, paid to the workers of government-owned facilities to encourage efficiency and increased productivity.





























MONOPOLISTIC COMPETITION, ADVERTISING:
Advertising is commonly used by firms operating under monopolistic competition as a way to create product differentiation and thus to acquire some degree of market control and thus charge a higher price.
Advertising is information provided by a company about its product or operation, usually through media such as television, radio, newspapers, magazines, and the Internet, to promote or maintain sales, revenue, and/or profit.

Advertising is frequently used by monopolistic competition to accomplish two related goals--product differentiation and market control. To the extent that a firm can inform buyers about physical differences or create the perception of such differences, then product differentiation increases.

Moreover, with product differentiation comes market control. If advertising convinces buyers that a good is different (and better) than comparable products, then a firm can charge a higher price.

Advertising and Demand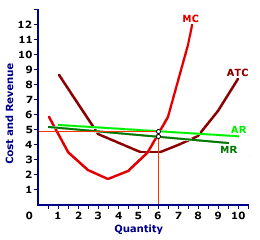 The exhibit to the right can be used to illustrate how advertising can affect the demand facing a monopolistically competitive firm. This particular situation is that facing Manny Mustard's House of Sandwich for the production of his famous Deluxe Club Sandwich. Manny suspects that he can enhance his sales and profitability through advertising.

From a graphical standpoint, advertising seeks to increase demand and to reduce demand elasticity.
To Increase Demand: The first objective is to simply increase demand. This can be illustrated using the demand curve for Manny Mustard's Deluxe Club Sandwich, labeled D, presented in this diagram.

Manny's current profit-maximizing production is 6 sandwiches, each of which is sold for a price of $4.95. Manny's advertising goal is to increase the number of sandwiches buyers are willing and able to buy at each price, that is to shift the demand curve.

Click the [Increase Demand] button to illustrate what Manny hopes occurs with advertising. The demand curve shifts up and out. With this new demand curve, higher prices correspond to each quantity. Manny's new profit-maximizing production level is 6.7 sandwiches, each of which is sold for a price of $6.85.



To Reduce Demand Elasticity: The second object is to reduce the price elasticity of demand. As a monopolistically competitive firm, Manny faces a relatively elastic demand. This limits the range of prices that can he charge.

To illustrate how Manny might hope to reduce demand elasticity, click the [Reduce Elasticity] button. The new demand curve is now a little steeper. This less elastic demand means that buyers are less inclined to change their quantity demanded with a price change. As such, Manny is able to charge a slightly higher price for the same quantity of production. He can now collect a price of $5.95 for each of the 6 sandwiches sold at the profit-maximizing level of production.
There are, however, a couple of qualifications.
First, firms cannot maximize profit in the inelastic range of demand. In this range marginal revenue is negative, meaning marginal cost would also have to be negative--something that just cannot happen. If advertising is so successful that demand becomes inelastic, then the firm will raise the price until it moves back into the elastic range. Of course, while profit will not be maximized in the inelastic range, the movement back to the elastic range does boost profit.


Second, advertising is not free. Any gains in revenue generated by advertising must be weighed against the cost of the advertising. In Manny's case, demand might increase and become less elastic, but average and marginal costs are also likely to increase. Is the advertising worth the expense? Maybe. Maybe not. If Manny receives $1 per sandwich, but average cost increases by $2 per sandwich, the answer is probably no. But if average cost rises by only $0.05, the answer would seem to be yes.

---
Recommended Citation:

MONOPOLISTIC COMPETITION, ADVERTISING, AmosWEB Encyclonomic WEB*pedia, http://www.AmosWEB.com, AmosWEB LLC, 2000-2021. [Accessed: June 17, 2021].
---
Check Out These Related Terms...

| | | |
---
Or For A Little Background...

| | | | | | | | | | |
---
And For Further Study...

| | | | | | | | | | |
---
Search Again?




YELLOW CHIPPEROON
[What's This?]
Today, you are likely to spend a great deal of time browsing about a thrift store hoping to buy either a package of 3 by 5 index cards, the ones without lines or a blue mechanical pencil. Be on the lookout for spoiled cheese hiding under your bed hatching conspiracies against humanity.
Your Complete Scope

Paper money used by the Commonwealth of Massachusetts prior to the U.S. Revolutionary War, which was issued against the dictates of Britain, was designed by patriot and silversmith, Paul Revere.

"The secret of getting ahead is getting started. The secret of getting started is breaking your complex, overwhelming tasks into small manageable tasks, and then starting on the first one. "

-- Mark Twain, writer

RONA
Return on Net Assets

Tell us what you think about AmosWEB. Like what you see? Have suggestions for improvements? Let us know. Click the User Feedback link.