MARGINAL FACTOR COST, MONOPSONY: The change in total factor cost resulting from a change in the quantity of factor input employed by a monopsony. Marginal factor cost, abbreviated MFC, indicates how total factor cost changes with the employment of one more input. It is found by dividing the change in total factor cost by the change in the quantity of input used. Marginal factor cost is compared with marginal revenue product to identify the profit-maximizing quantity of input to hire.





























DISINFLATION:
A decline in the inflation rate. With disinflation, prices continue rising, just not as fast. Numerically speaking, disinflation occurs if the inflation rate over three consecutive years is 10 percent, 6 percent this year, and 4 percent. Disinflation, a reduction in the inflation rate, is not the same as deflation, which is an actual decline in the price level. Should disinflation continue, presumably due to anti-inflationary monetary or fiscal policies, then the average price level might eventually decline, making the transition from disinflation to deflation.
Inflation Rate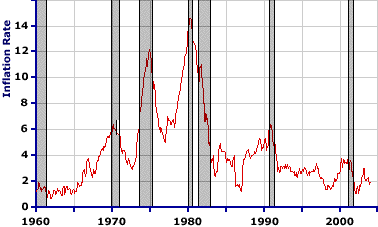 Disinflation generally comes into popular use when inflation has been relatively high and troublesome for a period of time and people are looking for any sign of relief. As such, a decrease in the inflation rate is taken as good news. However, disinflation is actually a relatively common phenomenon associated with business cycles. As this chart of inflation rates over the past few decades illustrates, inflation invariably declines during business-cycle contractions (shaded areas).

During the contraction of the early 1990s, disinflation brought the inflation rate down from about 6 percent to just over 2 percent. An even more dramatic example of disinflation resulted from the contraction of the early 1980s. The inflation rate declined from over 14 percent to under 4 percent. In fact, this particular contraction was created with contractionary monetary policy by the Federal Reserve System with the expressed goal of reducing the high inflation rates that characterized the 1970s, that is, to achieve disinflation.




---
Recommended Citation:

DISINFLATION, AmosWEB Encyclonomic WEB*pedia, http://www.AmosWEB.com, AmosWEB LLC, 2000-2021. [Accessed: September 22, 2021].
---
Check Out These Related Terms...

| | | | | | | | | | |
---
Or For A Little Background...

| | | | | | | | | |
---
And For Further Study...

| | | | | | | | | | | | | |
---
Related Websites (Will Open in New Window)...

| | |
---
Search Again?




ORANGE REBELOON
[What's This?]
Today, you are likely to spend a great deal of time waiting for visits from door-to-door solicitors hoping to buy either one of those memory foam pillows or a remote controlled train set. Be on the lookout for broken fingernail clippers.
Your Complete Scope

The portion of aggregate output U.S. citizens pay in taxes (30%) is less than the other six leading industrialized nations -- Britain, Canada, France, Germany, Italy, or Japan.

"Always remember that striving and struggle precede success, even in the dictionary. "

-- Sarah Ban Breathnach, writer

FIML
Full Information Maximum Likelihood

Tell us what you think about AmosWEB. Like what you see? Have suggestions for improvements? Let us know. Click the User Feedback link.