ELASTICITY: The relative response of one variable to changes in another variable. The phrase "relative response" is best interpreted as the percentage change. For example, the price elasticity of demand, one of the more important applications of this concept in economics, is the percentage change in quantity demanded measured against the percentage change in price. Other notable economic elasticities are the price elasticity of supply, income elasticity of demand, and cross elasticity of demand.





























PURE MARKET ECONOMY:
An economy, or economic system, that relies exclusively on markets to allocate resources and to answer all three questions of allocation. This theoretical ideal has no governments, markets are used to make all allocation decisions. Then contrasting theoretical ideal is a pure command economy in which governments make all allocation decisions.
Economic Systems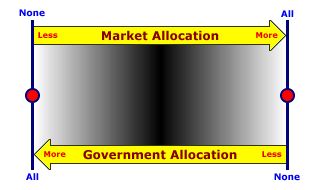 A pure market economy is a theoretical extreme on the spectrum of economic systems that does not actually exist in the real world. It does, however, provide a benchmark that can be used for comparison with real world economic systems.

In pure market economies, markets are used by buyers and sellers to voluntarily exchange goods, services, and resources. Buyers seek to pay the lowest prices. Sellers seek to receive the highest prices. Resources are allocated to the production of the goods with the highest prices and greatest satisfaction of wants and needs.

The real world embodiment of a pure market economy is termed a market-oriented economy or capitalism. The market-oriented economy of the United States is the primary example.

While, in theory, resource allocation could be undertaken exclusively through markets or governments, in the real world, all economies rely on a mix of both markets and governments for allocation decisions, what is termed a mixed economy.




---
Recommended Citation:

PURE MARKET ECONOMY, AmosWEB Encyclonomic WEB*pedia, http://www.AmosWEB.com, AmosWEB LLC, 2000-2022. [Accessed: December 10, 2022].
---
Check Out These Related Terms...

| | | | | | | |
---
Or For A Little Background...

| | | | | | |
---
And For Further Study...

| | | | | | |
---
Search Again?




GREEN LOGIGUIN
[What's This?]
Today, you are likely to spend a great deal of time searching for a specialty store seeking to buy either a wall poster commemorating last Friday (you know why) or a country wreathe. Be on the lookout for malfunctioning pocket calculators.
Your Complete Scope

Post WWI induced hyperinflation in German in the early 1900s raised prices by 726 million times from 1918 to 1923.

"The greatest barrier to success is the fear of failure."

-- Sven Goran Eriksson, writer

ABA
American Bankers Association, Associate in Business Administration

Tell us what you think about AmosWEB. Like what you see? Have suggestions for improvements? Let us know. Click the User Feedback link.