FEDERAL RESERVE NOTE: Paper currency issued by each of the 12 Federal Reserve District Banks in denominations of $1, $5, $10, $20, $50, $100. Unlike paper currency of the past that was issued by the U. S. Treasury, these notes are backed by the Federal Reserve System. Specifically, each of the 12 Fed District Banks supplies notes within it's district. Each district bank puts it's own personal number and stamp (literally to the left of the portrait) on the notes it issues. For example, the number for the Boston District Bank is 1, while San Francisco Bank is 12.





























PURE COMMAND ECONOMY:
An economy, or economic system, that relies exclusively on governments to allocate resources and to answer all three questions of allocation. This theoretical ideal has no markets, government makes all allocation decisions. Then contrasting theoretical ideal is a pure market economy in which markets make all allocation decisions.
Economic Systems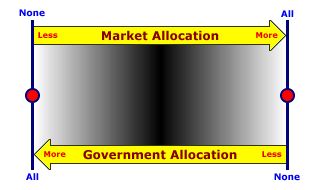 A pure command economy is a theoretical extreme on the spectrum of economic systems that does not actually exist in the real world. It does, however, provide a benchmark that can be used for comparison with real world economic systems.

In pure command economies, governments force all allocation through involuntary taxes, laws, restrictions, and regulations. Governments set forth the laws and rules. If folks do not follow the rules, then they are punished. Governments can punish those who do not follow the rules because... well... because they are the governments. Given a choice, most humans probably would rather NOT pay taxes or have their cars safety inspected. They follow government rules because they have to, because that IS the law.

The real world embodiment of a pure command economy is termed a command economy. The communistic/socialist economies of China and the former Soviet Union are primary examples of command economies.

While, in theory, resource allocation could be undertaken exclusively through markets or governments, in the real world, all economies rely on a mix of both markets and governments for allocation decisions, what is termed a mixed economy.




---
Recommended Citation:

PURE COMMAND ECONOMY, AmosWEB Encyclonomic WEB*pedia, http://www.AmosWEB.com, AmosWEB LLC, 2000-2021. [Accessed: May 8, 2021].
---
Check Out These Related Terms...

| | | | | | | |
---
Or For A Little Background...

| | | | |
---
And For Further Study...

| | | | | | |
---
Search Again?




BEIGE MUNDORTLE
[What's This?]
Today, you are likely to spend a great deal of time flipping through the yellow pages hoping to buy either a box of multi-colored, plastic paper clips or several orange mixing bowls. Be on the lookout for gnomes hiding in cypress trees.
Your Complete Scope

Lewis Carroll, the author of Alice in Wonderland, was the pseudonym of Charles Dodgson, an accomplished mathematician and economist.

"Adversity is another way to measure the greatness of individuals. I never had a crisis that didn't make me stronger. "

-- Lou Holtz, Football Coach

FSL
Federal Savings and Loan Association

Tell us what you think about AmosWEB. Like what you see? Have suggestions for improvements? Let us know. Click the User Feedback link.