ECONOMIC THINKING: A way of looking at, and analyzing, the way the world works by comparing the costs of an action with the benefits generated. Economic thinking arises from scarcity, which exists because wants and needs and unlimited but resources are limited. This means virtually all actions incur an opportunity cost. Identifying the cost of an action, no matter how hidden or subtle it may be, is the essence of economic thinking.




























ARC ELASTICITY:
The average elasticity for discrete changes in two variables. The distinguishing characteristic of arc elasticity is that percentage changes are calculated based on the average of initial and ending values of each variable, rather than initial values. Arc elasticity is generally calculated using the midpoint elasticity formula. The contrast to arc elasticity is point elasticity. For infinitesimally small changes in two variables, arc elasticity is the same as point elasticity.
Arc elasticity is best considered the average elasticity over a range of values for a relation. Like any average, some values within the range are likely to be greater and some less. However, it provides a quick approximation of elasticity when more precise and sophisticated calculation techniques are not possible.
Working Through an Example
A Standard Demand Curve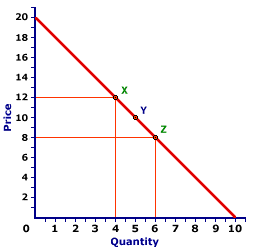 The demand curve displayed to the right can be used to illustrate the measurement of arc elasticity using the midpoint elasticity formula. If the price declines from $12 to $8, the quantity demanded increases from 4 to 6, from point X to point Z. Using this midpoint formula (with price designated as P and quantity designated as Q) average price elasticity of demand is:
midpoint
elasticity
=
(Q[Z] - Q[X])

---

(Q[Z] + Q[X])/2
÷
(P[Z] - P[X])

---

(P[Z] + P[X])/2

midpoint
elasticity
=
(6 - 4)

---

(6 + 4)/2
÷
(8 - 12)

---

(8 + 12)/2
=
(2)

---

(5)
÷
(-4)

---

(10)

midpoint
elasticity
=
0.4
÷
-0.4
=
-1.0
Ignoring the minus sign, the price elasticity of demand over this segment of the demand curve from X to Z is 1.0.
An Average Value
This value of 1.0 is actually an average for the entire range between points X and Z. Precise estimates of point elasticity shows that the elasticity is 0.67 at point X and 1.5 at point Z. Moreover, the elasticity is different at each point on a straight line demand curve such as this one. The only point in which the elasticity is exactly equal to 1.0 is at point Y, the midpoint between X and Z.

This last observation is worth emphasizing. The midpoint elasticity formula effectively estimates the point elasticity at the very midpoint of the overall segment. This means that the elasticity of any point on a demand curve (point elasticity) can be obtained by calculating the arc elasticity with the midpoint elasticity formula such that the desired point is dead center in the middle, the midpoint of the arc.




---
Recommended Citation:

ARC ELASTICITY, AmosWEB Encyclonomic WEB*pedia, http://www.AmosWEB.com, AmosWEB LLC, 2000-2018. [Accessed: April 24, 2018].
---
Check Out These Related Terms...

| | | | | |
---
Or For A Little Background...

| | | | | |
---
And For Further Study...

| | | | | |
---
Search Again?


YELLOW CHIPPEROON
[What's This?]
Today, you are likely to spend a great deal of time at an auction hoping to buy either storage boxes for your family photos or a large, stuffed giraffe. Be on the lookout for fairy dust that tastes like salt.
Your Complete Scope

In the early 1900s around 300 automobile companies operated in the United States.

"You have to find something that you love enough to be able to take risks, jump over the hurdles and break through the brick walls that are always going to be placed in front of you. If you don't have that kind of feeling for what it is you're doing, you'll stop at the first giant hurdle. "

-- George Lucas

IQ
Import Quota

Tell us what you think about AmosWEB. Like what you see? Have suggestions for improvements? Let us know. Click the User Feedback link.