OCCUPATIONAL SAFETY AND HEALTH ADMINISTRATION: An agency of the U. S. Department of Labor, established in 1970, that's charged with regulating workplace safety and job-related worker health. It has the authority to imposed health and safety rules and, much to the displeasure of businesses, inspect workplaces to ensure that the rules are followed. Some (second estate) critics argue of their rules are unneeded, overzealous, and counter-productive. Other (third estate) critics say that their rules are neither stringent enough nor adequately enforced.




























ARC ELASTICITY:
The average elasticity for discrete changes in two variables. The distinguishing characteristic of arc elasticity is that percentage changes are calculated based on the average of initial and ending values of each variable, rather than initial values. Arc elasticity is generally calculated using the midpoint elasticity formula. The contrast to arc elasticity is point elasticity. For infinitesimally small changes in two variables, arc elasticity is the same as point elasticity.
Arc elasticity is best considered the average elasticity over a range of values for a relation. Like any average, some values within the range are likely to be greater and some less. However, it provides a quick approximation of elasticity when more precise and sophisticated calculation techniques are not possible.
Working Through an Example
A Standard Demand Curve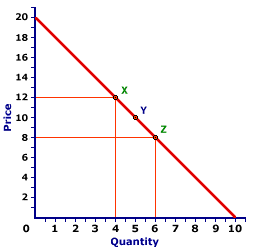 The demand curve displayed to the right can be used to illustrate the measurement of arc elasticity using the midpoint elasticity formula. If the price declines from $12 to $8, the quantity demanded increases from 4 to 6, from point X to point Z. Using this midpoint formula (with price designated as P and quantity designated as Q) average price elasticity of demand is:
midpoint
elasticity
=
(Q[Z] - Q[X])

---

(Q[Z] + Q[X])/2
÷
(P[Z] - P[X])

---

(P[Z] + P[X])/2

midpoint
elasticity
=
(6 - 4)

---

(6 + 4)/2
÷
(8 - 12)

---

(8 + 12)/2
=
(2)

---

(5)
÷
(-4)

---

(10)

midpoint
elasticity
=
0.4
÷
-0.4
=
-1.0
Ignoring the minus sign, the price elasticity of demand over this segment of the demand curve from X to Z is 1.0.
An Average Value
This value of 1.0 is actually an average for the entire range between points X and Z. Precise estimates of point elasticity shows that the elasticity is 0.67 at point X and 1.5 at point Z. Moreover, the elasticity is different at each point on a straight line demand curve such as this one. The only point in which the elasticity is exactly equal to 1.0 is at point Y, the midpoint between X and Z.

This last observation is worth emphasizing. The midpoint elasticity formula effectively estimates the point elasticity at the very midpoint of the overall segment. This means that the elasticity of any point on a demand curve (point elasticity) can be obtained by calculating the arc elasticity with the midpoint elasticity formula such that the desired point is dead center in the middle, the midpoint of the arc.




---
Recommended Citation:

ARC ELASTICITY, AmosWEB Encyclonomic WEB*pedia, http://www.AmosWEB.com, AmosWEB LLC, 2000-2018. [Accessed: October 20, 2018].
---
Check Out These Related Terms...

| | | | | |
---
Or For A Little Background...

| | | | | |
---
And For Further Study...

| | | | | |
---
Search Again?


GRAY SKITTERY
[What's This?]
Today, you are likely to spend a great deal of time strolling around a discount warehouse buying club hoping to buy either a T-shirt commemorating Thor Heyerdahl's Pacific crossing aboard the Kon-Tiki or a wall poster commemorating the 2000 Olympics. Be on the lookout for the last item on a shelf.
Your Complete Scope

A lump of pure gold the size of a matchbox can be flattened into a sheet the size of a tennis court!

"Failure is the opportunity to begin again, more intelligently. "

-- Henry Ford, automobile manufacturer

PBOT
Phildelphia Board of Trade

Tell us what you think about AmosWEB. Like what you see? Have suggestions for improvements? Let us know. Click the User Feedback link.