Today's Index
Yesterday's Index
126.7


Help us compile the AmosWEB Free Lunch Index. Tell us about your last lunch.

More About the Index

REGULATION: Government rules or laws that control the activities of businesses and consumers. The motivation for regulation is that businesses are inclined to do things that are harmful to the public--actions which need to be prevented or otherwise controlled. Regulation is essentially an extension of government's authority to protect one member of society from another. It tends to take one of two forms--(1) industry regulation that's intended to prevent firms from gaining and abusing excessive market control and (2) social regulation that seeks to protect consumers for problems caused by pollution, unsafe products, and the lack of information (market failure).




























ARC ELASTICITY:
The average elasticity for discrete changes in two variables. The distinguishing characteristic of arc elasticity is that percentage changes are calculated based on the average of initial and ending values of each variable, rather than initial values. Arc elasticity is generally calculated using the midpoint elasticity formula. The contrast to arc elasticity is point elasticity. For infinitesimally small changes in two variables, arc elasticity is the same as point elasticity.
Arc elasticity is best considered the average elasticity over a range of values for a relation. Like any average, some values within the range are likely to be greater and some less. However, it provides a quick approximation of elasticity when more precise and sophisticated calculation techniques are not possible.
Working Through an Example
A Standard Demand Curve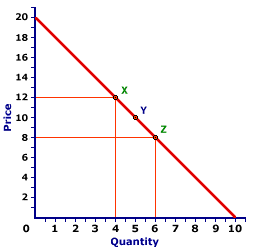 The demand curve displayed to the right can be used to illustrate the measurement of arc elasticity using the midpoint elasticity formula. If the price declines from $12 to $8, the quantity demanded increases from 4 to 6, from point X to point Z. Using this midpoint formula (with price designated as P and quantity designated as Q) average price elasticity of demand is:
midpoint
elasticity
=
(Q[Z] - Q[X])

---

(Q[Z] + Q[X])/2
÷
(P[Z] - P[X])

---

(P[Z] + P[X])/2

midpoint
elasticity
=
(6 - 4)

---

(6 + 4)/2
÷
(8 - 12)

---

(8 + 12)/2
=
(2)

---

(5)
÷
(-4)

---

(10)

midpoint
elasticity
=
0.4
÷
-0.4
=
-1.0
Ignoring the minus sign, the price elasticity of demand over this segment of the demand curve from X to Z is 1.0.
An Average Value
This value of 1.0 is actually an average for the entire range between points X and Z. Precise estimates of point elasticity shows that the elasticity is 0.67 at point X and 1.5 at point Z. Moreover, the elasticity is different at each point on a straight line demand curve such as this one. The only point in which the elasticity is exactly equal to 1.0 is at point Y, the midpoint between X and Z.

This last observation is worth emphasizing. The midpoint elasticity formula effectively estimates the point elasticity at the very midpoint of the overall segment. This means that the elasticity of any point on a demand curve (point elasticity) can be obtained by calculating the arc elasticity with the midpoint elasticity formula such that the desired point is dead center in the middle, the midpoint of the arc.




---
Recommended Citation:

ARC ELASTICITY, AmosWEB Encyclonomic WEB*pedia, http://www.AmosWEB.com, AmosWEB LLC, 2000-2017. [Accessed: January 21, 2017].
---
Check Out These Related Terms...

| | | | | |
---
Or For A Little Background...

| | | | | |
---
And For Further Study...

| | | | | |
---
Search Again?


State of the ECONOMY

Consumer Price Index Urban
November 2016
241.353
Up 0.2% from Oct. 2016 Source: BLS

ORANGE REBELOON
[What's This?]
Today, you are likely to spend a great deal of time looking for the new strip mall out on the highway seeking to buy either a coffee cup commemorating last Friday (you know why) or a wall poster commemorating the first day of spring. Be on the lookout for broken fingernail clippers.
Your Complete Scope

A U.S. dime has 118 groves around its edge, one fewer than a U.S. quarter.

"The more you praise and celebrate your life, the more there is in life to celebrate."

-- Oprah Winfrey

LF
Labor Force, Laissez-Faire

Tell us what you think about AmosWEB. Like what you see? Have suggestions for improvements? Let us know. Click the User Feedback link.