M1: The narrow-range monetary aggregate for the U.S. economy containing the combination of currency (and coins) issued by government and held by the nonbank public and checkable deposits issued by banking institutions. M1 contains the two items that function as THE medium of exchange for the U.S. economy. M1 is one of three monetary aggregates tracked and reported by the Federal Reserve System. The other two are designated M2 and M3.




























BANK ASSETS:
What a bank owns, including loans, reserves, investment securities, and physical assets. Bank assets are typically listed on the left-hand side of a bank's balance sheet. Bank liabilities, what a bank owes, are listed on the right-hand side of a bank's balance sheet. Net worth is the difference between assets and liabilities. The largest asset category of most bank is loans, which generates interest revenue. A critical asset category used to maintain the safety of deposits is reserves (vault cash and Federal Reserve deposits).
Bank assets are the physical and financial "property" of a bank, what a bank owns. While a bank commonly owns physical property (buildings, land, furniture, equipment), the bulk of a bank's assets are financial--legal claims on the property or the wealth of others. The two most notable asset categories are loans (which generate interest revenue) and reserves (which keep deposits safe).
A Representative, Hypothetical Balance Sheet
OmniBank Balance Sheet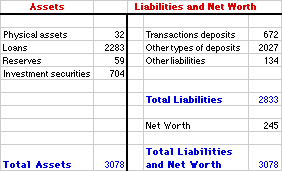 Before getting into the details of bank assets, consider this representative, hypothetical balance sheet for OmniBank (a representative, hypothetical bank) presented in the exhibit to the right.

Like any balance sheet this one for the OmniBank is divided into two sides--assets on the left and liabilities and net worth on the right. As a "balance" sheet, both sides are equal--they balance. The assets on the left-hand side of the balance sheet are what OmniBank owns. Liabilities on the right-hand side of the balance sheet are what OmniBank owes. Net worth, also on the right-hand side of the balance sheet, is then the difference between assets and liabilities. In effect, net worth is what the bank owes to the owners of OmniBank.

As a profit-seeking business, OmniBank's primary duty is to adjust these assets and liabilities to acquire profit. Of course, ALL businesses acquire profit by adjusting assets and liabilities. They boost revenue assets and reduce cost liabilities. But, unlike other types of producers, banks do not make adjustments with real production. In fact, the accounting process of adjusting entries in the balance sheet IS OmniBank's production. OmniBank's business is to change these entries.
Four Assets
OmniBank Assets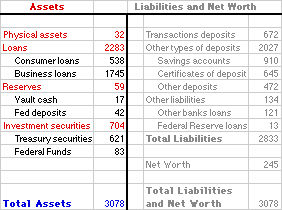 Now consider the primary asset categories for a bank. OmniBank assets are, of course, what the bank owns. OmniBank, being a representative bank, has four main categories of assets listed on the balance sheet at the right:
Physical Assets: This includes the buildings, land, furniture, and equipment owned by the bank. While this is what most people probably think of as assets, it is relatively minor for most banks.


Loans: The second asset category, the most important one for all banks, is loans. Loans are the primary source of interest revenue. While a loan is a liability for the borrower, it is an asset for the bank, for the lender. This asset includes loans to consumers (home loans, personal loans, automobile loans, credit card loans) and businesses (real estate development loans, capital investment loans).


Reserves: The third asset category is reserves. While this is small in amount, it is extremely important. Reserves are what banks use for daily transactions, such as processing checks or satisfying cash withdrawals. Banks use reserves to ensure the security of deposits. Two varieties of reserves worth noting are vault cash (the actual paper currency and coins that is kept in the bank, that is, in the vault) and Federal Reserve deposits (deposits that banks keep with the Federal Reserve System to clear checks and assist in other banking activities).


Investment Securities: The fourth asset category is investment securities. These act as a buffer between loans and reserves. They are safer than loans, but not as safe as reserves. They pay more interest than reserves, but not as much as loans. If a bank has a few extra reserves, but is not ready to lock in loans for the long term, then investment securities are the answer. Two important items in this category are U.S. Treasury securities (the securities that the federal government issues to borrow the funds used to finance the federal deficit) and Federal funds (loans made to other banks).

---
Recommended Citation:

BANK ASSETS, AmosWEB Encyclonomic WEB*pedia, http://www.AmosWEB.com, AmosWEB LLC, 2000-2017. [Accessed: August 18, 2017].
---
Check Out These Related Terms...

| | | | | | | |
---
Or For A Little Background...

| | | | | | | | | | |
---
And For Further Study...

| | | | | | |
---
Related Websites (Will Open in New Window)...

| | |
---
Search Again?


YELLOW CHIPPEROON
[What's This?]
Today, you are likely to spend a great deal of time searching the newspaper want ads wanting to buy either one of those memory foam pillows or a remote controlled train set. Be on the lookout for small children selling products door-to-door.
Your Complete Scope

The word "fiscal" is derived from a Latin word meaning "moneybag."

"Our vision controls the way we think and, therefore, the way we act . . . The vision we have of our jobs determines what we do and the opportunities we see or don't see. "

-- Charles Koch, executive

IPUMS
Integrated Public Use Microdata Series

Tell us what you think about AmosWEB. Like what you see? Have suggestions for improvements? Let us know. Click the User Feedback link.