ABSOLUTE POVERTY LEVEL: The amount of income a person or family needs to purchase an absolute amount of the basic necessities of life. These basic necessities are identified in terms of calories of food, BTUs of energy, square feet of living space, etc. The problem with the absolute poverty level is that there really are no absolutes when in comes to consuming goods. You can consume a given poverty level of calories eating relatively expensive steak, relatively inexpensive pasta, or garbage from a restaurant dumpster. The income needed to acquire each of these calorie "minimums" vary greatly. That's why some prefer a relative poverty level.




























EXPORTS LINE:
A graphical depiction of the relation between exports sold to the foreign sector and the economy's aggregate level of income or production. This relation is most important for deriving the net exports line, which plays a minor, but growing role in the study of Keynesian economics. An exports line is horizontal which indicates that exports are totally autonomous, with no induced component. The aggregate expenditures line used in Keynesian economics is derived by adding or stacking the net exports line, derived as the difference between the exports line and imports line, onto the consumption line, after adding investment expenditures and government purchases.
The exports line shows the relation between exports of domestic production purchased by the foreign sector and aggregate income or production. The income and production measures most commonly used are national income and gross domestic product. The purpose of the exports line is to graphically illustrate the exports-income relation for the foreign sector, which is then used to derive the net exports line by vertically subtracting the imports line, after which it is then integrated into the aggregate expenditures line used in Keynesian economics.

Net exports are the difference between exports and imports, or exports minus imports. Exports are purchases of domestic production by the foreign sector and imports are purchases of foreign production by the domestic economy. While imports are induced by the level of domestic income and production, exports are totally autonomous. Reflecting this, the exports line is horizontal, with a zero slope. There are no induced exports. The vertical intercept, or Y-intercept, of the exports line reflects autonomous exports.

Exports Line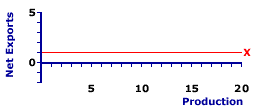 The horizontal red line, labeled X in the exhibit to the right, indicates a typical exports line. Line any straight line, this exports line is characterized by two key parameters, intercept and slope. The intercept indicates autonomous exports and the slope indicates the degree of induced exports, if any actually existed.

Identifying numbers for these two parameters for this particular line indicates that the intercept is $1 trillion, meaning autonomous exports is $1, and the slope is 0, meaning a $1 increase in domestic income or production induces a $0 decrease in exports. A zero slope means exports are autonomous and equal to $1 trillion for every level of domestic income and production.




---
Recommended Citation:

EXPORTS LINE, AmosWEB Encyclonomic WEB*pedia, http://www.AmosWEB.com, AmosWEB LLC, 2000-2018. [Accessed: January 16, 2018].
---
Check Out These Related Terms...

| | | | | | | | | | | |
---
Or For A Little Background...

| | | | | | | | | |
---
And For Further Study...

| | | | | | | | | | | | | | |
---
Search Again?


PURPLE SMARPHIN
[What's This?]
Today, you are likely to spend a great deal of time looking for a downtown retail store seeking to buy either looseleaf notebook paper or a three-hole paper punch. Be on the lookout for letters from the Internal Revenue Service.
Your Complete Scope

A thousand years before metal coins were developed, clay tablet "checks" were used as money by the Babylonians.

"Good humor is a tonic for mind and body. It is the best antidote for anxiety and depression. It is a business asset. It attracts and keeps friends. It lightens human burdens. It is the direct route to serenity and contentment."

-- Grenville Kleiser, Author

CACM
Central American Common Market

Tell us what you think about AmosWEB. Like what you see? Have suggestions for improvements? Let us know. Click the User Feedback link.