Today's Index
Yesterday's Index
236.1


Help us compile the AmosWEB Free Lunch Index. Tell us about your last lunch.

More About the Index

Favorite dead person to dine with?

G-20: In 1999, the Finance Ministers of the Group of Seven (G-7) leading industrialized nations announced the creation of the Group of Twenty (G-20). This international forum of Finance Ministers and Central Bank Governors represents 19 countries, the European Union and the Bretton Woods Institutions (the International Monetary Fund -IMF-- and the World Bank). The G-20 promotes discussion, and studies and reviews policy issues among industrialized countries and emerging markets with a view to promoting international financial stability. Member countries include: Argentina, Australia, Brazil, Canada, China, France, Germany, India, Indonesia, Italy, Japan, Mexico, Russia, Saudi Arabia, South Africa, Korea, Turkey, the United Kingdom, the United States and the European Union.




























MINIMUM EFFICIENT SCALE:
The quantity of production that places a firm at the lowest point on its long-run average cost curve. The minimum efficient scale achieves production of a good at the lowest possible opportunity cost. In other words, it is not possible to produced a good at any lower cost than at the minimum efficient scale. At this quantity the production involves foregoing the least amount of other goods.
While minimum efficient scale is often specified in terms of "the quantity of production," it need not be a single quantity. It could be a range of output. The reason is that long-run average cost is subject to two influences, economies of scale (and increasing returns to scale) for small production levels and diseconomies of scale (and decreasing returns to scale) for larger production levels.

The minimum efficient scale is the production quantity or range of quantities in which these two influences balance out. Or, another way of stating this, the minimum efficient scale is the production quantity or range of quantities in which the economies of scale have been exhausted, but the diseconomies of scale have not yet surfaced. This could be a single quantity, a turning point on the long-run average cost curve, or it could be a range of output.

Long-Run Average Cost Curve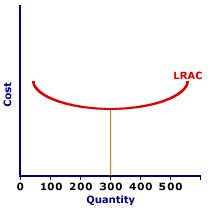 The exhibit to the right presents the long-run average cost curve for the production of Wacky Willy Stuffed Amigos (those cute and cuddly armadillos, tarantulas, and scorpions). The negatively-sloped range for relatively small quantities of output is the result of economies of scale. Over this range, workers and machinery become increasingly specialized, volume discounts are given on electricity prices, auxiliary activities begin springing up around the Wacky Willy factory, and markets are emerging for some of the bi-products.

As the scale of production increases, these economies of scale are exhausted and diseconomies take hold. This is reflected in the positively-sloped portion of the long-run average cost curve. Diseconomies of scale result because the factory is so big, with so many workers and levels of management, that it is increasingly difficult to manage. Moreover, because The Wacky Willy Company is the primary employer in Shady Valley, labor prices rise as Wacky Willy employment increases.

The minimum point on the long-run average cost curve occurs where economies of scale give way to diseconomies, and a production quantity of 300. This is the minimum efficient scale for the production of Wacky Willy Stuffed Amigos. As far as the opportunity cost of foregone production is concerned, Wacky Willy cannot produced Stuffed Amigos at a lower per unit cost than at this minimum efficient scale.




---
Recommended Citation:

MINIMUM EFFICIENT SCALE, AmosWEB Encyclonomic WEB*pedia, http://www.AmosWEB.com, AmosWEB LLC, 2000-2014. [Accessed: November 24, 2014].
---
Check Out These Related Terms...

| | | | | | |
---
Or For A Little Background...

| | | | | | | | |
---
And For Further Study...

| | | | | | | |
---
Search Again?


State of the ECONOMY

Wholesale Inventories
August 2014
$538 billion
Up 7.9% from August 2013. Econ. Stat. Admin.

ORANGE REBELOON
[What's This?]
Today, you are likely to spend a great deal of time at a dollar discount store wanting to buy either a coffee cup commemorating the 2000 Olympics or a birthday gift for your grandmother. Be on the lookout for vindictive digital clocks with revenge on their minds.
Your Complete Scope

The first "Black Friday" on record, a friday marked by a major financial catastrophe, occurred on September 24, 1869 -- A FRIDAY -- when an attempted cornering of the gold market induced a financial crises and economy-wide depression.

"You are younger today than you will ever be again. Make use of it for the sake of tomorrow. "

-- Norman Cousins, editor

ALAC
Latin American Free Trade Area

Tell us what you think about AmosWEB. Like what you see? Have suggestions for improvements? Let us know. Click the User Feedback link.