Today's Index
Yesterday's Index
223.9


Help us compile the AmosWEB Free Lunch Index. Tell us about your last lunch.

More About the Index

Favorite technology company?

A PRIORI: A presumption made before an analysis is undertaken, often based on experiences, beliefs, or deductions from seemingly self-evident propositions about how the world works. This is a Latin for assumption or axiom. A similar sounding, but opposite term is a posteriori, which is derived from observation or facts. For example, in the study of economics of crime you might assume, a priori, that people are basically "good", because that just seems to be part of human nature, and conclude, a posteriori, that people are more likely to commit crimes when the threat of capture and conviction is lower.




























MINIMUM EFFICIENT SCALE:
The quantity of production that places a firm at the lowest point on its long-run average cost curve. The minimum efficient scale achieves production of a good at the lowest possible opportunity cost. In other words, it is not possible to produced a good at any lower cost than at the minimum efficient scale. At this quantity the production involves foregoing the least amount of other goods.
While minimum efficient scale is often specified in terms of "the quantity of production," it need not be a single quantity. It could be a range of output. The reason is that long-run average cost is subject to two influences, economies of scale (and increasing returns to scale) for small production levels and diseconomies of scale (and decreasing returns to scale) for larger production levels.

The minimum efficient scale is the production quantity or range of quantities in which these two influences balance out. Or, another way of stating this, the minimum efficient scale is the production quantity or range of quantities in which the economies of scale have been exhausted, but the diseconomies of scale have not yet surfaced. This could be a single quantity, a turning point on the long-run average cost curve, or it could be a range of output.

Long-Run Average Cost Curve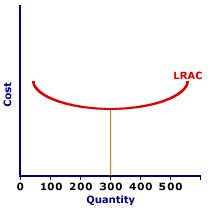 The exhibit to the right presents the long-run average cost curve for the production of Wacky Willy Stuffed Amigos (those cute and cuddly armadillos, tarantulas, and scorpions). The negatively-sloped range for relatively small quantities of output is the result of economies of scale. Over this range, workers and machinery become increasingly specialized, volume discounts are given on electricity prices, auxiliary activities begin springing up around the Wacky Willy factory, and markets are emerging for some of the bi-products.

As the scale of production increases, these economies of scale are exhausted and diseconomies take hold. This is reflected in the positively-sloped portion of the long-run average cost curve. Diseconomies of scale result because the factory is so big, with so many workers and levels of management, that it is increasingly difficult to manage. Moreover, because The Wacky Willy Company is the primary employer in Shady Valley, labor prices rise as Wacky Willy employment increases.

The minimum point on the long-run average cost curve occurs where economies of scale give way to diseconomies, and a production quantity of 300. This is the minimum efficient scale for the production of Wacky Willy Stuffed Amigos. As far as the opportunity cost of foregone production is concerned, Wacky Willy cannot produced Stuffed Amigos at a lower per unit cost than at this minimum efficient scale.




---
Recommended Citation:

MINIMUM EFFICIENT SCALE, AmosWEB Encyclonomic WEB*pedia, http://www.AmosWEB.com, AmosWEB LLC, 2000-2014. [Accessed: April 23, 2014].
---
Check Out These Related Terms...

| | | | | | |
---
Or For A Little Background...

| | | | | | | | |
---
And For Further Study...

| | | | | | | |
---
Search Again?


State of the ECONOMY

Consumer Price Index Urban
February 2014
234.781
Up 0.4% from January 2014 Source: BLS

WHITE GULLIBON
[What's This?]
Today, you are likely to spend a great deal of time calling an endless list of 800 numbers seeking to buy either a genuine down-filled comforter or a 200-foot blue garden hose. Be on the lookout for pencil sharpeners with an attitude.
Your Complete Scope

Potato chips were invented in 1853 by a irritated chef repeatedly seeking to appease the hard to please Cornelius Vanderbilt who demanded french fried potatoes that were thinner and crisper than normal.

"The past cannot be changed. The future is yet in your power. "

-- Hugh White, U.S. Senator

LOCH
London Options Clearing House

Tell us what you think about AmosWEB. Like what you see? Have suggestions for improvements? Let us know. Click the User Feedback link.