Today's Index
Yesterday's Index
276.5


Help us compile the AmosWEB Free Lunch Index. Tell us about your last lunch.

More About the Index

MARGINAL EFFICIENCY OF INVESTMENT: The anticipated rate of return on a capital investment project undertaken by a business firm. Businesses typically compare the marginal efficiency of investment, abbreviated MEI, on physical capital with interest rate returns on financial capital when deciding to undertake an investment project. Because different investment projects have different returns, businesses often have a range of alternatives projects from which to choose. Combining all projects throughout the economy gives rise to an investment demand curve relating investment expenditures to the interest rate.




























MINIMUM EFFICIENT SCALE:
The quantity of production that places a firm at the lowest point on its long-run average cost curve. The minimum efficient scale achieves production of a good at the lowest possible opportunity cost. In other words, it is not possible to produced a good at any lower cost than at the minimum efficient scale. At this quantity the production involves foregoing the least amount of other goods.
While minimum efficient scale is often specified in terms of "the quantity of production," it need not be a single quantity. It could be a range of output. The reason is that long-run average cost is subject to two influences, economies of scale (and increasing returns to scale) for small production levels and diseconomies of scale (and decreasing returns to scale) for larger production levels.

The minimum efficient scale is the production quantity or range of quantities in which these two influences balance out. Or, another way of stating this, the minimum efficient scale is the production quantity or range of quantities in which the economies of scale have been exhausted, but the diseconomies of scale have not yet surfaced. This could be a single quantity, a turning point on the long-run average cost curve, or it could be a range of output.

Long-Run Average Cost Curve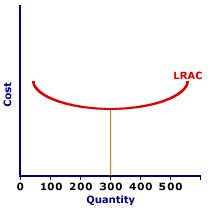 The exhibit to the right presents the long-run average cost curve for the production of Wacky Willy Stuffed Amigos (those cute and cuddly armadillos, tarantulas, and scorpions). The negatively-sloped range for relatively small quantities of output is the result of economies of scale. Over this range, workers and machinery become increasingly specialized, volume discounts are given on electricity prices, auxiliary activities begin springing up around the Wacky Willy factory, and markets are emerging for some of the bi-products.

As the scale of production increases, these economies of scale are exhausted and diseconomies take hold. This is reflected in the positively-sloped portion of the long-run average cost curve. Diseconomies of scale result because the factory is so big, with so many workers and levels of management, that it is increasingly difficult to manage. Moreover, because The Wacky Willy Company is the primary employer in Shady Valley, labor prices rise as Wacky Willy employment increases.

The minimum point on the long-run average cost curve occurs where economies of scale give way to diseconomies, and a production quantity of 300. This is the minimum efficient scale for the production of Wacky Willy Stuffed Amigos. As far as the opportunity cost of foregone production is concerned, Wacky Willy cannot produced Stuffed Amigos at a lower per unit cost than at this minimum efficient scale.




---
Recommended Citation:

MINIMUM EFFICIENT SCALE, AmosWEB Encyclonomic WEB*pedia, http://www.AmosWEB.com, AmosWEB LLC, 2000-2014. [Accessed: August 1, 2014].
---
Check Out These Related Terms...

| | | | | | |
---
Or For A Little Background...

| | | | | | | | |
---
And For Further Study...

| | | | | | | |
---
Search Again?


State of the ECONOMY

Producer Price Index for Finished Goods
May 2014
211.9
Down 0.1% from April 2013 Soure: BLS.gov

WHITE GULLIBON
[What's This?]
Today, you are likely to spend a great deal of time at the confiscated property police auction seeking to buy either a blue mechanical pencil or super soft, super cuddly, stuffed animals. Be on the lookout for empty parking spaces that appear to be near the entrance to a store.
Your Complete Scope

Before 1933, the U.S. dime was legal as payment only in transactions of $10 or less.

"A leader is most successful when people barely know he exists. When his work is done, his aim fulfilled, his troops will feel they did it themselves. "

-- Lao-Tzu, philosopher

QR
Quantitative Restriction

Tell us what you think about AmosWEB. Like what you see? Have suggestions for improvements? Let us know. Click the User Feedback link.