ORGANIZATION OF AMERICAN STATES: In 1948, 21 nations of the hemisphere met in Bogota, Colombia, to adopt the Charter of the Organization of American States (OAS). Since then, the OAS has expanded to include the nations of the Caribbean, as well as Canada. Currently, all 35 independent countries of the Americas have ratified the OAS Charter and belong to the Organization. Cuba remains a member, but its government has been excluded from participation in the OAS since 1962. The OAS is the region's premier political forum for multilateral dialogue and action. Among OAS' major goals they work for strengthening freedom of speech and thought as a basic human right, promoting greater participation by civil society in decision-making at all levels of government, improving cooperation to address the problem of illegal drugs and supporting the process to create a Free Trade Area of the Americas.




























MINIMUM EFFICIENT SCALE:
The quantity of production that places a firm at the lowest point on its long-run average cost curve. The minimum efficient scale achieves production of a good at the lowest possible opportunity cost. In other words, it is not possible to produced a good at any lower cost than at the minimum efficient scale. At this quantity the production involves foregoing the least amount of other goods.
While minimum efficient scale is often specified in terms of "the quantity of production," it need not be a single quantity. It could be a range of output. The reason is that long-run average cost is subject to two influences, economies of scale (and increasing returns to scale) for small production levels and diseconomies of scale (and decreasing returns to scale) for larger production levels.

The minimum efficient scale is the production quantity or range of quantities in which these two influences balance out. Or, another way of stating this, the minimum efficient scale is the production quantity or range of quantities in which the economies of scale have been exhausted, but the diseconomies of scale have not yet surfaced. This could be a single quantity, a turning point on the long-run average cost curve, or it could be a range of output.

Long-Run Average Cost Curve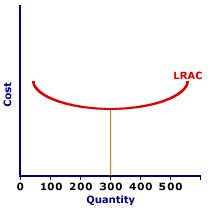 The exhibit to the right presents the long-run average cost curve for the production of Wacky Willy Stuffed Amigos (those cute and cuddly armadillos, tarantulas, and scorpions). The negatively-sloped range for relatively small quantities of output is the result of economies of scale. Over this range, workers and machinery become increasingly specialized, volume discounts are given on electricity prices, auxiliary activities begin springing up around the Wacky Willy factory, and markets are emerging for some of the bi-products.

As the scale of production increases, these economies of scale are exhausted and diseconomies take hold. This is reflected in the positively-sloped portion of the long-run average cost curve. Diseconomies of scale result because the factory is so big, with so many workers and levels of management, that it is increasingly difficult to manage. Moreover, because The Wacky Willy Company is the primary employer in Shady Valley, labor prices rise as Wacky Willy employment increases.

The minimum point on the long-run average cost curve occurs where economies of scale give way to diseconomies, and a production quantity of 300. This is the minimum efficient scale for the production of Wacky Willy Stuffed Amigos. As far as the opportunity cost of foregone production is concerned, Wacky Willy cannot produced Stuffed Amigos at a lower per unit cost than at this minimum efficient scale.




---
Recommended Citation:

MINIMUM EFFICIENT SCALE, AmosWEB Encyclonomic WEB*pedia, http://www.AmosWEB.com, AmosWEB LLC, 2000-2019. [Accessed: July 21, 2019].
---
Check Out These Related Terms...

| | | | | | |
---
Or For A Little Background...

| | | | | | | | |
---
And For Further Study...

| | | | | | | |
---
Search Again?


BLUE PLACIDOLA
[What's This?]
Today, you are likely to spend a great deal of time waiting for visits from door-to-door solicitors hoping to buy either handcrafted decorations to hang on your walls or throw pillows for your bed. Be on the lookout for jovial bank tellers.
Your Complete Scope

Okun's Law posits that the unemployment rate increases by 1% for every 2% gap between real GDP and full-employment real GDP.

"When I stand before God at the end of my life, I would hope that I would not have a single bit of talent left, and could say, "I used everything you gave me.¾"

-- Erma Bombeck, writer

AFEA
American Farm Economic Association

Tell us what you think about AmosWEB. Like what you see? Have suggestions for improvements? Let us know. Click the User Feedback link.