THE ECONOMIC PROBLEM: Another term for scarcity, which is the pervasive condition of human existence that exists because society has unlimited wants and needs, but limited resources used for their satisfaction. In other words, while we all want a bunch of stuff, we can't have everything that we want (see free lunch). In slightly different words, this scarcity problem means: (1) that there's never enough resources to produce everything that everyone would like produced; (2) that some people will have to do without some of the stuff that they want or need; (3) that doing one thing, producing one good, performing one activity, forces society to give up something else; and (4) that the same resources can not be used to produce two different goods at the same time. We live in a big, bad world of scarcity. This big, bad world of scarcity is what the study of economics is all about. That's why we usually subtitle scarcity: THE ECONOMIC PROBLEM.





























DEMAND SPACE:
The area on or beneath a demand curve that indicates all possible price-quantity combinations acceptable to buyers. Buyers are willing and able to purchase any price-quantity combination that places them on or below the demand curve, but not above.
Demand space includes all combinations of price and quantity demanded that are acceptable to buyers. It includes every price up to the maximum demand price for a given quantity demanded. Alternatively, it includes every quantity up to the maximum quantity demanded for a given demand price.
Show Me The Space
Demand Space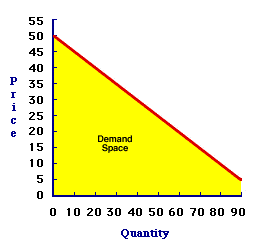 The exhibit at the right illustrates the demand space for stuffed Yellow Tarantulas, a cute and cuddly stuffed creature from the Wacky Willy Stuffed Amigos line of collectibles. Demand space is the highlighted area below (and including) the demand curve. This space contains all price-quantity combinations acceptable to buyers.
More Than A Curve
While the demand side of the market is usually represented by a demand curve, the buying process is often best reflected by the entire demand space. Buyers can operate anywhere within this space. It could be on the demand curve itself or far below the line.

The demand curve actually only represents the upper boundary of the willingness and ability to buy. Invoking the observation that people prefer more to less means that the demand price on the demand curve is the highest price, the maximum price, that buyers are willing and able to pay. However, buyers are also willing and able to pay less than the demand price for a given quantity. In fact, the lower the better.

Suppose, for example, that buyers are faced with purchasing 40 Yellow Tarantulas. They are willing and able to pay $30 each, the demand price on the demand curve. Lower prices, however, are also acceptable. Is $20 each acceptable? Certainly. How about $10? No question. Are buyers willing and able to pay as little as $0? Without a doubt. All of these prices place the buyers in the demand space.




---
Recommended Citation:

DEMAND SPACE, AmosWEB Encyclonomic WEB*pedia, http://www.AmosWEB.com, AmosWEB LLC, 2000-2021. [Accessed: October 19, 2021].
---
Check Out These Related Terms...

| | | | | | | | |
---
Or For A Little Background...

| | | | | | | | | | | | | |
---
And For Further Study...

| | | | | | | | | | | | | |
---
Search Again?




PINK FADFLY
[What's This?]
Today, you are likely to spend a great deal of time searching the newspaper want ads looking to buy either several magazines on fashion design or a package of 3 by 5 index cards, the ones without lines. Be on the lookout for poorly written technical manuals.
Your Complete Scope

It's estimated that the U.S. economy has about $20 million of counterfeit currency in circulation, less than 0.001 perecent of the total legal currency.

"Think not of yourself as the architect of your career but as the sculptor. Expect to have to do a lot of hard hammering and chiseling and scraping and polishing. "

-- B. C. Forbes, founder, Forbes magazine

I
Income

Tell us what you think about AmosWEB. Like what you see? Have suggestions for improvements? Let us know. Click the User Feedback link.