WELFARE: An assortment of programs that provide assistance to the poor. The cornerstone of our welfare system is Aid to Families with Dependent Children (AFDC), which was created by the Social Security Act (1935). It provides cash benefits to assist needy families with children under the age of 18. Funding comes partly from the federal government and partly from states. Because states also administer their own programs, benefits and qualification criteria differ from state to state. A second part of the welfare system, one that's run entirely by the federal government, is Supplemental Security Income (SSI). This program provides cash benefits to elderly, blind, and disabled in addition to any benefits received through the Social Security system. Our welfare system includes a whole bunch of additional benefits, including Medicaid, food stamps, low-cost housing, school lunches, job training, day care, and earned-income tax credits.




























EXPORTS LINE:
A graphical depiction of the relation between exports sold to the foreign sector and the economy's aggregate level of income or production. This relation is most important for deriving the net exports line, which plays a minor, but growing role in the study of Keynesian economics. An exports line is horizontal which indicates that exports are totally autonomous, with no induced component. The aggregate expenditures line used in Keynesian economics is derived by adding or stacking the net exports line, derived as the difference between the exports line and imports line, onto the consumption line, after adding investment expenditures and government purchases.
The exports line shows the relation between exports of domestic production purchased by the foreign sector and aggregate income or production. The income and production measures most commonly used are national income and gross domestic product. The purpose of the exports line is to graphically illustrate the exports-income relation for the foreign sector, which is then used to derive the net exports line by vertically subtracting the imports line, after which it is then integrated into the aggregate expenditures line used in Keynesian economics.

Net exports are the difference between exports and imports, or exports minus imports. Exports are purchases of domestic production by the foreign sector and imports are purchases of foreign production by the domestic economy. While imports are induced by the level of domestic income and production, exports are totally autonomous. Reflecting this, the exports line is horizontal, with a zero slope. There are no induced exports. The vertical intercept, or Y-intercept, of the exports line reflects autonomous exports.

Exports Line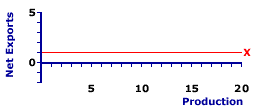 The horizontal red line, labeled X in the exhibit to the right, indicates a typical exports line. Line any straight line, this exports line is characterized by two key parameters, intercept and slope. The intercept indicates autonomous exports and the slope indicates the degree of induced exports, if any actually existed.

Identifying numbers for these two parameters for this particular line indicates that the intercept is $1 trillion, meaning autonomous exports is $1, and the slope is 0, meaning a $1 increase in domestic income or production induces a $0 decrease in exports. A zero slope means exports are autonomous and equal to $1 trillion for every level of domestic income and production.




---
Recommended Citation:

EXPORTS LINE, AmosWEB Encyclonomic WEB*pedia, http://www.AmosWEB.com, AmosWEB LLC, 2000-2019. [Accessed: April 26, 2019].
---
Check Out These Related Terms...

| | | | | | | | | | | |
---
Or For A Little Background...

| | | | | | | | | |
---
And For Further Study...

| | | | | | | | | | | | | | |
---
Search Again?


PINK FADFLY
[What's This?]
Today, you are likely to spend a great deal of time at a garage sale trying to buy either one of those memory foam pillows or a remote controlled train set. Be on the lookout for small children selling products door-to-door.
Your Complete Scope

Woodrow Wilson's portrait adorned the $100,000 bill that was removed from circulation in 1929. Woodrow Wilson was removed from circulation in 1924.

"Sometimes when you innovate, you make mistakes. It is best to admit them quickly and get on with improving your other innovations. "

-- Steve Jobs, Apple Computer founder

LWP
Leave With Pay

Tell us what you think about AmosWEB. Like what you see? Have suggestions for improvements? Let us know. Click the User Feedback link.