ECONOMIC RECOVERY TAX ACT: Unofficially called the Kemp-Roth, this was a cornerstone of economic policy under President Reagan passed in 1981. The three components of this act were: (1) a decrease in individual income taxes, phased in over three years, (2) a decrease in business taxes, primarily through changes in capital depreciation, and (3) the indexing of taxes to inflation, which was implemented in 1985. This act was intended to address the stagflation problems of high unemployment and high inflation that existed during that 1970s and to provide greater incentives for investment. A primary theoretical justification is found in the Laffer curve relation between tax rates and total tax collections.




























EXPORTS LINE:
A graphical depiction of the relation between exports sold to the foreign sector and the economy's aggregate level of income or production. This relation is most important for deriving the net exports line, which plays a minor, but growing role in the study of Keynesian economics. An exports line is horizontal which indicates that exports are totally autonomous, with no induced component. The aggregate expenditures line used in Keynesian economics is derived by adding or stacking the net exports line, derived as the difference between the exports line and imports line, onto the consumption line, after adding investment expenditures and government purchases.
The exports line shows the relation between exports of domestic production purchased by the foreign sector and aggregate income or production. The income and production measures most commonly used are national income and gross domestic product. The purpose of the exports line is to graphically illustrate the exports-income relation for the foreign sector, which is then used to derive the net exports line by vertically subtracting the imports line, after which it is then integrated into the aggregate expenditures line used in Keynesian economics.

Net exports are the difference between exports and imports, or exports minus imports. Exports are purchases of domestic production by the foreign sector and imports are purchases of foreign production by the domestic economy. While imports are induced by the level of domestic income and production, exports are totally autonomous. Reflecting this, the exports line is horizontal, with a zero slope. There are no induced exports. The vertical intercept, or Y-intercept, of the exports line reflects autonomous exports.

Exports Line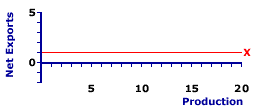 The horizontal red line, labeled X in the exhibit to the right, indicates a typical exports line. Line any straight line, this exports line is characterized by two key parameters, intercept and slope. The intercept indicates autonomous exports and the slope indicates the degree of induced exports, if any actually existed.

Identifying numbers for these two parameters for this particular line indicates that the intercept is $1 trillion, meaning autonomous exports is $1, and the slope is 0, meaning a $1 increase in domestic income or production induces a $0 decrease in exports. A zero slope means exports are autonomous and equal to $1 trillion for every level of domestic income and production.




---
Recommended Citation:

EXPORTS LINE, AmosWEB Encyclonomic WEB*pedia, http://www.AmosWEB.com, AmosWEB LLC, 2000-2019. [Accessed: February 22, 2019].
---
Check Out These Related Terms...

| | | | | | | | | | | |
---
Or For A Little Background...

| | | | | | | | | |
---
And For Further Study...

| | | | | | | | | | | | | | |
---
Search Again?


GREEN LOGIGUIN
[What's This?]
Today, you are likely to spend a great deal of time calling an endless list of 800 numbers wanting to buy either a how-to book on home remodeling or a tall storage cabinet with five shelves and a secure lock. Be on the lookout for mail order catalogs with hidden messages.
Your Complete Scope

The first "Black Friday" on record, a friday marked by a major financial catastrophe, occurred on September 24, 1869 -- A FRIDAY -- when an attempted cornering of the gold market induced a financial crises and economy-wide depression.

"Be willing to have it so. Acceptance of what has happened is the first step to overcoming the consequences of any misfortune."

-- William James, Psychologist

CPI-W
Consumer Price Index-Urban Wage Earners and Clerical Workers

Tell us what you think about AmosWEB. Like what you see? Have suggestions for improvements? Let us know. Click the User Feedback link.