RISK AVERSE: A person who values a certain income more than an equal amount of income that involves risk or uncertainty. To illustrate, let's say that you're given two options--(A) a guaranteed $1,000 or (b) a 50-50 chance of getting either $500 or $1,500. If you chose option A, then you're risk averse. Both options give you the same "expected" values. In other words, if you select option B a few hundred times, then your average amount over those few hundred times is $1,000.




























IMPORTS LINE:
A graphical depiction of the relation between imports bought from the foreign sector and the domestic economy's aggregate level of income or production. This relation is most important for deriving the net exports line, which plays a minor, but growing role in the study of Keynesian economics. An imports line is characterized by vertical intercept, which indicates autonomous imports, and slope, which is the marginal propensity to import and indicates induced imports. The aggregate expenditures line used in Keynesian economics is derived by adding or stacking the net exports line, derived as the difference between the exports line and imports line, onto the consumption line, after adding investment expenditures and government purchases.
The imports line shows the relation between imports purchased from the foreign sector and aggregate income or production. The income and production measures most commonly used are national income and gross domestic product. The purpose of the imports line is to graphically illustrate the imports-income relation for the foreign sector, which is then used to derive the net exports line by vertically subtracting it from the exports line, after which it is then integrated into the aggregate expenditures line used in Keynesian economics.

Net exports are the difference between exports and imports, or exports minus imports. Exports are purchases of domestic production by the foreign sector and imports are purchases of foreign production by the domestic economy. While exports are totally autonomous, imports are induced by the level of domestic income and production. Reflecting this, the imports line is positively-sloped, with the slope equal to the marginal propensity to import (MPM). The vertical intercept, or Y-intercept, of the imports line is then autonomous imports.

Imports Line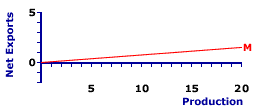 The positively-sloped red line, labeled M in the exhibit to the right, indicates a typical imports line. Line any straight line, this imports line is characterized by two key parameters, intercept and slope. The intercept indicates autonomous imports and the slope indicates induced imports.

Identifying numbers for these two parameters for this particular line indicates that the intercept is $0, meaning autonomous imports is $0, and the slope is 0.075, meaning a $1 increase in domestic income or production induces a $0.075 increase in imports. In this particular case, the imports line has a zero intercept, indicating no autonomous imports, but that need not be the case. Most notable is that the slope of the imports line is the marginal propensity to import (MPM).




---
Recommended Citation:

IMPORTS LINE, AmosWEB Encyclonomic WEB*pedia, http://www.AmosWEB.com, AmosWEB LLC, 2000-2019. [Accessed: August 24, 2019].
---
Check Out These Related Terms...

| | | | | | | | | | | |
---
Or For A Little Background...

| | | | | | | | | |
---
And For Further Study...

| | | | | | | | | | | | | | |
---
Search Again?


BEIGE MUNDORTLE
[What's This?]
Today, you are likely to spend a great deal of time strolling through a department store seeking to buy either a really, really exciting, action-filled video game or a coffee cup commemorating the moon landing. Be on the lookout for neighborhood pets, especially belligerent parrots.
Your Complete Scope

Mark Twain said "I wonder how much it would take to buy soap buble if there was only one in the world."

"An organization's ability to learn, and translate that learning into action rapidly, is the ultimate competitive business advantage. "

-- Jack Welch, General Electric chief executive

AV
Actual Value

Tell us what you think about AmosWEB. Like what you see? Have suggestions for improvements? Let us know. Click the User Feedback link.