PART-TIME WORKERS: People who are willing and able to work full-time (over 35 hours per week), but are forced to work less because employers don't need their productive efforts. While part-time workers officially have jobs, and are officially included in the "employed" category when the official unemployment rate is calculated, their labor resources are really only partially unemployed. A person working 20 hours a week, who is willing and able to work 40 hours a week, really should be considered as "half employed."




























IMPORTS LINE:
A graphical depiction of the relation between imports bought from the foreign sector and the domestic economy's aggregate level of income or production. This relation is most important for deriving the net exports line, which plays a minor, but growing role in the study of Keynesian economics. An imports line is characterized by vertical intercept, which indicates autonomous imports, and slope, which is the marginal propensity to import and indicates induced imports. The aggregate expenditures line used in Keynesian economics is derived by adding or stacking the net exports line, derived as the difference between the exports line and imports line, onto the consumption line, after adding investment expenditures and government purchases.
The imports line shows the relation between imports purchased from the foreign sector and aggregate income or production. The income and production measures most commonly used are national income and gross domestic product. The purpose of the imports line is to graphically illustrate the imports-income relation for the foreign sector, which is then used to derive the net exports line by vertically subtracting it from the exports line, after which it is then integrated into the aggregate expenditures line used in Keynesian economics.

Net exports are the difference between exports and imports, or exports minus imports. Exports are purchases of domestic production by the foreign sector and imports are purchases of foreign production by the domestic economy. While exports are totally autonomous, imports are induced by the level of domestic income and production. Reflecting this, the imports line is positively-sloped, with the slope equal to the marginal propensity to import (MPM). The vertical intercept, or Y-intercept, of the imports line is then autonomous imports.

Imports Line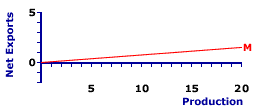 The positively-sloped red line, labeled M in the exhibit to the right, indicates a typical imports line. Line any straight line, this imports line is characterized by two key parameters, intercept and slope. The intercept indicates autonomous imports and the slope indicates induced imports.

Identifying numbers for these two parameters for this particular line indicates that the intercept is $0, meaning autonomous imports is $0, and the slope is 0.075, meaning a $1 increase in domestic income or production induces a $0.075 increase in imports. In this particular case, the imports line has a zero intercept, indicating no autonomous imports, but that need not be the case. Most notable is that the slope of the imports line is the marginal propensity to import (MPM).




---
Recommended Citation:

IMPORTS LINE, AmosWEB Encyclonomic WEB*pedia, http://www.AmosWEB.com, AmosWEB LLC, 2000-2022. [Accessed: May 26, 2022].
---
Check Out These Related Terms...

| | | | | | | | | | | |
---
Or For A Little Background...

| | | | | | | | | |
---
And For Further Study...

| | | | | | | | | | | | | | |
---
Search Again?


BROWN PRAGMATOX
[What's This?]
Today, you are likely to spend a great deal of time driving to a factory outlet trying to buy either a rim for your spare tire or decorative celebrity figurines. Be on the lookout for spoiled cheese hiding under your bed hatching conspiracies against humanity.
Your Complete Scope

Francis Bacon (1561-1626), a champion of the scientific method, died when he caught a severe cold while attempting to preserve a chicken by filling it with snow.

"Try not to become a man of success, but rather try to become a man of value. "

-- Albert Einstein

SET
Securities Exchange of Thailand

Tell us what you think about AmosWEB. Like what you see? Have suggestions for improvements? Let us know. Click the User Feedback link.