Today's Index
Yesterday's Index
277.4


Help us compile the AmosWEB Free Lunch Index. Tell us about your last lunch.

More About the Index


ADB: An abbreviation that stands for either the African Development Bank the Asian Development Bank. The African Development Bank is a regional multilateral development institution engaged in promoting the economic development and social progress of its member countries in Africa. The Bank, established in 1964, started functioning in 1966 with its Headquarters in Abidjan, Cote d' lvoire. The Bank borrows funds from the international money and capital markets. Its shareholders are the 53 countries in Africa as well as 24 countries in the Americas, Europe, and Asia. The Asian Development Bank is a multilateral development finance institution dedicated to reducing poverty in Asia and the Pacific that engages in mostly public sector lending for development purposes in its developing member countries. They pursue this goal by helping to improve the quality of people's lives providing loans and technical assistance for a broad range of development activities. ADB raises fund through bond issues on the world's capital markets but they also rely on members' contributions. The ADB was established in 1966 and has its headquarters in Manila, Philippines. As of September of 2003, the ADB had 58 member countries.




























THREE QUESTIONS OF ALLOCATION:
The three basic questions that an economy must answer because of limited resources and unlimited wants and needs are: What? How? and For Whom? The basic problem of scarcity requires every society to determine: What goods to produce? How to produce the goods? And who receives the goods that are produced?
The pervasive problem of scarcity means that every society must choose among alternative uses of its limited resources. Society has only so much labor, capital, land, and entrepreneurship that can be used to satisfy the unlimited wants and needs of its members. This decision-making process, more commonly termed allocation, is summarized by the three questions: What? How? For Whom?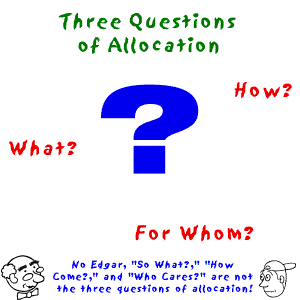 What?
The first question society must answer is: What goods and services are produced with society's limited resources? Does society make bagels or bread? Hammocks or hot fudge sundaes? Computers or Cadillacs? Birdfeed or battleships? This question is necessary because resources are limited but wants and needs are unlimited. Society wants a lot of goods and services, but everything cannot produced for everyone. Choices must be made. Society must choose among the wide assortment of alternatives when selecting which goods to produce.
How?
The second question that needs to be answered is: How are society's limited resources combined to produce goods and services? Are jogging shoes made with leather or nylon? Are houses built with wood or brick? Are cars made with high-tech robots or manual labor? Society, must decide which limited resources to use for which goods. Every good cannot be made using the same resources. A hungry consumer may want a hot fudge sundae made with expensive creamy custard, but opts for less expensive ice milk.
For whom?
The third of the three questions of allocation is: Who receives the goods and services produced with society's resources? All goods given to benevolent economics instructors? Should goods be distributed according to shoe size? What if people buy goods with their incomes? Now, there is a thought. But, what about people who have no income? With limited resources, the production of goods is also limited. With limited goods, everyone cannot have everything. Society has to decide who gets what. Markets answer these three questions through prices. For example, resource owners (those producing goods) decide What? goods to produce based on relative prices. As such, a farmer like Herb Haberstone plants relatively more land to corn and less to soybeans if the price of corn is high compared to the price of soybeans. But, why is the price of corn higher? The answer is that buyers--consumers, the public, people, society--place a relatively higher value on corn than on soybeans, because corn provides relatively more satisfaction of unlimited wants and needs.

Prices work much the same way for answering the How? question. Producers decide which resources to use in the production of a good, based on relative prices. For example, snack cakes, crackers, and similar products use soybean oil, canola oil, or cottonseed oil during preparation, depending on which has the lowest price. Over the decades, manufacturing companies have become more automated (that is, they use more capital and less labor) as wages paid to labor have risen.

Prices are also the guiding light when markets answer the For Whom? question. In this case, the relative prices paid to labor and other resource owners for the production of different goods are the key. Resource owners paid relatively higher prices receive relatively more income, which they can use to purchase relatively more goods. They are the ones who receive more production. But why do these resource owners have relatively higher wages? The reason is that the goods they produce are relatively more valuable--that is, provide more satisfaction--to society. A professional baseball player, for example, receives more income than a professional economist, because the contribution of the baseball player to the good produced (baseball entertainment) is more highly valued by society than the contribution of the good produced by the economist (economics education).
Government Answers
The other method of resource allocation process in a mixed economy, government, also answers these three questions. Government, however, uses its coercive powers of laws, regulations, spending, and taxes for the answers. Government can pass laws that simply dictate What? goods are produced, How? those goods are made and For Whom? the goods are produced. It often uses the powers of taxation and spending to answer these question, as well. For example, taxes can be spent on highways rather than education to answer the What? question. Or taxes can be placed on labor to encourage the use of capital to answer the How? question. Lastly, taxes can be used to transfer income from workers to nonworkers, as with Social Security, to answer the For Whom? question.

Whether answers come through market exchanges or government mandate, every society, regardless of economic or political system MUST address these three questions.




---
Recommended Citation:

THREE QUESTIONS OF ALLOCATION, AmosWEB Encyclonomic WEB*pedia, http://www.AmosWEB.com, AmosWEB LLC, 2000-2014. [Accessed: October 30, 2014].
---
Check Out These Related Terms...
---
Or For A Little Background...

| | | | | | | |
---
And For Further Study...

| | | | | | | | | | | | | | |
---
Search Again?


State of the ECONOMY

e-commerce sales
2nd Quarter 2014
$75.0 billion
Up 4.9% from 1st Quarter 2014 US Census Bureau

PURPLE SMARPHIN
[What's This?]
Today, you are likely to spend a great deal of time watching the shopping channel seeking to buy either a birthday greeting card for your mother that doesn't look like a greeting card or a handcrafted spice rack. Be on the lookout for bottles of barbeque sauce that act TOO innocent.
Your Complete Scope

The portion of aggregate output U.S. citizens pay in taxes (30%) is less than the other six leading industrialized nations -- Britain, Canada, France, Germany, Italy, or Japan.

"He who truly knows has no occasion to shout. "

-- Leonardo da Vinci, painter, sculptor, architect, engineer

NYCE
New York Cotton Exchange

Tell us what you think about AmosWEB. Like what you see? Have suggestions for improvements? Let us know. Click the User Feedback link.