MARKETING: The ongoing process of developing, pricing, promoting, distributing, and packaging products, ideas, and services to satisfy customersÕ wants and needs in a dynamic environment. Sometimes used interchangeably with sales is a misnomer. Sales, while a component of the promotion mix variable, is not the equivalent to marketing. Marketing is a broad, integrated strategy that transcends the entire organization.




























MIXED ECONOMY:
An economy, or economic system, that relies on both markets and governments to allocate resources. Every economy in the real world regardless of their common designation (such as capitalism, socialism, or communism) make use of both markets and governments and is technically a mixed economy.
While, in theory, resource allocation could be undertaken exclusively through markets or exclusively through governments, in the real world all economies rely on a mix of both markets and governments for allocation decisions. Markets allocate resources through voluntary choices made by living, breathing people. Governments force allocation through involuntary taxes, laws, restrictions, and regulations. While everyone likely has their own personal favorite when it comes to using of markets or government to do the deed of allocation, both institutions play vital roles in a mixed economy.
Markets
The key term for markets is voluntary. Markets are the voluntary exchange of goods. No one forces a person to buy a hot fudge sundae for breakfast or work as a sales clerk at the jogging shoe boutique. People do a market exchange because they choose to.

An economy that uses nothing but markets to allocate resources is called a pure market economy. This is a theoretical ideal that does not actually exist in the real world. But it provides an excellent benchmark for comparison with real world economies. Economists love benchmarks such as this, especially when practicing normative economics.
Governments
The key term for government allocation is involuntary. Governments set forth the laws and rules. If people do not follow the rules, then they are punished. Governments can punish those who do not follow the rules because... well... because that is what they do. Given a choice, people probably would rather NOT pay taxes or have their cars safety inspected. They follow government rules because they have to, because it is the law.

An economy that uses nothing but government to allocate resources is called a pure command economy. This is also a theoretical extreme that does not actually exist in the real world. But like a pure market economy, it provides a benchmark for comparison with real world economies.
A Real World Continuum
Mixed Economies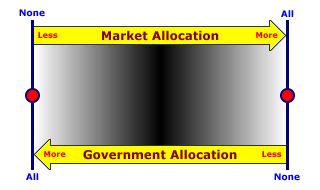 If pure market economies and pure command economies are theoretical ideals that do not actually exist in the real world, where does that leave real world economies? Somewhere in the middle. Real world economies form a continuum bounded by these two theoretical extremes.

However, noting that real world economies are real and not theoretical ideals does not say much. While all real world economies are mixed, some mixed economies tend to use markets more than governments and others rely more on governments than markets. For example, capitalism is the popular term for a market-oriented economy that leans heavily to the market end. Socialism and communism are mixed economies that lean more (often a lot more) toward government control.
Goals and Policies
An inherent dimension of a mixed economy is the pursuit of economic goals using assorted government policies. The five basic goals that are generally desired by society are: (1) full employment, (2) stability, (3) economic growth, (4) efficiency, and (5) equity. Governments take primary responsibility in the pursuit of these five goals with a wide variety of economic policies that assist, guide, control, and regulate voluntary market exchanges. Such policies take the form of: (1) laws passed by legislatures, (2) administrative actions taken by elected executives, (3) rules set forth by government agencies, and (4) decisions made through the courts.


---
Recommended Citation:

MIXED ECONOMY, AmosWEB Encyclonomic WEB*pedia, http://www.AmosWEB.com, AmosWEB LLC, 2000-2019. [Accessed: July 21, 2019].
---
Check Out These Related Terms...

| | | | | | | |
---
Or For A Little Background...

| | | |
---
And For Further Study...

| | | | | | | | | | |
---
Search Again?


BLACK DISMALAPOD
[What's This?]
Today, you are likely to spend a great deal of time strolling around a discount warehouse buying club trying to buy either a T-shirt commemorating the second moon landing or a coffee cup commemorating Thor Heyerdahl's Pacific crossing aboard the Kon-Tiki. Be on the lookout for small children selling products door-to-door.
Your Complete Scope

In his older years, Andrew Carnegie seldom carried money because he was offended by its sight and touch.

"When I stand before God at the end of my life, I would hope that I would not have a single bit of talent left, and could say, "I used everything you gave me.¾"

-- Erma Bombeck, writer

NI
National Income, Net Income

Tell us what you think about AmosWEB. Like what you see? Have suggestions for improvements? Let us know. Click the User Feedback link.