Today's Index
Yesterday's Index
238.9


Help us compile the AmosWEB Free Lunch Index. Tell us about your last lunch.

More About the Index

MARKET SHARE: The fraction of an industry's total sales accounted for by a single business. In general, market share is a "first-guess" indicator of a firm's market control. If, for example, a company has a market share of 100 percent (that is, a monopoly), then you can rest assured it has a substantial amount of market control. A company with a 25 percent market share has less, but still notable, market control. In fact, when you get right down to the bottom line, the phrase "market share" is only worth mentioning for oligopolistic firms with a significant degree of market control. There really is no market control for a monopolistically competitive firm with a 0.00000001 percent market share.




























AGGREGATE DEMAND AND MARKET DEMAND:
The aggregate demand curve, or AD curve, has similarities to, but differences from, the standard market demand curve. Both are negatively sloped. Both relate price and quantity. However, the market demand curve is negatively sloped because of the income and substitution effects and the aggregate demand curve is negatively sloped because of the real-balance, interest-rate, and net-export effects.
Two Similar Curves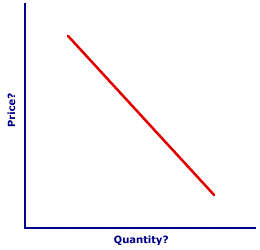 To illustrate the specific aggregate demand and market demand curve similarities and differences consider the graph of a negatively sloped curve displayed here. Is this a market demand curve or an aggregate demand curve? A cursory look suggests that it could be either.

To reveal the similarities between the both curves, click the [Market Demand] and [Aggregate Demand] buttons. Doing so illustrates that both curves are negatively sloped, with each virtually overlaying the other.

Consider the differences between these two curves.
First, note that for the market demand curve, the vertical axis measures demand price and the horizontal axis measures quantity demanded. For aggregate demand curve, however, the vertical axis measures the price level (GDP price deflator) and the horizontal axis measures real production (real GDP).


Second, the negative slope of the market curve reflects the law of demand and is attributable to the income effect and the substitution effect. In contrast, the negative slope of the aggregate demand curve is based the real-balance effect, interest-rate effect, and net-export effect. Similar, but different.
Most notable, the differences between market demand and aggregate demand mean that it is not possible to merely add up, or aggregate, the market demand curves for the thousands of goods produced in the economy to derive the aggregate demand curve. The aggregate demand curve dances to its own music and plays be its own set of rules.


---
Recommended Citation:

AGGREGATE DEMAND AND MARKET DEMAND, AmosWEB Encyclonomic WEB*pedia, http://www.AmosWEB.com, AmosWEB LLC, 2000-2014. [Accessed: September 22, 2014].
---
Check Out These Related Terms...

| | | | | | | |
---
Or For A Little Background...

| | | | | | | | | | | | |
---
And For Further Study...

| | | | | | | |
---
Search Again?


State of the ECONOMY

U.S. National Debt
September 5, 2014
$17,738,346,126,829.16
$55,614.02 per person: U.S. Debt Clock

RED AGGRESSERINE
[What's This?]
Today, you are likely to spend a great deal of time at a crowded estate auction trying to buy either a small palm tree that will fit on your coffee table or several magazines on fashion design. Be on the lookout for broken fingernail clippers.
Your Complete Scope

Sixty percent of big-firm executives said the cover letter is as important or more important than the resume itself when you're looking for a new job

"Always remember that striving and struggle precede success, even in the dictionary. "

-- Sarah Ban Breathnach, writer

ADV
Ad Valorem

Tell us what you think about AmosWEB. Like what you see? Have suggestions for improvements? Let us know. Click the User Feedback link.