REGULATION: Government rules or laws that control the activities of businesses and consumers. The motivation for regulation is that businesses are inclined to do things that are harmful to the public--actions which need to be prevented or otherwise controlled. Regulation is essentially an extension of government's authority to protect one member of society from another. It tends to take one of two forms--(1) industry regulation that's intended to prevent firms from gaining and abusing excessive market control and (2) social regulation that seeks to protect consumers for problems caused by pollution, unsafe products, and the lack of information (market failure).




























AGGREGATE DEMAND AND MARKET DEMAND:
The aggregate demand curve, or AD curve, has similarities to, but differences from, the standard market demand curve. Both are negatively sloped. Both relate price and quantity. However, the market demand curve is negatively sloped because of the income and substitution effects and the aggregate demand curve is negatively sloped because of the real-balance, interest-rate, and net-export effects.
Two Similar Curves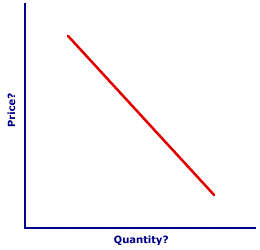 To illustrate the specific aggregate demand and market demand curve similarities and differences consider the graph of a negatively sloped curve displayed here. Is this a market demand curve or an aggregate demand curve? A cursory look suggests that it could be either.

To reveal the similarities between the both curves, click the [Market Demand] and [Aggregate Demand] buttons. Doing so illustrates that both curves are negatively sloped, with each virtually overlaying the other.

Consider the differences between these two curves.
First, note that for the market demand curve, the vertical axis measures demand price and the horizontal axis measures quantity demanded. For aggregate demand curve, however, the vertical axis measures the price level (GDP price deflator) and the horizontal axis measures real production (real GDP).


Second, the negative slope of the market curve reflects the law of demand and is attributable to the income effect and the substitution effect. In contrast, the negative slope of the aggregate demand curve is based the real-balance effect, interest-rate effect, and net-export effect. Similar, but different.
Most notable, the differences between market demand and aggregate demand mean that it is not possible to merely add up, or aggregate, the market demand curves for the thousands of goods produced in the economy to derive the aggregate demand curve. The aggregate demand curve dances to its own music and plays be its own set of rules.


---
Recommended Citation:

AGGREGATE DEMAND AND MARKET DEMAND, AmosWEB Encyclonomic WEB*pedia, http://www.AmosWEB.com, AmosWEB LLC, 2000-2023. [Accessed: April 1, 2023].
---
Check Out These Related Terms...

| | | | | | | |
---
Or For A Little Background...

| | | | | | | | | | | | |
---
And For Further Study...

| | | | | | | |
---
Search Again?


GRAY SKITTERY
[What's This?]
Today, you are likely to spend a great deal of time wandering around the downtown area hoping to buy either a how-to book on wine tasting or a bookshelf that will fit in your closet. Be on the lookout for a thesaurus filled with typos.
Your Complete Scope

Natural gas has no odor. The smell is added artificially so that leaks can be detected.

"If we all did the things we are capable of doing, we would literally astound ourselves."

-- Thomas Edison

T-BILL
Treasury Bill

Tell us what you think about AmosWEB. Like what you see? Have suggestions for improvements? Let us know. Click the User Feedback link.