HECKSCHER-OHLIN MODEL: A model of international trade developed by Eli Heckscher and Bertil Ohlin, with significant contributions by Paul Samuelson, that relies on the notion that comparative advantage is based on relative natural resource endowments. A nation with large oil reserves will, for example, have a comparative advantage in oil production over another nation with fertile soil, which will have a comparative advantage in agricultural production.




























AGGREGATE DEMAND AND MARKET DEMAND:
The aggregate demand curve, or AD curve, has similarities to, but differences from, the standard market demand curve. Both are negatively sloped. Both relate price and quantity. However, the market demand curve is negatively sloped because of the income and substitution effects and the aggregate demand curve is negatively sloped because of the real-balance, interest-rate, and net-export effects.
Two Similar Curves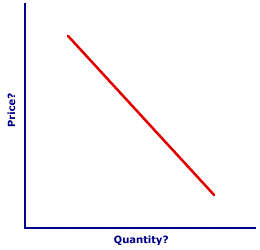 To illustrate the specific aggregate demand and market demand curve similarities and differences consider the graph of a negatively sloped curve displayed here. Is this a market demand curve or an aggregate demand curve? A cursory look suggests that it could be either.

To reveal the similarities between the both curves, click the [Market Demand] and [Aggregate Demand] buttons. Doing so illustrates that both curves are negatively sloped, with each virtually overlaying the other.

Consider the differences between these two curves.
First, note that for the market demand curve, the vertical axis measures demand price and the horizontal axis measures quantity demanded. For aggregate demand curve, however, the vertical axis measures the price level (GDP price deflator) and the horizontal axis measures real production (real GDP).


Second, the negative slope of the market curve reflects the law of demand and is attributable to the income effect and the substitution effect. In contrast, the negative slope of the aggregate demand curve is based the real-balance effect, interest-rate effect, and net-export effect. Similar, but different.
Most notable, the differences between market demand and aggregate demand mean that it is not possible to merely add up, or aggregate, the market demand curves for the thousands of goods produced in the economy to derive the aggregate demand curve. The aggregate demand curve dances to its own music and plays be its own set of rules.


---
Recommended Citation:

AGGREGATE DEMAND AND MARKET DEMAND, AmosWEB Encyclonomic WEB*pedia, http://www.AmosWEB.com, AmosWEB LLC, 2000-2023. [Accessed: September 25, 2023].
---
Check Out These Related Terms...

| | | | | | | |
---
Or For A Little Background...

| | | | | | | | | | | | |
---
And For Further Study...

| | | | | | | |
---
Search Again?


ORANGE REBELOON
[What's This?]
Today, you are likely to spend a great deal of time at an auction wanting to buy either a flower arrangement for that special day for your mother or a New York Yankees baseball cap. Be on the lookout for rusty deck screws.
Your Complete Scope

The 1909 Lincoln penny was the first U.S. coin with the likeness of a U.S. President.

"If I'm selecting a group, the first thing I look for is a record of achievement . . . If (candidates achieve) in small things, there's a very good chance they'll perform well in big things. "

-- Edmund Hillary, explorer

SPSS
Statistical Product and Service Solutions, Statistical Package for the Social Sciences (software)

Tell us what you think about AmosWEB. Like what you see? Have suggestions for improvements? Let us know. Click the User Feedback link.