Today's Index
Yesterday's Index
261.2


Help us compile the AmosWEB Free Lunch Index. Tell us about your last lunch.

More About the Index

DIVISION OF LABOR: A basic economic notion that labor resources are used more efficiently if work tasks are divided among different workers. This allows workers to specialize in production as each becomes highly skilled at specific tasks. Efficiency achieved through specialization and the division of labor was popularized by Adam Smith in his classic work, The Wealth of Nations. This division-of-labor notion is one of those concepts that is so fundamental to the economy that its importance is occasionally overlooked in the real world. It is, for example, essential to foreign trade. Without the division of labor the comfortable standard of living currently provided by our exceeding complex economic system would not be possible.




























AGGREGATE DEMAND AND MARKET DEMAND:
The aggregate demand curve, or AD curve, has similarities to, but differences from, the standard market demand curve. Both are negatively sloped. Both relate price and quantity. However, the market demand curve is negatively sloped because of the income and substitution effects and the aggregate demand curve is negatively sloped because of the real-balance, interest-rate, and net-export effects.
Two Similar Curves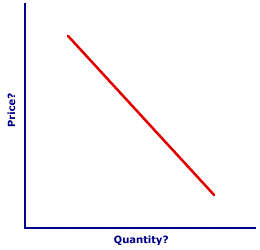 To illustrate the specific aggregate demand and market demand curve similarities and differences consider the graph of a negatively sloped curve displayed here. Is this a market demand curve or an aggregate demand curve? A cursory look suggests that it could be either.

To reveal the similarities between the both curves, click the [Market Demand] and [Aggregate Demand] buttons. Doing so illustrates that both curves are negatively sloped, with each virtually overlaying the other.

Consider the differences between these two curves.
First, note that for the market demand curve, the vertical axis measures demand price and the horizontal axis measures quantity demanded. For aggregate demand curve, however, the vertical axis measures the price level (GDP price deflator) and the horizontal axis measures real production (real GDP).


Second, the negative slope of the market curve reflects the law of demand and is attributable to the income effect and the substitution effect. In contrast, the negative slope of the aggregate demand curve is based the real-balance effect, interest-rate effect, and net-export effect. Similar, but different.
Most notable, the differences between market demand and aggregate demand mean that it is not possible to merely add up, or aggregate, the market demand curves for the thousands of goods produced in the economy to derive the aggregate demand curve. The aggregate demand curve dances to its own music and plays be its own set of rules.


---
Recommended Citation:

AGGREGATE DEMAND AND MARKET DEMAND, AmosWEB Encyclonomic WEB*pedia, http://www.AmosWEB.com, AmosWEB LLC, 2000-2014. [Accessed: October 21, 2014].
---
Check Out These Related Terms...

| | | | | | | |
---
Or For A Little Background...

| | | | | | | | | | | | |
---
And For Further Study...

| | | | | | | |
---
Search Again?


State of the ECONOMY

New Orders for Manufactured Goods
July 2014
$558.3 billion
Up 10.5% from June 2014 Econ & Statistics Adm

ORANGE REBELOON
[What's This?]
Today, you are likely to spend a great deal of time watching the shopping channel trying to buy either a replacement washer for your kitchen faucet or a stretchable, flexible watch band. Be on the lookout for spoiled cheese hiding under your bed hatching conspiracies against humanity.
Your Complete Scope

North Carolina supplied all the domestic gold coined for currency by the U.S. Mint in Philadelphia until 1828.

"I shall do less whenever I shall believe what I am doing hurts the cause and I shall do more whenever I shall believe doing more will help the cause. I shall try to correct errors when shown to be errors and I shall adopt new views so fast as they shall appear to be true views. "

-- Abraham Lincoln, 16th US president

MLE
Maximum Likelihood Estimator

Tell us what you think about AmosWEB. Like what you see? Have suggestions for improvements? Let us know. Click the User Feedback link.