TRANS-SHIPMENT POINT: A location that serves as a change from one transportation mode to another, such as from boat to train or truck to plane. Location theory indicates that trans-shipment points serve as a point of attraction for economic activity by virtue of saving terminal (load and unloading) cost. This indicates why harbors, interstate highway exits, railroad depots, and similar off-one-mode-onto-another-mode have historical emerged as economic centers.




























AGGREGATE DEMAND AND MARKET DEMAND:
The aggregate demand curve, or AD curve, has similarities to, but differences from, the standard market demand curve. Both are negatively sloped. Both relate price and quantity. However, the market demand curve is negatively sloped because of the income and substitution effects and the aggregate demand curve is negatively sloped because of the real-balance, interest-rate, and net-export effects.
Two Similar Curves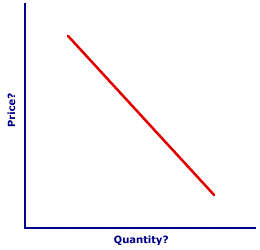 To illustrate the specific aggregate demand and market demand curve similarities and differences consider the graph of a negatively sloped curve displayed here. Is this a market demand curve or an aggregate demand curve? A cursory look suggests that it could be either.

To reveal the similarities between the both curves, click the [Market Demand] and [Aggregate Demand] buttons. Doing so illustrates that both curves are negatively sloped, with each virtually overlaying the other.

Consider the differences between these two curves.
First, note that for the market demand curve, the vertical axis measures demand price and the horizontal axis measures quantity demanded. For aggregate demand curve, however, the vertical axis measures the price level (GDP price deflator) and the horizontal axis measures real production (real GDP).


Second, the negative slope of the market curve reflects the law of demand and is attributable to the income effect and the substitution effect. In contrast, the negative slope of the aggregate demand curve is based the real-balance effect, interest-rate effect, and net-export effect. Similar, but different.
Most notable, the differences between market demand and aggregate demand mean that it is not possible to merely add up, or aggregate, the market demand curves for the thousands of goods produced in the economy to derive the aggregate demand curve. The aggregate demand curve dances to its own music and plays be its own set of rules.


---
Recommended Citation:

AGGREGATE DEMAND AND MARKET DEMAND, AmosWEB Encyclonomic WEB*pedia, http://www.AmosWEB.com, AmosWEB LLC, 2000-2022. [Accessed: May 19, 2022].
---
Check Out These Related Terms...

| | | | | | | |
---
Or For A Little Background...

| | | | | | | | | | | | |
---
And For Further Study...

| | | | | | | |
---
Search Again?


RED AGGRESSERINE
[What's This?]
Today, you are likely to spend a great deal of time flipping through mail order catalogs looking to buy either a solid oak entertainment center or a remote controlled ceiling fan. Be on the lookout for jovial bank tellers.
Your Complete Scope

Post WWI induced hyperinflation in German in the early 1900s raised prices by 726 million times from 1918 to 1923.

"Perhaps the most valuable result of all education is the ability to make yourself do the thing you have to do, when it ought to be done, whether you like it or not; it is the first lesson that ought to be learned; and however early a man's training begins, it is probably the last lesson that he learns thoroughly. "

-- Thomas H. Huxley, Scientist

EOE
European Options Exchange

Tell us what you think about AmosWEB. Like what you see? Have suggestions for improvements? Let us know. Click the User Feedback link.