Today's Index
Yesterday's Index
236.4


Help us compile the AmosWEB Free Lunch Index. Tell us about your last lunch.

More About the Index

Favorite Wall Street Bank?

LAISSEZ FAIRE: A french term that translates into "leave us alone." It has become the rallying cry for many business leaders of the second estate who oppose government intervention, regulation, or even taxation. It's based on the belief that markets alone can achieve an efficient allocation of our resources. This laissez faire philosophy of should be contrasted directly with the philosophy of paternalism, which essentially says "Government needs to care for you because you can't care for yourself."




























AGGREGATE DEMAND AND MARKET DEMAND:
The aggregate demand curve, or AD curve, has similarities to, but differences from, the standard market demand curve. Both are negatively sloped. Both relate price and quantity. However, the market demand curve is negatively sloped because of the income and substitution effects and the aggregate demand curve is negatively sloped because of the real-balance, interest-rate, and net-export effects.
Two Similar Curves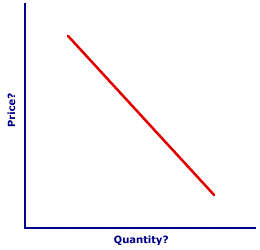 To illustrate the specific aggregate demand and market demand curve similarities and differences consider the graph of a negatively sloped curve displayed here. Is this a market demand curve or an aggregate demand curve? A cursory look suggests that it could be either.

To reveal the similarities between the both curves, click the [Market Demand] and [Aggregate Demand] buttons. Doing so illustrates that both curves are negatively sloped, with each virtually overlaying the other.

Consider the differences between these two curves.
First, note that for the market demand curve, the vertical axis measures demand price and the horizontal axis measures quantity demanded. For aggregate demand curve, however, the vertical axis measures the price level (GDP price deflator) and the horizontal axis measures real production (real GDP).


Second, the negative slope of the market curve reflects the law of demand and is attributable to the income effect and the substitution effect. In contrast, the negative slope of the aggregate demand curve is based the real-balance effect, interest-rate effect, and net-export effect. Similar, but different.
Most notable, the differences between market demand and aggregate demand mean that it is not possible to merely add up, or aggregate, the market demand curves for the thousands of goods produced in the economy to derive the aggregate demand curve. The aggregate demand curve dances to its own music and plays be its own set of rules.


---
Recommended Citation:

AGGREGATE DEMAND AND MARKET DEMAND, AmosWEB Encyclonomic WEB*pedia, http://www.AmosWEB.com, AmosWEB LLC, 2000-2014. [Accessed: August 29, 2014].
---
Check Out These Related Terms...

| | | | | | | |
---
Or For A Little Background...

| | | | | | | | | | | | |
---
And For Further Study...

| | | | | | | |
---
Search Again?


State of the ECONOMY

U.S. Exports
June 2014
$195.9 billion
Up 0.1% from May 2014: Econ. Stat. Admin.

BROWN PRAGMATOX
[What's This?]
Today, you are likely to spend a great deal of time at an auction hoping to buy either a large, stuffed kitty cat or a cross-cut paper shredder. Be on the lookout for gnomes hiding in cypress trees.
Your Complete Scope

Junk bonds are so called because they have a better than 50% chance of default, carrying a Standard & Poor's rating of CC or lower.

"Leadership is the art of getting someone else to do something you want done because he wants to do it."

-- Dwight Eisenhower, 34th US president

OOB
Opening of Business

Tell us what you think about AmosWEB. Like what you see? Have suggestions for improvements? Let us know. Click the User Feedback link.