TAX AVOIDANCE: A legal reduction in taxes. The complexity of our system of taxes, especially income taxes, makes it extremely worthwhile to identify the mix of spending, working, and assorted activities that reduce taxes. This has also created a major industry of accountants, lawyers, educators, public speakers, and others who spend their efforts uncovering legal tax loopholes. In terms of the big efficiency picture, this is a waste of resources. Our lives would, in general, be better off if this tax avoidance industry devoted it's efforts to increasing gross domestic product rather than diverting it from one pocket to another. This, though, is not a fault of theirs, but of the tax system itself.




























AGGREGATE DEMAND AND MARKET DEMAND:
The aggregate demand curve, or AD curve, has similarities to, but differences from, the standard market demand curve. Both are negatively sloped. Both relate price and quantity. However, the market demand curve is negatively sloped because of the income and substitution effects and the aggregate demand curve is negatively sloped because of the real-balance, interest-rate, and net-export effects.
Two Similar Curves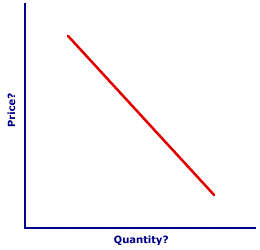 To illustrate the specific aggregate demand and market demand curve similarities and differences consider the graph of a negatively sloped curve displayed here. Is this a market demand curve or an aggregate demand curve? A cursory look suggests that it could be either.

To reveal the similarities between the both curves, click the [Market Demand] and [Aggregate Demand] buttons. Doing so illustrates that both curves are negatively sloped, with each virtually overlaying the other.

Consider the differences between these two curves.
First, note that for the market demand curve, the vertical axis measures demand price and the horizontal axis measures quantity demanded. For aggregate demand curve, however, the vertical axis measures the price level (GDP price deflator) and the horizontal axis measures real production (real GDP).


Second, the negative slope of the market curve reflects the law of demand and is attributable to the income effect and the substitution effect. In contrast, the negative slope of the aggregate demand curve is based the real-balance effect, interest-rate effect, and net-export effect. Similar, but different.
Most notable, the differences between market demand and aggregate demand mean that it is not possible to merely add up, or aggregate, the market demand curves for the thousands of goods produced in the economy to derive the aggregate demand curve. The aggregate demand curve dances to its own music and plays be its own set of rules.


---
Recommended Citation:

AGGREGATE DEMAND AND MARKET DEMAND, AmosWEB Encyclonomic WEB*pedia, http://www.AmosWEB.com, AmosWEB LLC, 2000-2019. [Accessed: January 20, 2019].
---
Check Out These Related Terms...

| | | | | | | |
---
Or For A Little Background...

| | | | | | | | | | | | |
---
And For Further Study...

| | | | | | | |
---
Search Again?


RED AGGRESSERINE
[What's This?]
Today, you are likely to spend a great deal of time strolling around a discount warehouse buying club looking to buy either a wall poster commemorating next Thursday or a pair of gray heavy duty boot socks. Be on the lookout for telephone calls from former employers.
Your Complete Scope

Only 1% of the U.S. population paid income taxes when the income tax was established in 1914.

"Act well at the moment, and you have performed a good action for all eternity."

-- Johann Kaspar Lavater

AP
Average Product

Tell us what you think about AmosWEB. Like what you see? Have suggestions for improvements? Let us know. Click the User Feedback link.