Today's Index
Yesterday's Index
180.0


Help us compile the AmosWEB Free Lunch Index. Tell us about your last lunch.

More About the Index

Least intelligent day of the week.

ARBITRATION: Intervention of an impartial third party to settle disputes between two others. The decisions of this third party -- the arbitrator -- are legally binding, much like the ruling of a judge in a court of law. Arbitration is commonly used to interpret a collective bargaining agreement between unions and employers. Much like a judge (in some cases it is a judge) an arbitrator determines how a given union and employer conflict stacks up against the terms of existing agreement. Note that an arbitrator doesn't try to decide what's "best, "fair," or mutually agreeable to both sides -- as would be the case with mediation -- but only what's in line with the existing agreement.




























DEMAND CURVE:
A graphical representation of the relation between the demand price and quantity demanded, holding all ceteris paribus demand determinants constant. A demand curve graphically illustrates the law of demand, the inverse relation between demand price and quantity demanded for a particular good. It is one half of the standard market model; a supply curve is the other half.
A demand curve is a useful graph that can summarize several of the more important aspects of demand. It graphically illustrates the law of demand and when combined with the supply curve forms the market model, one of the most useful tools found in economic analysis.
Plotting the Numbers
A demand curve is commonly derived from a simple demand schedule, such as the one for stuffed Yellow Tarantulas, a cute and cuddly stuffed creature from the Wacky Willy Stuffed Amigos line of collectibles, shown in the left half of the exhibit below. This schedule illustrates the law of demand relation between demand price and quantity demanded. As the demand price increases from $5 to $50, the quantity demanded decreases from 90 to 0 Yellow Tarantulas.
---
Demand Schedule
Demand Curve
---
Transferring the price-quantity pairs from the demand schedule to a graph reveals the demand curve for stuffed Yellow Tarantulas. This task is easily accomplished by clicking the [Plot] button. A $5 price is associated with 90 stuffed animals; a $10 price goes with 80 stuffed animals; and on it proceeds, until finally a $50 price is paired with 0 stuffed animals.

The demand curve is finalized by connecting these 10 points with a continuous line. The 10 prices corresponding to these 10 points, are but 10 of an infinite number of prices, each with a corresponding quantity. A continuous line includes these other possibilities. To reveal this line, click the [Draw] button. The end result is the demand curve.
What It All Means
A Demand Curve
Yellow Tarantulas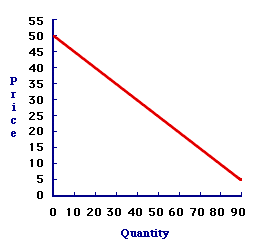 Here are a few observations about this demand curve.
First, as the price increases from a low of $5 to a high of $50, the quantity demanded of Yellow Tarantulas decreases from 90 to 0. Higher prices are related to smaller quantities. This relation, this inverse relation between demand price and quantity demanded, IS the basic law of demand.


Second, the demand curve represents maximum values. That is, if the price is $40, then the maximum quantity demanded is 20 Yellow Tarantulas. It is not 50, nor even 21, but only 20. Alternatively, if buyers buy 20 Yellow Tarantulas, then the maximum demand price they are willing and able to pay is $40, not $50, not even $40.01, but $40.


Third, this whole curve, every price-quantity combination on the curve, is demand. Demand is the entire range of prices and quantities, all pairs. Demand is the entire curve. In contrast, quantity demanded is any specific number of Yellow Tarantulas buyers are willing and able to buy at a specific demand price. Selecting a different price generates a different quantity demanded. Quantity demanded is a point on the curve.


Fourth, this demand curve represents hypothetical possibilities. It suggests a "What if" relation between demand price and quantity demanded. It indicates quantity demanded given a demand price, or demand price given the quantity demanded. If, for example, the demand price is $10, then buyers are willing and able to buy 100 Yellow Tarantulas. This does not mean that buyers will buy, are buying, or ever will buy 100 Yellow Tarantulas. It only indicates what they would buy at a $10 price.

---
Recommended Citation:

DEMAND CURVE, AmosWEB Encyclonomic WEB*pedia, http://www.AmosWEB.com, AmosWEB LLC, 2000-2017. [Accessed: March 25, 2017].
---
Check Out These Related Terms...

| | | | | | | | | |
---
Or For A Little Background...

| | | | | | | | | | | | |
---
And For Further Study...

| | | | | | | | | | | | |
---
Search Again?


State of the ECONOMY

U.S. Imports
November 2016
$231.1 billion
Up 1.1% from Oct. 2016: Econ. & Stat. Admin.

WHITE GULLIBON
[What's This?]
Today, you are likely to spend a great deal of time searching for rummage sales wanting to buy either a T-shirt commemorating the 2000 Olympics or a genuine fake plastic Tiffany lamp. Be on the lookout for letters from the Internal Revenue Service.
Your Complete Scope

There were no banks in colonial America before the U.S. Revolutionary War. Anyone seeking a loan did so from another individual.

"Success is the ability to go from one failure to another with no loss of enthusiasm."

-- Sir Winston Churchill

IQ
Import Quota

Tell us what you think about AmosWEB. Like what you see? Have suggestions for improvements? Let us know. Click the User Feedback link.