RIVAL CONSUMPTION: Consumption of a good by one person imposes a cost on, or prevents consumption of the good by, another person. Some goods, like food, have extremely rival consumption. One person, and only one person, gets the benefit. Other goods, like national defense, have no consumption rivalry, everyone can benefit simultaneously without imposing a cost on others. This is one of the two key characteristics of a good (the other is excludability) that distinguishes between common-property goods, near-public goods, private goods, and public goods.




























MARKET DEMAND:
The combined demand of everyone willing and able to buy a good in a market. Market demand is one half of the market. The other is market supply. It is graphically represented by a negatively-sloped market demand curve, which can be derived by combining, or adding, the individual demands of every buyer in the market.
Market demand captures the buying side of a market exchange. Guided by the law of demand, buyers are willing and able to purchase a larger quantity at a lower price. This relation is illustrated by a downward-sloping market demand curve.
The Market Demand Curve
Market Demand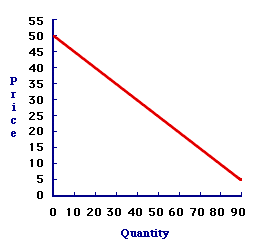 Market demand primarily focuses on the one-to-one relation between the demand price and the quantity demanded. The quantity demanded at higher prices is less than the quantity demanded at lower prices.

A representative market demand curve is illustrated in this exhibit. Note that the curve, or line, has a negative slope. At a relatively high price of $40, the quantity demanded is 20. At a relatively lower price of $10, the quantity demanded is 80.
A Few Determinants
While market demand focuses on the relation between demand price and quantity demanded, it is also affected by the five ceteris paribus demand determinants: (1) buyers' incomes, (2) buyers' preferences, (3) the prices of substitute or complement goods, (4) buyers' expectations, and (5) the number of buyers in the market. While a change in demand price causes a change in quantity demanded (a movement along a given market demand curve), a change in any of these five demand determinants causes a change in demand (a shift or repositioning of the market demand curve).
Deriving Market Demand
Market demand is the combined demand of every buyer in the market. It is derived by adding the quantity demanded of each buyer at different prices. Suppose, for example, that the Shady Valley market for crab puffs contains three buyers--Roland Nottingham, Durwood Fracklemyer, and Lisa Quirkenstone. The quantity that each is willing and able to buy at a range of prices is illustrated in this table.

Market Demand
the Numbers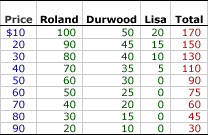 Roland enjoys crab puffs a great deal. At the price of 10 cents each, he is willing and able to purchase 100 crab puffs. However, as the price rise, the quantity he is willing and able to purchase declines (reflecting the law of demand). Durwood also likes crab puffs, but not as much. At a 10 cent price, Durwood is willing and able to purchase 50 crab puffs. His quantity demanded also declines at higher prices. Lisa has very little interest in consuming crab puffs. At a 10 cent price, she is willing to purchase 20 crab puffs. Her quantity demanded quickly falls off as the price rises, reaching zero at a 50 cent price.

The total market demand for crab puffs in Shady Valley is the combined demand for these three buyers. If, for example, the market price is 10 cents, the market demand is 170 crab puffs. This is the sum of 100 from Roland, 50 from Durwood, and 20 from Lisa. Each quantity in the far right column of the table is derived in a similar fashion. If the market price is 70 cents, then the market demand is 60 crab puffs, the sum of 40 from Roland, 20 from Durwood, and 0 from Lisa.

While this market demand is the combination of only three buyers, the procedure for deriving market demand is the same for markets with hundreds, thousands, or even millions of buyers. Market demand is derived by adding the quantities demanded of all buyers at every price.
Other Demands
The term "market demand" is often used synonymously with the term "demand." When economists speak of "demand" they are usually referring to "market demand." When the term "market" is added as a modifier to "demand," it is done so to focus attention on the combined demand of ALL buyers in the market. In contrast, the unmodified term "demand" could refer to individual demand, market demand, or some other general notion of demand.

Adding "market" to "demand" also sets this phrase apart from other special types of "demand." A short list includes aggregate demand, which is the total expenditures on gross domestic product in the macroeconomy; factor demand, which is the demand for the services of the factors of production; and money demand, which is the demand for money circulating around the economy.




---
Recommended Citation:

MARKET DEMAND, AmosWEB Encyclonomic WEB*pedia, http://www.AmosWEB.com, AmosWEB LLC, 2000-2020. [Accessed: April 6, 2020].
---
Check Out These Related Terms...

| | | | | | |
---
Or For A Little Background...

| | | | | |
---
And For Further Study...

| | | | | | | | | | | |
---
Search Again?


PURPLE SMARPHIN
[What's This?]
Today, you are likely to spend a great deal of time lost in your local discount super center hoping to buy either a large flower pot shaped like a Greek urn or a small palm tree that will fit on your coffee table. Be on the lookout for telephone calls from long-lost relatives.
Your Complete Scope

A lump of pure gold the size of a matchbox can be flattened into a sheet the size of a tennis court!

"Unless you are willing to drench yourself in your work beyond the capacity of the average man, you are just not cut out for positions at the top."

-- J. C. Penney, Retailer

GATT
General Agreementon Tariffs and Trade

Tell us what you think about AmosWEB. Like what you see? Have suggestions for improvements? Let us know. Click the User Feedback link.