RIGHT TO WORK: A law preventing employers from making union membership a condition of employment. In other words, your boss can't forced you to join a union if you don't want to. There are two sides to this argument. On the one hand, workers should have the freedom to join a union or not based on the benefit to had from the union and perhaps their philosophical orientation towards unions. On the other hand, unions gain their strength by representing workers. Its negotiating position is hurt if it represents only a fraction of the workers. Moreover, any benefits a union gets for workers are enjoyed by its members (who pay dues) as well as nonmembers (who don't pay dues).




























DEMAND SPACE:
The area on or beneath a demand curve that indicates all possible price-quantity combinations acceptable to buyers. Buyers are willing and able to purchase any price-quantity combination that places them on or below the demand curve, but not above.
Demand space includes all combinations of price and quantity demanded that are acceptable to buyers. It includes every price up to the maximum demand price for a given quantity demanded. Alternatively, it includes every quantity up to the maximum quantity demanded for a given demand price.
Show Me The Space
Demand Space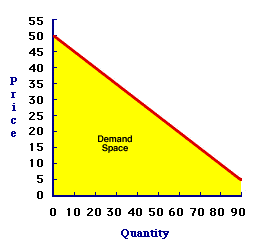 The exhibit at the right illustrates the demand space for stuffed Yellow Tarantulas, a cute and cuddly stuffed creature from the Wacky Willy Stuffed Amigos line of collectibles. Demand space is the highlighted area below (and including) the demand curve. This space contains all price-quantity combinations acceptable to buyers.
More Than A Curve
While the demand side of the market is usually represented by a demand curve, the buying process is often best reflected by the entire demand space. Buyers can operate anywhere within this space. It could be on the demand curve itself or far below the line.

The demand curve actually only represents the upper boundary of the willingness and ability to buy. Invoking the observation that people prefer more to less means that the demand price on the demand curve is the highest price, the maximum price, that buyers are willing and able to pay. However, buyers are also willing and able to pay less than the demand price for a given quantity. In fact, the lower the better.

Suppose, for example, that buyers are faced with purchasing 40 Yellow Tarantulas. They are willing and able to pay $30 each, the demand price on the demand curve. Lower prices, however, are also acceptable. Is $20 each acceptable? Certainly. How about $10? No question. Are buyers willing and able to pay as little as $0? Without a doubt. All of these prices place the buyers in the demand space.




---
Recommended Citation:

DEMAND SPACE, AmosWEB Encyclonomic WEB*pedia, http://www.AmosWEB.com, AmosWEB LLC, 2000-2022. [Accessed: June 27, 2022].
---
Check Out These Related Terms...

| | | | | | | | |
---
Or For A Little Background...

| | | | | | | | | | | | | |
---
And For Further Study...

| | | | | | | | | | | | | |
---
Search Again?


PINK FADFLY
[What's This?]
Today, you are likely to spend a great deal of time surfing the Internet looking to buy either a stretchable, flexible watch band or high-gloss photo paper that works with your printer. Be on the lookout for a thesaurus filled with typos.
Your Complete Scope

A scripophilist is one who collects rare stock and bond certificates, usually from extinct companies.

"It is very rare that you meet with obstacles in this world (that) the humblest man has not the faculties to surmount. "

-- Henry David Thoreau, philosopher

HSB
High School and Beyond

Tell us what you think about AmosWEB. Like what you see? Have suggestions for improvements? Let us know. Click the User Feedback link.