RESOURCE ALLOCATION: The process of dividing up and distributing available, limited resources to competing, alternative uses that satisfy unlimited wants and needs. Given that world is rampant with scarcity (unlimited wants and needs, but limited resources), every want and need cannot be satisfied with available resources. Choices have to be made. Some wants and needs are satisfied, some are not. These choices, these decisions are the resource allocation process. An efficient resource allocation exists if society has achieved the highest possible level of satisfaction of wants and needs from the available resources AND resources can not be allocated differently to achieve any greater satisfaction.




























DEMAND SPACE:
The area on or beneath a demand curve that indicates all possible price-quantity combinations acceptable to buyers. Buyers are willing and able to purchase any price-quantity combination that places them on or below the demand curve, but not above.
Demand space includes all combinations of price and quantity demanded that are acceptable to buyers. It includes every price up to the maximum demand price for a given quantity demanded. Alternatively, it includes every quantity up to the maximum quantity demanded for a given demand price.
Show Me The Space
Demand Space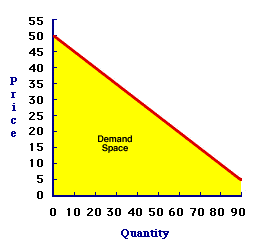 The exhibit at the right illustrates the demand space for stuffed Yellow Tarantulas, a cute and cuddly stuffed creature from the Wacky Willy Stuffed Amigos line of collectibles. Demand space is the highlighted area below (and including) the demand curve. This space contains all price-quantity combinations acceptable to buyers.
More Than A Curve
While the demand side of the market is usually represented by a demand curve, the buying process is often best reflected by the entire demand space. Buyers can operate anywhere within this space. It could be on the demand curve itself or far below the line.

The demand curve actually only represents the upper boundary of the willingness and ability to buy. Invoking the observation that people prefer more to less means that the demand price on the demand curve is the highest price, the maximum price, that buyers are willing and able to pay. However, buyers are also willing and able to pay less than the demand price for a given quantity. In fact, the lower the better.

Suppose, for example, that buyers are faced with purchasing 40 Yellow Tarantulas. They are willing and able to pay $30 each, the demand price on the demand curve. Lower prices, however, are also acceptable. Is $20 each acceptable? Certainly. How about $10? No question. Are buyers willing and able to pay as little as $0? Without a doubt. All of these prices place the buyers in the demand space.




---
Recommended Citation:

DEMAND SPACE, AmosWEB Encyclonomic WEB*pedia, http://www.AmosWEB.com, AmosWEB LLC, 2000-2020. [Accessed: October 22, 2020].
---
Check Out These Related Terms...

| | | | | | | | |
---
Or For A Little Background...

| | | | | | | | | | | | | |
---
And For Further Study...

| | | | | | | | | | | | | |
---
Search Again?


GREEN LOGIGUIN
[What's This?]
Today, you are likely to spend a great deal of time at a flea market trying to buy either a how-to book on meeting people or clothing for your pet iguana. Be on the lookout for strangers with large satchels of used undergarments.
Your Complete Scope

The word "fiscal" is derived from a Latin word meaning "moneybag."

"When we do the best we can, we never know what miracle is wrought in our life or in the life of another. "

-- Helen Keller, lecturer, author

BOA
Basic Ordering Agreement

Tell us what you think about AmosWEB. Like what you see? Have suggestions for improvements? Let us know. Click the User Feedback link.