A POSTERIORI: A conclusion reached through logical reasoning based on facts and observations about the real world. This notion is closely related to the scientific verification of hypotheses and the identification of principles. A similar sounding, but opposite term is a prior, which is a unverified presumption made before an analysis is undertaken. For example, in the study of economics of crime you might assume, a priori, that people are basically "good", and conclude, a posteriori, that people are more likely to commit crimes when the threat of capture and conviction is lower.




























DEMAND SPACE:
The area on or beneath a demand curve that indicates all possible price-quantity combinations acceptable to buyers. Buyers are willing and able to purchase any price-quantity combination that places them on or below the demand curve, but not above.
Demand space includes all combinations of price and quantity demanded that are acceptable to buyers. It includes every price up to the maximum demand price for a given quantity demanded. Alternatively, it includes every quantity up to the maximum quantity demanded for a given demand price.
Show Me The Space
Demand Space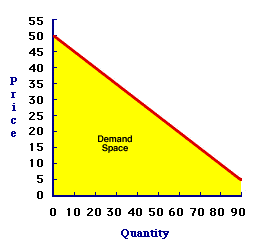 The exhibit at the right illustrates the demand space for stuffed Yellow Tarantulas, a cute and cuddly stuffed creature from the Wacky Willy Stuffed Amigos line of collectibles. Demand space is the highlighted area below (and including) the demand curve. This space contains all price-quantity combinations acceptable to buyers.
More Than A Curve
While the demand side of the market is usually represented by a demand curve, the buying process is often best reflected by the entire demand space. Buyers can operate anywhere within this space. It could be on the demand curve itself or far below the line.

The demand curve actually only represents the upper boundary of the willingness and ability to buy. Invoking the observation that people prefer more to less means that the demand price on the demand curve is the highest price, the maximum price, that buyers are willing and able to pay. However, buyers are also willing and able to pay less than the demand price for a given quantity. In fact, the lower the better.

Suppose, for example, that buyers are faced with purchasing 40 Yellow Tarantulas. They are willing and able to pay $30 each, the demand price on the demand curve. Lower prices, however, are also acceptable. Is $20 each acceptable? Certainly. How about $10? No question. Are buyers willing and able to pay as little as $0? Without a doubt. All of these prices place the buyers in the demand space.




---
Recommended Citation:

DEMAND SPACE, AmosWEB Encyclonomic WEB*pedia, http://www.AmosWEB.com, AmosWEB LLC, 2000-2023. [Accessed: June 1, 2023].
---
Check Out These Related Terms...

| | | | | | | | |
---
Or For A Little Background...

| | | | | | | | | | | | | |
---
And For Further Study...

| | | | | | | | | | | | | |
---
Search Again?


BLACK DISMALAPOD
[What's This?]
Today, you are likely to spend a great deal of time visiting every yard sale in a 30-mile radius looking to buy either a desktop calendar with all federal and state holidays highlighted or a half-dozen helium filled balloons. Be on the lookout for florescent light bulbs that hum folk songs from the sixties.
Your Complete Scope

Parker Brothers, the folks who produce the Monopoly board game, prints more Monopoly money each year than real currency printed by the U.S. government.

"Chance favors only the prepared mind."

-- Louis Pasteur, biologist

NAA
National Association of Accountants

Tell us what you think about AmosWEB. Like what you see? Have suggestions for improvements? Let us know. Click the User Feedback link.