LEISURE: The portion of time workers and other people spend not being compensative for work performed when they actively engaged in the production of goods and services. In other words, this is the time people sent off the job. Leisure activities can include resting at home, working around the house (without compensation), engaging in leisure activities (such as weekend sports, watching movies), or even sleeping. Leisure time pursuits becomes increasingly important for economies as they become more highly developed. As technological advances reduce the amount of time people need to spend working to generate a given level of income, they have more freedom to pursue leisure activities. Not only does this promote sales of industries that provide leisure related goods (sports, entertainment, etc.) it also triggers an interesting labor-leisure tradeoff and what is termed the backward-bending labor supply curve.




























DEMAND SPACE:
The area on or beneath a demand curve that indicates all possible price-quantity combinations acceptable to buyers. Buyers are willing and able to purchase any price-quantity combination that places them on or below the demand curve, but not above.
Demand space includes all combinations of price and quantity demanded that are acceptable to buyers. It includes every price up to the maximum demand price for a given quantity demanded. Alternatively, it includes every quantity up to the maximum quantity demanded for a given demand price.
Show Me The Space
Demand Space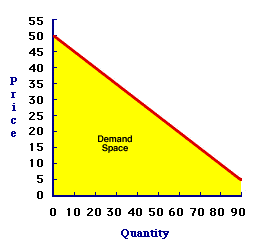 The exhibit at the right illustrates the demand space for stuffed Yellow Tarantulas, a cute and cuddly stuffed creature from the Wacky Willy Stuffed Amigos line of collectibles. Demand space is the highlighted area below (and including) the demand curve. This space contains all price-quantity combinations acceptable to buyers.
More Than A Curve
While the demand side of the market is usually represented by a demand curve, the buying process is often best reflected by the entire demand space. Buyers can operate anywhere within this space. It could be on the demand curve itself or far below the line.

The demand curve actually only represents the upper boundary of the willingness and ability to buy. Invoking the observation that people prefer more to less means that the demand price on the demand curve is the highest price, the maximum price, that buyers are willing and able to pay. However, buyers are also willing and able to pay less than the demand price for a given quantity. In fact, the lower the better.

Suppose, for example, that buyers are faced with purchasing 40 Yellow Tarantulas. They are willing and able to pay $30 each, the demand price on the demand curve. Lower prices, however, are also acceptable. Is $20 each acceptable? Certainly. How about $10? No question. Are buyers willing and able to pay as little as $0? Without a doubt. All of these prices place the buyers in the demand space.




---
Recommended Citation:

DEMAND SPACE, AmosWEB Encyclonomic WEB*pedia, http://www.AmosWEB.com, AmosWEB LLC, 2000-2018. [Accessed: October 19, 2018].
---
Check Out These Related Terms...

| | | | | | | | |
---
Or For A Little Background...

| | | | | | | | | | | | | |
---
And For Further Study...

| | | | | | | | | | | | | |
---
Search Again?


BLACK DISMALAPOD
[What's This?]
Today, you are likely to spend a great deal of time searching the newspaper want ads looking to buy either a three-hole paper punch or decorative picture frames. Be on the lookout for jovial bank tellers.
Your Complete Scope

General Electric is the only stock from the original 1896 Dow Jones Industrial Average remaining in the current index.

"Think not of yourself as the architect of your career but as the sculptor. Expect to have to do a lot of hard hammering and chiseling and scraping and polishing. "

-- B. C. Forbes, founder, Forbes magazine

BACS
Bankers Automated Clearing Services

Tell us what you think about AmosWEB. Like what you see? Have suggestions for improvements? Let us know. Click the User Feedback link.