WEIGHT: When applied to location theory, the relative attractive force of one activity to another based on transportation cost. The weight of an activity in this context is comparable to the weight of matter subject to gravitation forces. The weight of an activity is greater if it incurs higher transportation cost. As such, it is attracted, or pulled, to other activities to reduce transportation cost. With the weight (transportation cost) of an activity is often related to physical weight (heavier items cost more to move), it need not be. Other factors affecting weight include special handling (security, comfort) and type of transportation (walking, automobile, airplane).




























SUPPLY SPACE:
The area on or above a supply curve that indicates all possible price-quantity combinations acceptable to sellers. Buyers are willing and able to purchase any price-quantity combination that places them on or above the supply curve, but not above.
Supply space includes all combinations of price and quantity supplied that are acceptable to sellers. It includes every price down to the minimum supply price for a given quantity supplied. Alternatively, it includes every quantity up to the maximum quantity supplied for a given supply price.
Show Me The Space
Supply Space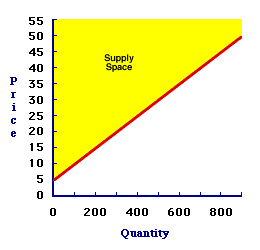 The exhibit at the right illustrates the supply space for stuffed Yellow Tarantulas, a cute and cuddly stuffed creature from the Wacky Willy Stuffed Amigos line of collectibles. Supply space is the highlighted area above (and including) the supply curve. This space contains all price-quantity combinations acceptable to sellers.
More Than A Curve
While the supply side of the market is usually represented by a supply curve, the selling process is often best reflected by the entire supply space. Buyers can operate anywhere within this space. It could be on the supply curve itself or far above the line.

The supply curve actually only represents the lower boundary of the willingness and ability to sell. Invoking the observation that people prefer more to less means that the supply price on the supply curve is the lowest price, the minimum price, that sellers are willing and able to accept. However, sellers are also willing and able to receive more that the supply price for a given quantity. In fact, the higher the better.

Suppose, for example, that sellers are faced with selling 400 Yellow Tarantulas. They are willing and able to accept $25 each, the supply price on the supply curve. Higher prices, however, are also acceptable. Is $35 each acceptable? Certainly. How about $45? No question. Are sellers willing and able to accept as much as $100,000? Without a doubt. All of these prices place the sellers in the supply space.




---
Recommended Citation:

SUPPLY SPACE, AmosWEB Encyclonomic WEB*pedia, http://www.AmosWEB.com, AmosWEB LLC, 2000-2022. [Accessed: May 19, 2022].
---
Check Out These Related Terms...

| | | | | | | | |
---
Or For A Little Background...

| | | | | | | | | | | | | | |
---
And For Further Study...

| | | | | | | |
---
Search Again?


WHITE GULLIBON
[What's This?]
Today, you are likely to spend a great deal of time searching the newspaper want ads seeking to buy either a 50 foot extension cord or a combination CD player, clock radio, and telephone (with answering machine). Be on the lookout for empty parking spaces that appear to be near the entrance to a store.
Your Complete Scope

Natural gas has no odor. The smell is added artificially so that leaks can be detected.

"Perhaps the most valuable result of all education is the ability to make yourself do the thing you have to do, when it ought to be done, whether you like it or not; it is the first lesson that ought to be learned; and however early a man's training begins, it is probably the last lesson that he learns thoroughly. "

-- Thomas H. Huxley, Scientist

DIDMCA
Depository Institutions Deregulation and Monetary Control Act

Tell us what you think about AmosWEB. Like what you see? Have suggestions for improvements? Let us know. Click the User Feedback link.