Today's Index
Yesterday's Index
297.4


Help us compile the AmosWEB Free Lunch Index. Tell us about your last lunch.

More About the Index

The answer to question number 37 is?

KEMP-ROTH ACT: Officially titled the Economic Recovery Tax Act of 1981, this was a cornerstone of economic policy under President Reagan. The three components of this act were: (1) a decrease in individual income taxes, phased in over three years, (2) a decrease in business taxes, primarily through changes in capital depreciation, and (3) the indexing of taxes to inflation, which was implemented in 1985. This act was intended to address the stagflation problems of high unemployment and high inflation that existed during that 1970s and to provide greater incentives for investment. A primary theoretical justification is found in the Laffer curve relation between tax rates and total tax collections.




























LAW OF SUPPLY:
The direct relationship between supply price and the quantity supplied, assuming ceteris paribus factors are held constant. This economic principle indicates that an increase in the price of a commodity results in an increase in the quantity of the commodity that sellers are willing and able to sell in a given period of time, if other factors are held constant. The law of supply is an important principle in the study of economics.
The law of supply is the scientific relation between supply price and quantity supply that captures the supply side of the market. When combined with the law of demand the result is the market model. The market provides a powerful tool for analyzing exchanges, resource allocation, and efficiency.
What Does It Mean?
The direct relation of this law means that sellers who have ownership and control over resources are willing and able to sell more of a good if the price is higher and less of a good if the price is lower. From a scientific method perspective, this indicates that price causes quantity supplied. Or more specifically that a change in the supply price causes a change in the quantity supplied.
Working the Curve
Supply Curve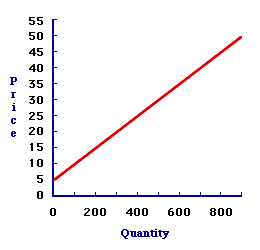 The law of supply is conveniently illustrated by a supply curve. In particular, it is illustrated by the positive slope of a supply curve, such as the one presented to the right. The positive slope of the supply curve means that higher prices are related to larger quantities and that lower prices are related to smaller quantities. Price goes up, quantity goes up. Price goes down, quantity goes down.
Looking Into Production
Insight into the law of supply is provided by the analysis of production possibilities and short-run production. The direct relation between supply price and quantity supplied can be tentatively explained through basic economic principles associated with each analysis.
Law of Increasing Opportunity Cost: This law states that as the production of one good is increased, moving along the production possibilities curve, then the opportunity cost (in terms of foregone production of the other good) increases. If sellers incur greater opportunity cost, then they need to receive a higher price, which generates the law of supply.


Law of Diminishing Marginal Returns: The law states that as the production of a good is increased, by the addition of a variable input to a fixed input, then the marginal product of the variable input declines. With this decline, more of the variable input is needed, which increases the cost of production. If sellers incur greater production cost, then they need to receive a higher price, which also generates the law of supply.
Many Exceptions
While the law of supply generally reflects what happens on the supply side of market, it is not a universal principle that applies to all markets under all circumstances. There are, in fact, numerous important exceptions to the law of supply. In particular, if the supply side of the market is controlled by small number of sellers (including a single seller), then the law of supply might not operate.

For example, monopoly, which is a market with a single seller, is not necessarily inclined to offer a larger quantity supplied even though the price is higher. Market control by the monopoly allows it to set the market price based on demand conditions, without cost constraints imposed from the supply side. Other market structures, including oligopoly and monopolistic competition, might have more competition, but market control can also negate the law of supply.




---
Recommended Citation:

LAW OF SUPPLY, AmosWEB Encyclonomic WEB*pedia, http://www.AmosWEB.com, AmosWEB LLC, 2000-2015. [Accessed: February 28, 2015].
---
Check Out These Related Terms...

| | | | | | | | |
---
Or For A Little Background...

| | | | | | | | | | | | | | | |
---
And For Further Study...

| | | | | | | | | | | | |
---
Search Again?


State of the ECONOMY

Construction Spending
September 2014
$950.9 billion
Down 0.4% from Aug. 2014 Source: Econ Stats Adm.

BEIGE MUNDORTLE
[What's This?]
Today, you are likely to spend a great deal of time looking for a downtown retail store seeking to buy either arch supports for your shoes or an AC adapter that works with your MPG player. Be on the lookout for telephone calls from former employers.
Your Complete Scope

Mark Twain said "I wonder how much it would take to buy soap buble if there was only one in the world."

"Always make a total effort, even when the odds are against you."

-- Arnold Palmer

ANN REPT
Annual Report

Tell us what you think about AmosWEB. Like what you see? Have suggestions for improvements? Let us know. Click the User Feedback link.