REGULATION: Government rules or laws that control the activities of businesses and consumers. The motivation for regulation is that businesses are inclined to do things that are harmful to the public--actions which need to be prevented or otherwise controlled. Regulation is essentially an extension of government's authority to protect one member of society from another. It tends to take one of two forms--(1) industry regulation that's intended to prevent firms from gaining and abusing excessive market control and (2) social regulation that seeks to protect consumers for problems caused by pollution, unsafe products, and the lack of information (market failure).




























SUPPLY SCHEDULE:
A table that illustrates the alternative quantities of a commodity supplied at different prices. A supply schedule is a simple means of summarizing information about supply price and quantity supplied for a particular good. It is used to highlight the law of supply. It can also be used to derive a supply curve.
A supply schedule is a useful set of information that can summarize several of the more important aspects of supply.
Setting Up the Table
Supply Schedule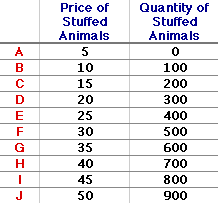 The table in this exhibit displays the Shady Valley supply schedule for stuffed Yellow Tarantulas, a cute and cuddly stuffed creature from the Wacky Willy Stuffed Amigos line of collectibles.

This table contains three columns. The first contains reference labels A, B, C, etc. for each price-quantity pair. The second is the supply price, ranging from $5 to $50. And the third is the quantity supplied, ranging from 0 to 900 Yellow Tarantulas. This schedule assumes other ceteris paribus factors remain unchanged and that the quantities are those supplied during a one year time period.
Running Through the Numbers
Here are a few observations about this supply schedule.
First, as the price increases from a low of $5 to a high of $50, the quantity supplied of Yellow Tarantulas increases from 0 to 900. Higher prices are related to larger quantities. This relation, this direct relation between supply price and quantity supplied, IS the basic law of supply.


Second, the quantities in the schedule represent maximum values. That is, if the price is $10, then the maximum quantity supplied is 100 Yellow Tarantulas. It is not 150, nor even 101, but only 100. Alternatively, the prices in the schedule represent minimum values. If sellers offer 100 Yellow Tarantulas for sale, then the minimum supply price they are willing and able to accept is $10, not $5, not even $9.99, but $10.


Third, this whole schedule, all ten pairs of the price-quantity numbers (and all others that could be included) is supply. Supply is the entire range of prices and quantities, all pairs. In contrast, quantity supplied is any specific number of Yellow Tarantulas sellers are willing and able to sell at a specific supply price. Selecting a different price generates a different quantity supplied.


Fourth, these numbers are hypothetical, not just in the sense that they were made up to illustrate supply, but in the sense that they suggest a "What if" relation. This particular schedule does not indicate the actual supply price of Yellow Tarantulas nor the actual quantity supplied. It only indicates quantity supplied given the supply price, or supply price given the quantity supplied. If, for example, the supply price is $10, then sellers are willing and able to sell 100 Yellow Tarantulas. This does not mean that sellers will sell, are selling, or ever will sell 100 Yellow Tarantulas. It only indicates what they would sell at a $10 price.

---
Recommended Citation:

SUPPLY SCHEDULE, AmosWEB Encyclonomic WEB*pedia, http://www.AmosWEB.com, AmosWEB LLC, 2000-2020. [Accessed: October 25, 2020].
---
Check Out These Related Terms...

| | | | | | | | | | |
---
Or For A Little Background...

| | | | | | | | | | | | |
---
And For Further Study...

| | | | | | | | |
---
Search Again?


PURPLE SMARPHIN
[What's This?]
Today, you are likely to spend a great deal of time at a flea market trying to buy either a how-to book on the art of negotiation or a flower arrangement for your aunt. Be on the lookout for florescent light bulbs that hum folk songs from the sixties.
Your Complete Scope

The first U.S. fire insurance company was established by Benjamin Franklin in 1752 in Philadelphia.

"Never let the fear of striking out get in your way. "

-- Babe Ruth, baseball player

PVCF
Present Value Cash Flow

Tell us what you think about AmosWEB. Like what you see? Have suggestions for improvements? Let us know. Click the User Feedback link.