ADB: An abbreviation that stands for either the African Development Bank the Asian Development Bank. The African Development Bank is a regional multilateral development institution engaged in promoting the economic development and social progress of its member countries in Africa. The Bank, established in 1964, started functioning in 1966 with its Headquarters in Abidjan, Cote d' lvoire. The Bank borrows funds from the international money and capital markets. Its shareholders are the 53 countries in Africa as well as 24 countries in the Americas, Europe, and Asia. The Asian Development Bank is a multilateral development finance institution dedicated to reducing poverty in Asia and the Pacific that engages in mostly public sector lending for development purposes in its developing member countries. They pursue this goal by helping to improve the quality of people's lives providing loans and technical assistance for a broad range of development activities. ADB raises fund through bond issues on the world's capital markets but they also rely on members' contributions. The ADB was established in 1966 and has its headquarters in Manila, Philippines. As of September of 2003, the ADB had 58 member countries.




























SUPPLY SCHEDULE:
A table that illustrates the alternative quantities of a commodity supplied at different prices. A supply schedule is a simple means of summarizing information about supply price and quantity supplied for a particular good. It is used to highlight the law of supply. It can also be used to derive a supply curve.
A supply schedule is a useful set of information that can summarize several of the more important aspects of supply.
Setting Up the Table
Supply Schedule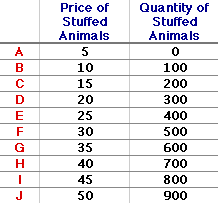 The table in this exhibit displays the Shady Valley supply schedule for stuffed Yellow Tarantulas, a cute and cuddly stuffed creature from the Wacky Willy Stuffed Amigos line of collectibles.

This table contains three columns. The first contains reference labels A, B, C, etc. for each price-quantity pair. The second is the supply price, ranging from $5 to $50. And the third is the quantity supplied, ranging from 0 to 900 Yellow Tarantulas. This schedule assumes other ceteris paribus factors remain unchanged and that the quantities are those supplied during a one year time period.
Running Through the Numbers
Here are a few observations about this supply schedule.
First, as the price increases from a low of $5 to a high of $50, the quantity supplied of Yellow Tarantulas increases from 0 to 900. Higher prices are related to larger quantities. This relation, this direct relation between supply price and quantity supplied, IS the basic law of supply.


Second, the quantities in the schedule represent maximum values. That is, if the price is $10, then the maximum quantity supplied is 100 Yellow Tarantulas. It is not 150, nor even 101, but only 100. Alternatively, the prices in the schedule represent minimum values. If sellers offer 100 Yellow Tarantulas for sale, then the minimum supply price they are willing and able to accept is $10, not $5, not even $9.99, but $10.


Third, this whole schedule, all ten pairs of the price-quantity numbers (and all others that could be included) is supply. Supply is the entire range of prices and quantities, all pairs. In contrast, quantity supplied is any specific number of Yellow Tarantulas sellers are willing and able to sell at a specific supply price. Selecting a different price generates a different quantity supplied.


Fourth, these numbers are hypothetical, not just in the sense that they were made up to illustrate supply, but in the sense that they suggest a "What if" relation. This particular schedule does not indicate the actual supply price of Yellow Tarantulas nor the actual quantity supplied. It only indicates quantity supplied given the supply price, or supply price given the quantity supplied. If, for example, the supply price is $10, then sellers are willing and able to sell 100 Yellow Tarantulas. This does not mean that sellers will sell, are selling, or ever will sell 100 Yellow Tarantulas. It only indicates what they would sell at a $10 price.

---
Recommended Citation:

SUPPLY SCHEDULE, AmosWEB Encyclonomic WEB*pedia, http://www.AmosWEB.com, AmosWEB LLC, 2000-2019. [Accessed: July 22, 2019].
---
Check Out These Related Terms...

| | | | | | | | | | |
---
Or For A Little Background...

| | | | | | | | | | | | |
---
And For Further Study...

| | | | | | | | |
---
Search Again?


BROWN PRAGMATOX
[What's This?]
Today, you are likely to spend a great deal of time visiting every yard sale in a 30-mile radius hoping to buy either a tall storage cabinet with five shelves and a secure lock or a birthday greeting card for your grandmother. Be on the lookout for strangers with large satchels of used undergarments.
Your Complete Scope

The first paper notes printed in the United States were in denominations of 1 cent, 5 cents, 25 cents, and 50 cents.

"You can't build a reputation on what you are going to do."

-- Henry Ford, automaker

KSE
Korea Stock Exchange

Tell us what you think about AmosWEB. Like what you see? Have suggestions for improvements? Let us know. Click the User Feedback link.