EXCHANGE RATES, AGGREGATE EXPENDITURES DETERMINANT: One of several specific aggregate expenditures determinants assumed constant when the aggregate expenditures line is constructed, and that shifts the aggregate expenditures line when it changes. An increase in the exchanges rates causes an increase (upward shift) of the aggregate expenditures line. A decrease in the exchanges rates causes a decrease (downward shift) of the aggregate expenditures line. Other notable aggregate expenditures determinants include consumer confidence, federal deficit, inflationary expectations, and interest rates.




























DISINFLATION:
A decline in the inflation rate. With disinflation, prices continue rising, just not as fast. Numerically speaking, disinflation occurs if the inflation rate over three consecutive years is 10 percent, 6 percent this year, and 4 percent. Disinflation, a reduction in the inflation rate, is not the same as deflation, which is an actual decline in the price level. Should disinflation continue, presumably due to anti-inflationary monetary or fiscal policies, then the average price level might eventually decline, making the transition from disinflation to deflation.
Inflation Rate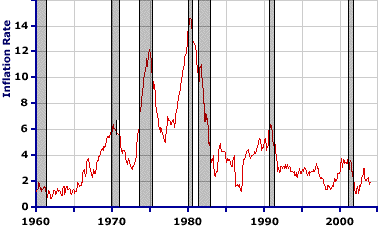 Disinflation generally comes into popular use when inflation has been relatively high and troublesome for a period of time and people are looking for any sign of relief. As such, a decrease in the inflation rate is taken as good news. However, disinflation is actually a relatively common phenomenon associated with business cycles. As this chart of inflation rates over the past few decades illustrates, inflation invariably declines during business-cycle contractions (shaded areas).

During the contraction of the early 1990s, disinflation brought the inflation rate down from about 6 percent to just over 2 percent. An even more dramatic example of disinflation resulted from the contraction of the early 1980s. The inflation rate declined from over 14 percent to under 4 percent. In fact, this particular contraction was created with contractionary monetary policy by the Federal Reserve System with the expressed goal of reducing the high inflation rates that characterized the 1970s, that is, to achieve disinflation.




---
Recommended Citation:

DISINFLATION, AmosWEB Encyclonomic WEB*pedia, http://www.AmosWEB.com, AmosWEB LLC, 2000-2023. [Accessed: March 24, 2023].
---
Check Out These Related Terms...

| | | | | | | | | | |
---
Or For A Little Background...

| | | | | | | | | |
---
And For Further Study...

| | | | | | | | | | | | | |
---
Related Websites (Will Open in New Window)...

| | |
---
Search Again?


GRAY SKITTERY
[What's This?]
Today, you are likely to spend a great deal of time strolling through a department store trying to buy either a genuine down-filled snow parka or throw pillows for your living room sofa. Be on the lookout for the happiest person in the room.
Your Complete Scope

The average bank teller loses about $250 every year.

"It's usually the last ounce of effort that tips the scales of success."

-- Rick Beneteau

WLS
Weighted Least Squares

Tell us what you think about AmosWEB. Like what you see? Have suggestions for improvements? Let us know. Click the User Feedback link.