EMPLOYMENT QUOTA: A limit on the quantity of workers hired by a firm or business, typically based on ethnic or demographic criteria. Employment quotas have been used as a means of providing increased opportunities to blacks, hispanics, women, and other groups that have been historically subject to discrimination. Such quotas, however, tend to anger other groups, especially white males, who don't receive favorable treatment. While employment or similar anti-discrimination quota systems might help address historical problems, they are not without cost. In particular, our economy's efficiency is likely to suffer if a less qualified member of an ethnic group is selected over someone who is more qualified.




























DISINFLATION:
A decline in the inflation rate. With disinflation, prices continue rising, just not as fast. Numerically speaking, disinflation occurs if the inflation rate over three consecutive years is 10 percent, 6 percent this year, and 4 percent. Disinflation, a reduction in the inflation rate, is not the same as deflation, which is an actual decline in the price level. Should disinflation continue, presumably due to anti-inflationary monetary or fiscal policies, then the average price level might eventually decline, making the transition from disinflation to deflation.
Inflation Rate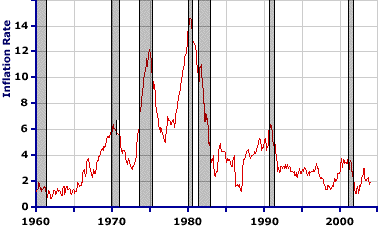 Disinflation generally comes into popular use when inflation has been relatively high and troublesome for a period of time and people are looking for any sign of relief. As such, a decrease in the inflation rate is taken as good news. However, disinflation is actually a relatively common phenomenon associated with business cycles. As this chart of inflation rates over the past few decades illustrates, inflation invariably declines during business-cycle contractions (shaded areas).

During the contraction of the early 1990s, disinflation brought the inflation rate down from about 6 percent to just over 2 percent. An even more dramatic example of disinflation resulted from the contraction of the early 1980s. The inflation rate declined from over 14 percent to under 4 percent. In fact, this particular contraction was created with contractionary monetary policy by the Federal Reserve System with the expressed goal of reducing the high inflation rates that characterized the 1970s, that is, to achieve disinflation.




---
Recommended Citation:

DISINFLATION, AmosWEB Encyclonomic WEB*pedia, http://www.AmosWEB.com, AmosWEB LLC, 2000-2019. [Accessed: August 24, 2019].
---
Check Out These Related Terms...

| | | | | | | | | | |
---
Or For A Little Background...

| | | | | | | | | |
---
And For Further Study...

| | | | | | | | | | | | | |
---
Related Websites (Will Open in New Window)...

| | |
---
Search Again?


BROWN PRAGMATOX
[What's This?]
Today, you are likely to spend a great deal of time searching for rummage sales seeking to buy either a birthday greeting card for your aunt or a wall poster commemorating the moon landing. Be on the lookout for letters from the Internal Revenue Service.
Your Complete Scope

In his older years, Andrew Carnegie seldom carried money because he was offended by its sight and touch.

"An organization's ability to learn, and translate that learning into action rapidly, is the ultimate competitive business advantage. "

-- Jack Welch, General Electric chief executive

EEO
Equal Employment Opportunity

Tell us what you think about AmosWEB. Like what you see? Have suggestions for improvements? Let us know. Click the User Feedback link.