AGGREGATE EXPENDITURES LINE: A line representing the relation between aggregate expenditures and gross domestic product used in the Keynesian cross. The aggregate expenditure line is obtained by adding investment expenditures, government purchases, and net exports to the consumption line. As such, the slope of the aggregate expenditure line is largely based on the slope of the consumption line (which is the marginal propensity to consume), with adjustments coming from the marginal propensity to invest, the marginal propensity for government purchases, and the marginal propensity to import. The intersection of the aggregate expenditures line and the 45-degree line identifies the equilibrium level of output in the Keynesian cross.




























MARGINAL REVENUE CURVE, PERFECT COMPETITION:
A curve that graphically represents the relation between the marginal revenue received by a perfectly competitive firm for selling its output and the quantity of output sold. Because a perfectly competitive firm is a price taker and faces a horizontal demand curve, its marginal revenue curve is also horizontal and coincides with its average revenue (and demand) curve. A perfectly competitive firm maximizes profit by producing the quantity of output found at the intersection of the marginal revenue curve and marginal cost curve.
Perfect competition is a market structure with a large number of small firms, each selling identical goods. Perfectly competitive firms have perfect knowledge and perfect mobility into and out of the market. These conditions mean perfectly competitive firms are price takers, they have no market control and receive the going market price for all output sold.

The marginal revenue curve reflects the degree of market control held by a firm. For a perfectly competitive firm, the marginal revenue curve is a horizontal, or perfectly elastic, line. For a monopoly, oligopoly, or monopolistically competitive firm, the marginal revenue curve is negatively sloped and lies below the average revenue (demand) curve.

Marginal Revenue Curve,
Perfect Competition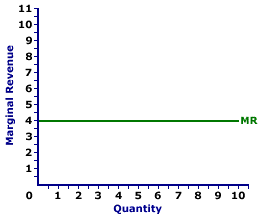 Marginal revenue is commonly represented by a marginal revenue curve, such as the one labeled MR and displayed in the exhibit to the right. This particular marginal revenue curve is that for zucchini sales by Phil the zucchini grower, a presumed perfectly competitive firm.

The vertical axis measures marginal revenue and the horizontal axis measures the quantity of output (pounds of zucchinis). Although quantity on this particular graph stops at 10 pounds of zucchinis, the nature of perfect competition indicates it could easily go higher.

This curve indicates that if Phil sells the first pound of zucchinis (an increase in production from 0 to 1), then his extra revenue is $4. However, if he sells his tenth pound (an increase in production from 9 to 10), then he also receives $4 of extra revenue. Should he sell his hundredth pound (an increase in production from 99 to 100), then he moves well beyond the graph, but his marginal revenue remains at $4.

Because Phil is a perfectly competitive firm, his marginal revenue curve is also his demand curve and his average revenue curve. All three curves coincide for perfect competition.




---
Recommended Citation:

MARGINAL REVENUE CURVE, PERFECT COMPETITION, AmosWEB Encyclonomic WEB*pedia, http://www.AmosWEB.com, AmosWEB LLC, 2000-2018. [Accessed: March 23, 2018].
---
Check Out These Related Terms...

| | | | | | | | | | |
---
Or For A Little Background...

| | | | | | | | | | | |
---
And For Further Study...

| | | | | | | | |
---
Related Websites (Will Open in New Window)...

| | | |
---
Search Again?


BROWN PRAGMATOX
[What's This?]
Today, you are likely to spend a great deal of time browsing through a long list of dot com websites trying to buy either a T-shirt commemorating the 2000 Olympics or a genuine fake plastic Tiffany lamp. Be on the lookout for cardboard boxes.
Your Complete Scope

Lewis Carroll, the author of Alice in Wonderland, was the pseudonym of Charles Dodgson, an accomplished mathematician and economist.

"It is not the straining for great things that is most effective; it is the doing of the little things, the common duties, a little better and better."

-- Elizabeth Stuart Phelps, Writer

FTSE-100
Financial Times Stock Exchange 100 stock index (UK)

Tell us what you think about AmosWEB. Like what you see? Have suggestions for improvements? Let us know. Click the User Feedback link.