QUALITY OF LIFE: A common term used to indicate the overall level of well-being or welfare of a person or group of people, taking into account both monetary and non-monetary factors. This notion is theoretically synonymous with utility and the satisfaction of wants and needs. However, from a practical standpoint, attempts have been made to measure the quality of life, primarily as a means of comparison between communities. Quality of life measures are composite indexes based on monetary factors such as income, wages, living costs, and taxes, combined with non-monetary factors such as crime rate, air quality, and education level.




























MONOPOLY PROFIT:
Economic profit generated as a result of a firm's market control. It is termed monopoly profit as a reflection of the most prominent market structure with market control--monopoly. However, any market structure with market control, including oligopoly and monopolistic competition, can generate monopoly profit. The existence of monopoly profit is an indication that a firm is NOT efficiently allocating resources. While market control in no way guarantees that a firm receives monopoly profit, there is no way to obtain monopoly profit WITHOUT market control.
Monopoly profit arises when a firm with market control is able to set a price that exceeds average total cost. This is termed monopoly profit in honor of the monopoly market structure with the greatest market control and the one most likely to generate monopoly profit.

Market control enables a firm to acquire monopoly profit for two key reasons.
One, a firm that faces a negatively-sloped demand curve charges a higher price than a comparable perfectly competitive firm with no market control. The higher the price, the more likely it is to exceed average cost and thus to generate economic profit.


Two, barriers to entry are one source of market control, especially for monopoly. Such barriers prevent new firms from entering the market in response to above-normal economic profit. Economic or monopoly profit is not eaten away by competition.
Monopoly Profit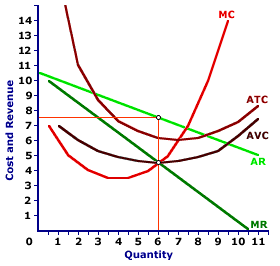 Consider the production and sale of Amblathan-Plus, the only cure for the deadly (but hypothetical) foot ailment known as amblathanitis. This drug is produced by the noted monopoly firm, Feet-First Pharmaceutical.

A typical profit-maximizing output determination using the marginal revenue and marginal cost approach is presented in this exhibit. Feet-First Pharmaceutical maximizes profit by producing output that equates marginal revenue and marginal cost, which is 6 ounces of Amblathan-Plus in this example. The corresponding price charged is $7.50.

Because price is greater than average cost, Feet-First Pharmaceutical receives an economic profit, which by virtue of its monopoly market structure is monopoly profit. To highlight this profit, click the [Monopoly Profit] button.

The yellow rectangle, representing the difference between total cost and total revenue, is the monopoly profit received by Feet-First Pharmaceutical. This profit is determined in the following way:
First, the total revenue received by Feet-First Pharmaceutical is equal to the $7.50 price times the 6 ounces of Amblathan-Plus sold, which is $45 (= 6 x $7.50).


Second, the total cost incurred by Feet-First Pharmaceutical is equal to the $6.17 average total cost times the 6 ounces of Amblathan-Plus sold, which is $37 (= 6 x $6.17).


Third, monopoly profit is the difference between total revenue and total cost, which is $8 = ($45 - $37).
Not only is Feet-First Pharmaceutical more likely to generate such monopoly profit, but entry barriers (an exclusive patent on the production of Amblathan-Plus) prevents other firms from entering this market.


---
Recommended Citation:

MONOPOLY PROFIT, AmosWEB Encyclonomic WEB*pedia, http://www.AmosWEB.com, AmosWEB LLC, 2000-2021. [Accessed: March 5, 2021].
---
Check Out These Related Terms...

| | | | | |
---
Or For A Little Background...

| | | | | | | | | | |
---
And For Further Study...

| | | | | | |
---
Search Again?


BLUE PLACIDOLA
[What's This?]
Today, you are likely to spend a great deal of time at a garage sale hoping to buy either a birthday greeting card for your aunt or a wall poster commemorating the moon landing. Be on the lookout for defective microphones.
Your Complete Scope

Before 1933, the U.S. dime was legal as payment only in transactions of $10 or less.

"I much prefer the sharpest criticism of a single intelligent man to the thoughtless approval of the masses."

-- Johannes Kepler, German Astronomer

ATM
Automated Teller Machine

Tell us what you think about AmosWEB. Like what you see? Have suggestions for improvements? Let us know. Click the User Feedback link.