RESERVE REQUIREMENTS: Rules by the Federal Reserve System governing the amount of bank reserves that banks must keep to back up their deposits. Legal reserve requirements came about because banks that practice fractional-reserve banking are sometimes inclined to make too many interest-paying loans and neglect to keep enough reserves on hand to pay their depositors. In principle, the Fed can alter reserve requirements to control the money supply. In practice, however, the Fed prefers to use open market operations or the discount rate.




























MONOPOLY PROFIT:
Economic profit generated as a result of a firm's market control. It is termed monopoly profit as a reflection of the most prominent market structure with market control--monopoly. However, any market structure with market control, including oligopoly and monopolistic competition, can generate monopoly profit. The existence of monopoly profit is an indication that a firm is NOT efficiently allocating resources. While market control in no way guarantees that a firm receives monopoly profit, there is no way to obtain monopoly profit WITHOUT market control.
Monopoly profit arises when a firm with market control is able to set a price that exceeds average total cost. This is termed monopoly profit in honor of the monopoly market structure with the greatest market control and the one most likely to generate monopoly profit.

Market control enables a firm to acquire monopoly profit for two key reasons.
One, a firm that faces a negatively-sloped demand curve charges a higher price than a comparable perfectly competitive firm with no market control. The higher the price, the more likely it is to exceed average cost and thus to generate economic profit.


Two, barriers to entry are one source of market control, especially for monopoly. Such barriers prevent new firms from entering the market in response to above-normal economic profit. Economic or monopoly profit is not eaten away by competition.
Monopoly Profit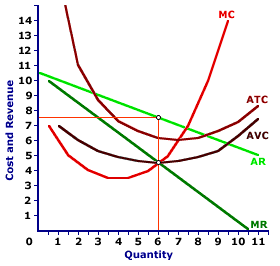 Consider the production and sale of Amblathan-Plus, the only cure for the deadly (but hypothetical) foot ailment known as amblathanitis. This drug is produced by the noted monopoly firm, Feet-First Pharmaceutical.

A typical profit-maximizing output determination using the marginal revenue and marginal cost approach is presented in this exhibit. Feet-First Pharmaceutical maximizes profit by producing output that equates marginal revenue and marginal cost, which is 6 ounces of Amblathan-Plus in this example. The corresponding price charged is $7.50.

Because price is greater than average cost, Feet-First Pharmaceutical receives an economic profit, which by virtue of its monopoly market structure is monopoly profit. To highlight this profit, click the [Monopoly Profit] button.

The yellow rectangle, representing the difference between total cost and total revenue, is the monopoly profit received by Feet-First Pharmaceutical. This profit is determined in the following way:
First, the total revenue received by Feet-First Pharmaceutical is equal to the $7.50 price times the 6 ounces of Amblathan-Plus sold, which is $45 (= 6 x $7.50).


Second, the total cost incurred by Feet-First Pharmaceutical is equal to the $6.17 average total cost times the 6 ounces of Amblathan-Plus sold, which is $37 (= 6 x $6.17).


Third, monopoly profit is the difference between total revenue and total cost, which is $8 = ($45 - $37).
Not only is Feet-First Pharmaceutical more likely to generate such monopoly profit, but entry barriers (an exclusive patent on the production of Amblathan-Plus) prevents other firms from entering this market.


---
Recommended Citation:

MONOPOLY PROFIT, AmosWEB Encyclonomic WEB*pedia, http://www.AmosWEB.com, AmosWEB LLC, 2000-2019. [Accessed: December 9, 2019].
---
Check Out These Related Terms...

| | | | | |
---
Or For A Little Background...

| | | | | | | | | | |
---
And For Further Study...

| | | | | | |
---
Search Again?


BLACK DISMALAPOD
[What's This?]
Today, you are likely to spend a great deal of time going from convenience store to convenience store seeking to buy either a turbo-powered vacuum cleaner or a battery-powered, rechargeable vacuum cleaner. Be on the lookout for defective microphones.
Your Complete Scope

Helping spur the U.S. industrial revolution, Thomas Edison patented nearly 1300 inventions, 300 of which came out of his Menlo Park "invention factory" during a four-year period.

"If you don't make mistakes, you aren't really trying."

-- Coleman Hawkings,musician

PVR
Profit Volume Ratio

Tell us what you think about AmosWEB. Like what you see? Have suggestions for improvements? Let us know. Click the User Feedback link.