MATURITY STAGE: The third stage in the product life cycle, characterized by flattening of sales and decreasing profit margins. Advertising and promotion are used to maintain market share and to prevent the erosion of sales and profits. During this stage, the initial decline of a product begins and many businesses try to "re-invent" their products to prevent the upcoming decline stage. Many times the company finds new uses for an existing product (baking soda as a deodorizer), totally new markets (foreign countries), or a way to enhance the existing product to make it better and to re-start the life cycle. The television has gone through at least two life cycles, first from black and white to color and then from color to high definition (HD) and plasma. Along the way there were enhancements such as remote control, VCRs to complement them, and cable to help with reception.




























MONOPOLY, EFFICIENCY:
A monopoly generally produces less output and chargers a higher price than would be the case for perfect competition. In particular, the price charged by a monopoly is higher than the marginal cost of production, which violates the efficiency condition that price equals marginal cost. Monopoly is inefficient because it has market control and faces a negatively-sloped demand curve.
Monopoly does not efficiently allocate resources. In fact, monopoly (if left unregulated) is generally considered the most inefficient of the four market structures. The reason for this inefficiency is found with market control. As the only seller in the market, the negatively-sloped market demand curve is THE demand curve facing the monopoly. If buyers want to buy, they must buy from the monopoly.

The negative slope of the demand curve means that the price charged by the monopoly is greater than marginal revenue. As a profit-maximizing firm that equates marginal revenue with marginal cost, the price charged by monopoly is greater than marginal cost. The inequality between price and marginal cost is what makes monopoly inefficient.
Profit Maximization
Inefficiency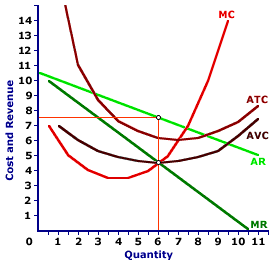 Consider the production and sale of Amblathan-Plus, the only cure for the deadly (but hypothetical) foot ailment known as amblathanitis. This drug is produced by the noted monopoly firm, Feet-First Pharmaceutical.

A typical profit-maximizing output determination using the marginal revenue and marginal cost approach is presented in this diagram. Feet-First Pharmaceutical maximizes profit by producing output that equates marginal revenue and marginal cost, which is 6 ounces of Amblathan-Plus in this example. The corresponding price charged is $7.50.

This profit-maximizing production is not efficient. In particular, the price is $7.50, but the marginal cost is only $4.50. Society is producing and consuming a good that it values at $7.50 (the price). However, in so doing, society is using resources that could have produced other goods valued at $4.50 (the marginal OPPORTUNITY cost). Society gives up $4.50 worth of value and receives $7.50.

This is a good thing. It is so good, that society should do more. However, the monopoly is not letting this happen. Feet-First Pharmaceutical is not devoting as many resources to the production of Amblathan-Plus as society would like.
An Efficient Alternative
The degree of monopoly inefficiency can be illustrated with a comparison to perfect competition. Such a comparison is easily accomplished by clicking the [Perfect Competition] button. A primary use of perfect competition is to provide a benchmark for the comparison with other market structures, such as monopoly.

A comparison between monopoly and perfect competition indicates:
Monopoly produces less output than perfect competition. In this example, monopoly produces 6 ounces of Amblathan-Plus compared to about 7.5 ounces for perfect competition. The Feet-First Pharmaceutical monopoly does not allocate enough resources to the production of Amblathan-Plus.


Monopoly charges a higher price than perfect competition. In this example, the monopoly price is $7.50 per ounce versus about $6.75 per ounce for perfect competition. The Feet-First Pharmaceutical monopoly is NOT efficient because it produces at a quantity in which price is greater than marginal cost.

---
Recommended Citation:

MONOPOLY, EFFICIENCY, AmosWEB Encyclonomic WEB*pedia, http://www.AmosWEB.com, AmosWEB LLC, 2000-2022. [Accessed: October 1, 2022].
---
Check Out These Related Terms...

| | | | | | | |
---
Or For A Little Background...

| | | | | | | | | | |
---
And For Further Study...

| | | | | | |
---
Search Again?


BLUE PLACIDOLA
[What's This?]
Today, you are likely to spend a great deal of time driving to a factory outlet trying to buy either a pair of blue silicon oven mitts or a coffee cup commemorating the 2000 Olympics. Be on the lookout for crowded shopping malls.
Your Complete Scope

A U.S. dime has 118 groves around its edge, one fewer than a U.S. quarter.

"The truth is not for all men, but only for those who seek it. "

-- Ayn Rand, writer

AVC
Average Variable Cost

Tell us what you think about AmosWEB. Like what you see? Have suggestions for improvements? Let us know. Click the User Feedback link.