RESOURCE ALLOCATION: The process of dividing up and distributing available, limited resources to competing, alternative uses that satisfy unlimited wants and needs. Given that world is rampant with scarcity (unlimited wants and needs, but limited resources), every want and need cannot be satisfied with available resources. Choices have to be made. Some wants and needs are satisfied, some are not. These choices, these decisions are the resource allocation process. An efficient resource allocation exists if society has achieved the highest possible level of satisfaction of wants and needs from the available resources AND resources can not be allocated differently to achieve any greater satisfaction.




























PURE MARKET ECONOMY:
An economy, or economic system, that relies exclusively on markets to allocate resources and to answer all three questions of allocation. This theoretical ideal has no governments, markets are used to make all allocation decisions. Then contrasting theoretical ideal is a pure command economy in which governments make all allocation decisions.
Economic Systems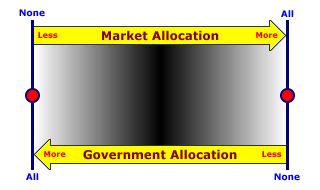 A pure market economy is a theoretical extreme on the spectrum of economic systems that does not actually exist in the real world. It does, however, provide a benchmark that can be used for comparison with real world economic systems.

In pure market economies, markets are used by buyers and sellers to voluntarily exchange goods, services, and resources. Buyers seek to pay the lowest prices. Sellers seek to receive the highest prices. Resources are allocated to the production of the goods with the highest prices and greatest satisfaction of wants and needs.

The real world embodiment of a pure market economy is termed a market-oriented economy or capitalism. The market-oriented economy of the United States is the primary example.

While, in theory, resource allocation could be undertaken exclusively through markets or governments, in the real world, all economies rely on a mix of both markets and governments for allocation decisions, what is termed a mixed economy.




---
Recommended Citation:

PURE MARKET ECONOMY, AmosWEB Encyclonomic WEB*pedia, http://www.AmosWEB.com, AmosWEB LLC, 2000-2021. [Accessed: March 4, 2021].
---
Check Out These Related Terms...

| | | | | | | |
---
Or For A Little Background...

| | | | | | |
---
And For Further Study...

| | | | | | |
---
Search Again?


GREEN LOGIGUIN
[What's This?]
Today, you are likely to spend a great deal of time looking for the new strip mall out on the highway looking to buy either a genuine down-filled comforter or a 200-foot blue garden hose. Be on the lookout for broken fingernail clippers.
Your Complete Scope

Much of the $15 million used by the United States to finance the Louisiana Purchase from France was borrowed from European banks.

"I think luck is the sense to recognize an opportunity and the ability to take advantage of it . The man who can smile at his breaks and grabs his chance gets on."

-- Samuel Goldwyn, Film executive

AMB
Adjusted Monetary Base

Tell us what you think about AmosWEB. Like what you see? Have suggestions for improvements? Let us know. Click the User Feedback link.