MARKET: The organized exchange of commodities (goods, services, or resources) between buyers and sellers within a specific geographic area and during a given period of time. Markets are the exchange between buyers who want a good--the demand-side of the market--and the sellers who have it--the supply--side of the market. In essence, a buyer gives up money and gets a good, while a seller gives up a good and gets money. From a marketing context, in order to be a market the following conditions must exist. The target consumers must have the ability to purchase the goods or services. They must have a need or desire to purchase. The target group must be willing to exchange something of value for the product. Finally, they must have the authority to make the purchase. If all these variables are present, a market exits.




























PURE MARKET ECONOMY:
An economy, or economic system, that relies exclusively on markets to allocate resources and to answer all three questions of allocation. This theoretical ideal has no governments, markets are used to make all allocation decisions. Then contrasting theoretical ideal is a pure command economy in which governments make all allocation decisions.
Economic Systems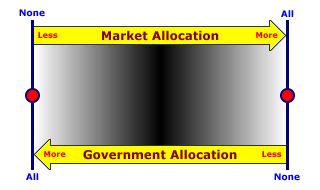 A pure market economy is a theoretical extreme on the spectrum of economic systems that does not actually exist in the real world. It does, however, provide a benchmark that can be used for comparison with real world economic systems.

In pure market economies, markets are used by buyers and sellers to voluntarily exchange goods, services, and resources. Buyers seek to pay the lowest prices. Sellers seek to receive the highest prices. Resources are allocated to the production of the goods with the highest prices and greatest satisfaction of wants and needs.

The real world embodiment of a pure market economy is termed a market-oriented economy or capitalism. The market-oriented economy of the United States is the primary example.

While, in theory, resource allocation could be undertaken exclusively through markets or governments, in the real world, all economies rely on a mix of both markets and governments for allocation decisions, what is termed a mixed economy.




---
Recommended Citation:

PURE MARKET ECONOMY, AmosWEB Encyclonomic WEB*pedia, http://www.AmosWEB.com, AmosWEB LLC, 2000-2023. [Accessed: October 4, 2023].
---
Check Out These Related Terms...

| | | | | | | |
---
Or For A Little Background...

| | | | | | |
---
And For Further Study...

| | | | | | |
---
Search Again?


BLUE PLACIDOLA
[What's This?]
Today, you are likely to spend a great deal of time looking for the new strip mall out on the highway wanting to buy either a country wreathe or galvanized steel storage shelves. Be on the lookout for high interest rates.
Your Complete Scope

Three-forths of the gold mined each year is used to manufacture jewelry.

"Those who are blessed with the most talent don't necessarily outperform everyone else. It's the people with follow-through who excel. "

-- Mary Kay Ash, May Kay Cosmetics founder

NABB
National Association of Business Brokers

Tell us what you think about AmosWEB. Like what you see? Have suggestions for improvements? Let us know. Click the User Feedback link.