PAR VALUE: The stated, or face, value of a legal claim or financial asset. For debt securities, such as corporate bonds or U. S. Treasury securities, this is amount to be repaid at the time of maturity. For equity securities, that is, corporate stocks, this is the initial value set up at the time it is issued. Par value, also called face value, is not necessarily, and often is not, equal to the current market price of the asset. A $10,000 U.S. Treasury note, for example, has a par value of $10,000, but might have a current market price of $9,950. The difference between par value and current price contributes to the yield or return on such assets. An asset is selling at a discount if the current price is less than the par value and is selling at a premium if the current price is more than the par value.




























PURE MARKET ECONOMY:
An economy, or economic system, that relies exclusively on markets to allocate resources and to answer all three questions of allocation. This theoretical ideal has no governments, markets are used to make all allocation decisions. Then contrasting theoretical ideal is a pure command economy in which governments make all allocation decisions.
Economic Systems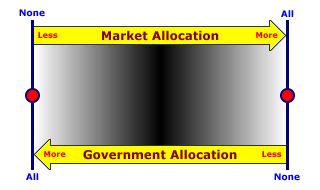 A pure market economy is a theoretical extreme on the spectrum of economic systems that does not actually exist in the real world. It does, however, provide a benchmark that can be used for comparison with real world economic systems.

In pure market economies, markets are used by buyers and sellers to voluntarily exchange goods, services, and resources. Buyers seek to pay the lowest prices. Sellers seek to receive the highest prices. Resources are allocated to the production of the goods with the highest prices and greatest satisfaction of wants and needs.

The real world embodiment of a pure market economy is termed a market-oriented economy or capitalism. The market-oriented economy of the United States is the primary example.

While, in theory, resource allocation could be undertaken exclusively through markets or governments, in the real world, all economies rely on a mix of both markets and governments for allocation decisions, what is termed a mixed economy.




---
Recommended Citation:

PURE MARKET ECONOMY, AmosWEB Encyclonomic WEB*pedia, http://www.AmosWEB.com, AmosWEB LLC, 2000-2022. [Accessed: September 25, 2022].
---
Check Out These Related Terms...

| | | | | | | |
---
Or For A Little Background...

| | | | | | |
---
And For Further Study...

| | | | | | |
---
Search Again?


BROWN PRAGMATOX
[What's This?]
Today, you are likely to spend a great deal of time browsing through a long list of dot com websites seeking to buy either a T-shirt commemorating the 2000 Olympics or a genuine fake plastic Tiffany lamp. Be on the lookout for a thesaurus filled with typos.
Your Complete Scope

Helping spur the U.S. industrial revolution, Thomas Edison patented nearly 1300 inventions, 300 of which came out of his Menlo Park "invention factory" during a four-year period.

"If I'm selecting a group, the first thing I look for is a record of achievement . . . If (candidates achieve) in small things, there's a very good chance they'll perform well in big things. "

-- Edmund Hillary, explorer

AMW
Average Monthly Wage

Tell us what you think about AmosWEB. Like what you see? Have suggestions for improvements? Let us know. Click the User Feedback link.