FAVORABLE BALANCE OF PAYMENTS: An imbalance in a nation's balance of payments in which payments made by the country are less than payments received by the country. This is also termed a balance of payments surplus. It's considered favorable because more currency is flowing into the country than is flowing out. Such an unequal flow of currency will expand the supply of money in the nation and subsequently cause a decrease in the exchange rate relative to the currencies of other nations. This then has implications for inflation, unemployment, production, and other facets of the domestic economy. A balance of trade surplus is often the source of a balance of payments surplus, but other payments can turn a balance of trade surplus into a balance of payments deficit.




























PURE MARKET ECONOMY:
An economy, or economic system, that relies exclusively on markets to allocate resources and to answer all three questions of allocation. This theoretical ideal has no governments, markets are used to make all allocation decisions. Then contrasting theoretical ideal is a pure command economy in which governments make all allocation decisions.
Economic Systems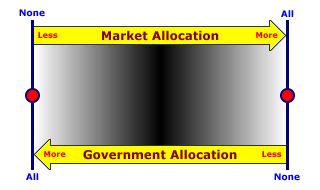 A pure market economy is a theoretical extreme on the spectrum of economic systems that does not actually exist in the real world. It does, however, provide a benchmark that can be used for comparison with real world economic systems.

In pure market economies, markets are used by buyers and sellers to voluntarily exchange goods, services, and resources. Buyers seek to pay the lowest prices. Sellers seek to receive the highest prices. Resources are allocated to the production of the goods with the highest prices and greatest satisfaction of wants and needs.

The real world embodiment of a pure market economy is termed a market-oriented economy or capitalism. The market-oriented economy of the United States is the primary example.

While, in theory, resource allocation could be undertaken exclusively through markets or governments, in the real world, all economies rely on a mix of both markets and governments for allocation decisions, what is termed a mixed economy.




---
Recommended Citation:

PURE MARKET ECONOMY, AmosWEB Encyclonomic WEB*pedia, http://www.AmosWEB.com, AmosWEB LLC, 2000-2023. [Accessed: January 26, 2023].
---
Check Out These Related Terms...

| | | | | | | |
---
Or For A Little Background...

| | | | | | |
---
And For Further Study...

| | | | | | |
---
Search Again?


WHITE GULLIBON
[What's This?]
Today, you are likely to spend a great deal of time touring the new suburban shopping complex trying to buy either a half-dozen helium filled balloons or a packet of address labels large enough for addresses of both the sender and the recipient. Be on the lookout for empty parking spaces that appear to be near the entrance to a store.
Your Complete Scope

A lump of pure gold the size of a matchbox can be flattened into a sheet the size of a tennis court!

"It has been my philosophy of life that difficulties vanish when faced boldly. "

-- Isaac Asimov

NFA
National Futures Association

Tell us what you think about AmosWEB. Like what you see? Have suggestions for improvements? Let us know. Click the User Feedback link.