BANK: A financial organization that accepts deposits, makes loans, and directly controls a significant portion of the nation's money supply. In the olden days of the economy (before 1980), a bank was easy to identify because it had the word "bank" in it's name -- such as "First National Bank", "Second National Bank", etc. However, after several laws were passed in the early 1980s to reform and deregulate the banking industry, the term bank has come to functionally include other financial institutions that previously went by the titles of "Savings and Loan," "Credit Union," and "Mutual Savings Banks." These institutions are operationally considered banks because they all perform "banking" functions -- especially accepting checking account deposits and making loans.




























PURE MARKET ECONOMY:
An economy, or economic system, that relies exclusively on markets to allocate resources and to answer all three questions of allocation. This theoretical ideal has no governments, markets are used to make all allocation decisions. Then contrasting theoretical ideal is a pure command economy in which governments make all allocation decisions.
Economic Systems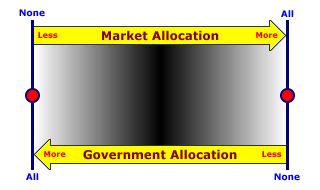 A pure market economy is a theoretical extreme on the spectrum of economic systems that does not actually exist in the real world. It does, however, provide a benchmark that can be used for comparison with real world economic systems.

In pure market economies, markets are used by buyers and sellers to voluntarily exchange goods, services, and resources. Buyers seek to pay the lowest prices. Sellers seek to receive the highest prices. Resources are allocated to the production of the goods with the highest prices and greatest satisfaction of wants and needs.

The real world embodiment of a pure market economy is termed a market-oriented economy or capitalism. The market-oriented economy of the United States is the primary example.

While, in theory, resource allocation could be undertaken exclusively through markets or governments, in the real world, all economies rely on a mix of both markets and governments for allocation decisions, what is termed a mixed economy.




---
Recommended Citation:

PURE MARKET ECONOMY, AmosWEB Encyclonomic WEB*pedia, http://www.AmosWEB.com, AmosWEB LLC, 2000-2018. [Accessed: July 22, 2018].
---
Check Out These Related Terms...

| | | | | | | |
---
Or For A Little Background...

| | | | | | |
---
And For Further Study...

| | | | | | |
---
Search Again?


YELLOW CHIPPEROON
[What's This?]
Today, you are likely to spend a great deal of time calling an endless list of 800 numbers trying to buy either a set of luggage without wheels or a how-to book on wine tasting. Be on the lookout for cardboard boxes.
Your Complete Scope

Junk bonds are so called because they have a better than 50% chance of default, carrying a Standard & Poor's rating of CC or lower.

"You can't build a reputation on what you are going to do."

-- Henry Ford, automaker

HDI
Human Development Index

Tell us what you think about AmosWEB. Like what you see? Have suggestions for improvements? Let us know. Click the User Feedback link.