KEYNESIAN EQUILIBRIUM: The state of the macroeconomy in which aggregate expenditures are equal to aggregate output. This is illustrated using the income-expenditure model, or Keynesian cross, as the intersection of the aggregate expenditures line and the 45-degree line. The aggregate expenditures line is the summation of consumption expenditures, investment expenditures, government purchases, and net exports. The 45-degree line represents all combinations in which aggregate expenditures equal aggregate output. Keynesian equilibrium is also represented by the saving-investment, or injection-leakage, model as the intersection between the injection line (investment expenditures, government purchases, and exports) and the leakage line (saving, taxes, and imports).




























PURE MARKET ECONOMY:
An economy, or economic system, that relies exclusively on markets to allocate resources and to answer all three questions of allocation. This theoretical ideal has no governments, markets are used to make all allocation decisions. Then contrasting theoretical ideal is a pure command economy in which governments make all allocation decisions.
Economic Systems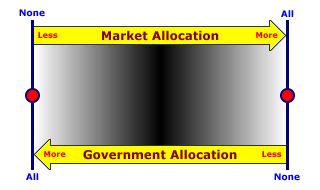 A pure market economy is a theoretical extreme on the spectrum of economic systems that does not actually exist in the real world. It does, however, provide a benchmark that can be used for comparison with real world economic systems.

In pure market economies, markets are used by buyers and sellers to voluntarily exchange goods, services, and resources. Buyers seek to pay the lowest prices. Sellers seek to receive the highest prices. Resources are allocated to the production of the goods with the highest prices and greatest satisfaction of wants and needs.

The real world embodiment of a pure market economy is termed a market-oriented economy or capitalism. The market-oriented economy of the United States is the primary example.

While, in theory, resource allocation could be undertaken exclusively through markets or governments, in the real world, all economies rely on a mix of both markets and governments for allocation decisions, what is termed a mixed economy.




---
Recommended Citation:

PURE MARKET ECONOMY, AmosWEB Encyclonomic WEB*pedia, http://www.AmosWEB.com, AmosWEB LLC, 2000-2018. [Accessed: April 25, 2018].
---
Check Out These Related Terms...

| | | | | | | |
---
Or For A Little Background...

| | | | | | |
---
And For Further Study...

| | | | | | |
---
Search Again?


PINK FADFLY
[What's This?]
Today, you are likely to spend a great deal of time at a going out of business sale looking to buy either a T-shirt commemorating the 2000 Olympics or a genuine fake plastic Tiffany lamp. Be on the lookout for mail order catalogs with hidden messages.
Your Complete Scope

A U.S. dime has 118 groves around its edge, one fewer than a U.S. quarter.

"The greatest things ever done on Earth have been done little by little. "

-- William Jennings Bryan

EBC
Electronic Business Communications

Tell us what you think about AmosWEB. Like what you see? Have suggestions for improvements? Let us know. Click the User Feedback link.