DETERMINANT: A ceteris paribus factor that is held constant when a curve is constructed. Changes in these factors then cause the curve to shift to a new location. The most common determinants are demand determinants for the demand curve (income, preferences, other prices, buyers' expectations, and number of buyers) and supply determinants for the supply curve (resource prices, technology, other prices, buyers' expectations, and number of buyers). Other common curves and their determinants include: production possibilities curve (technology, education and the quantities of labor, capital, land, and entrepreneurship); aggregate demand curve (the four aggregate expenditures of consumption, investment, government purchases, and net exports); and short-run average cost curve (technology, wages, and other production cost).




























PURE COMMAND ECONOMY:
An economy, or economic system, that relies exclusively on governments to allocate resources and to answer all three questions of allocation. This theoretical ideal has no markets, government makes all allocation decisions. Then contrasting theoretical ideal is a pure market economy in which markets make all allocation decisions.
Economic Systems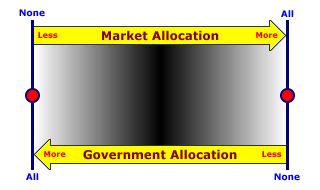 A pure command economy is a theoretical extreme on the spectrum of economic systems that does not actually exist in the real world. It does, however, provide a benchmark that can be used for comparison with real world economic systems.

In pure command economies, governments force all allocation through involuntary taxes, laws, restrictions, and regulations. Governments set forth the laws and rules. If folks do not follow the rules, then they are punished. Governments can punish those who do not follow the rules because... well... because they are the governments. Given a choice, most humans probably would rather NOT pay taxes or have their cars safety inspected. They follow government rules because they have to, because that IS the law.

The real world embodiment of a pure command economy is termed a command economy. The communistic/socialist economies of China and the former Soviet Union are primary examples of command economies.

While, in theory, resource allocation could be undertaken exclusively through markets or governments, in the real world, all economies rely on a mix of both markets and governments for allocation decisions, what is termed a mixed economy.




---
Recommended Citation:

PURE COMMAND ECONOMY, AmosWEB Encyclonomic WEB*pedia, http://www.AmosWEB.com, AmosWEB LLC, 2000-2022. [Accessed: September 25, 2022].
---
Check Out These Related Terms...

| | | | | | | |
---
Or For A Little Background...

| | | | |
---
And For Further Study...

| | | | | | |
---
Search Again?


BEIGE MUNDORTLE
[What's This?]
Today, you are likely to spend a great deal of time waiting for visits from door-to-door solicitors wanting to buy either an AC adapter for your CD player or storage boxes for your family photos. Be on the lookout for the happiest person in the room.
Your Complete Scope

More money is spent on gardening than on any other hobby.

"If I'm selecting a group, the first thing I look for is a record of achievement . . . If (candidates achieve) in small things, there's a very good chance they'll perform well in big things. "

-- Edmund Hillary, explorer

CPI-U
Consumer Price Index-All Urban Consumers

Tell us what you think about AmosWEB. Like what you see? Have suggestions for improvements? Let us know. Click the User Feedback link.