CAPITAL GAINS TAX: A tax on the difference between the sales price of a "capital" asset and it's original purchase price. The capital assets subject to this tax include such things real estate, stocks, and bonds. This tax is frequently a source of controversy between the second and third estates. In that the second estate owns and sells a lot of this sort of capital, they don't like to pay taxes on capital gains. However, because the third estate doesn't have much capital it seems like a pretty good thing to tax. Those who oppose the capital gains tax argue that it takes away funds that would be used for further capital investment, which thus inhibits economic growth. Those who favor it argue that helps equalize unfairly unequal income and wealth distributions.




























PURE COMMAND ECONOMY:
An economy, or economic system, that relies exclusively on governments to allocate resources and to answer all three questions of allocation. This theoretical ideal has no markets, government makes all allocation decisions. Then contrasting theoretical ideal is a pure market economy in which markets make all allocation decisions.
Economic Systems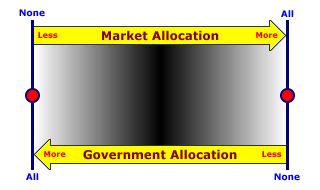 A pure command economy is a theoretical extreme on the spectrum of economic systems that does not actually exist in the real world. It does, however, provide a benchmark that can be used for comparison with real world economic systems.

In pure command economies, governments force all allocation through involuntary taxes, laws, restrictions, and regulations. Governments set forth the laws and rules. If folks do not follow the rules, then they are punished. Governments can punish those who do not follow the rules because... well... because they are the governments. Given a choice, most humans probably would rather NOT pay taxes or have their cars safety inspected. They follow government rules because they have to, because that IS the law.

The real world embodiment of a pure command economy is termed a command economy. The communistic/socialist economies of China and the former Soviet Union are primary examples of command economies.

While, in theory, resource allocation could be undertaken exclusively through markets or governments, in the real world, all economies rely on a mix of both markets and governments for allocation decisions, what is termed a mixed economy.




---
Recommended Citation:

PURE COMMAND ECONOMY, AmosWEB Encyclonomic WEB*pedia, http://www.AmosWEB.com, AmosWEB LLC, 2000-2023. [Accessed: September 21, 2023].
---
Check Out These Related Terms...

| | | | | | | |
---
Or For A Little Background...

| | | | |
---
And For Further Study...

| | | | | | |
---
Search Again?


PINK FADFLY
[What's This?]
Today, you are likely to spend a great deal of time browsing about a thrift store hoping to buy either clothing for your kitty cats or a set of luggage without wheels. Be on the lookout for small children selling products door-to-door.
Your Complete Scope

There were no banks in colonial America before the U.S. Revolutionary War. Anyone seeking a loan did so from another individual.

"Man is born to live, not to prepare for life. "

-- Boris Pasternak, writer

M3
M2 plus investment types of near monies, including large denomination certificates of deposits, institutional money market deposits, and longer term repurchase agreements and Eurodollars

Tell us what you think about AmosWEB. Like what you see? Have suggestions for improvements? Let us know. Click the User Feedback link.