MARKETING PLAN: The systematic approach of assessing opportunities, defining objectives, determining strategies for implementation, developing coordinated criteria for evaluation and controls of marketing in an organization. Components typically include: executive summary, environmental scanning and analysis, SWOT analysis, marketing objectives, marketing strategies, marketing implementation, and evaluation / control. A good marketing plan is flexible and updated on a regular schedule. It can be created separately or as a part of the business plan.




























PURE COMMAND ECONOMY:
An economy, or economic system, that relies exclusively on governments to allocate resources and to answer all three questions of allocation. This theoretical ideal has no markets, government makes all allocation decisions. Then contrasting theoretical ideal is a pure market economy in which markets make all allocation decisions.
Economic Systems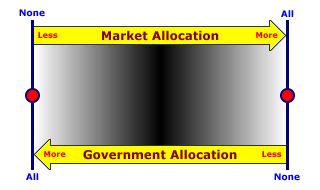 A pure command economy is a theoretical extreme on the spectrum of economic systems that does not actually exist in the real world. It does, however, provide a benchmark that can be used for comparison with real world economic systems.

In pure command economies, governments force all allocation through involuntary taxes, laws, restrictions, and regulations. Governments set forth the laws and rules. If folks do not follow the rules, then they are punished. Governments can punish those who do not follow the rules because... well... because they are the governments. Given a choice, most humans probably would rather NOT pay taxes or have their cars safety inspected. They follow government rules because they have to, because that IS the law.

The real world embodiment of a pure command economy is termed a command economy. The communistic/socialist economies of China and the former Soviet Union are primary examples of command economies.

While, in theory, resource allocation could be undertaken exclusively through markets or governments, in the real world, all economies rely on a mix of both markets and governments for allocation decisions, what is termed a mixed economy.




---
Recommended Citation:

PURE COMMAND ECONOMY, AmosWEB Encyclonomic WEB*pedia, http://www.AmosWEB.com, AmosWEB LLC, 2000-2018. [Accessed: March 21, 2018].
---
Check Out These Related Terms...

| | | | | | | |
---
Or For A Little Background...

| | | | |
---
And For Further Study...

| | | | | | |
---
Search Again?


BLACK DISMALAPOD
[What's This?]
Today, you are likely to spend a great deal of time at the confiscated property police auction wanting to buy either galvanized steel storage shelves or a large green chalkboard shaped like the state of Maine. Be on the lookout for the happiest person in the room.
Your Complete Scope

Ragnar Frisch and Jan Tinbergen were the 1st Nobel Prize winners in Economics in 1969.

"When the solution is simple, God is answering."

-- Albert Einstein

SPO
Strongly Pareto Optimal

Tell us what you think about AmosWEB. Like what you see? Have suggestions for improvements? Let us know. Click the User Feedback link.