ALLOCATION EFFECT: The goal of imposing taxes to change the allocation of resources, that is, to discourage the production, consumption, or exchange or one type of good usually in favor of another. This is one of two reasons that governments impose taxes. The other reason is the revenue effect. Because people would rather not pay taxes, taxes create disincentives to produce, consume, and exchange. If society deems that less of a particular good, such as alcohol, pollution, or cigarettes are "bad," then a tax can reduce its production and consumption, and thus change the allocation of resources.




























PURE COMMAND ECONOMY:
An economy, or economic system, that relies exclusively on governments to allocate resources and to answer all three questions of allocation. This theoretical ideal has no markets, government makes all allocation decisions. Then contrasting theoretical ideal is a pure market economy in which markets make all allocation decisions.
Economic Systems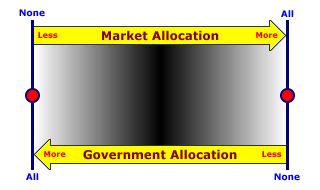 A pure command economy is a theoretical extreme on the spectrum of economic systems that does not actually exist in the real world. It does, however, provide a benchmark that can be used for comparison with real world economic systems.

In pure command economies, governments force all allocation through involuntary taxes, laws, restrictions, and regulations. Governments set forth the laws and rules. If folks do not follow the rules, then they are punished. Governments can punish those who do not follow the rules because... well... because they are the governments. Given a choice, most humans probably would rather NOT pay taxes or have their cars safety inspected. They follow government rules because they have to, because that IS the law.

The real world embodiment of a pure command economy is termed a command economy. The communistic/socialist economies of China and the former Soviet Union are primary examples of command economies.

While, in theory, resource allocation could be undertaken exclusively through markets or governments, in the real world, all economies rely on a mix of both markets and governments for allocation decisions, what is termed a mixed economy.




---
Recommended Citation:

PURE COMMAND ECONOMY, AmosWEB Encyclonomic WEB*pedia, http://www.AmosWEB.com, AmosWEB LLC, 2000-2019. [Accessed: August 19, 2019].
---
Check Out These Related Terms...

| | | | | | | |
---
Or For A Little Background...

| | | | |
---
And For Further Study...

| | | | | | |
---
Search Again?


BLUE PLACIDOLA
[What's This?]
Today, you are likely to spend a great deal of time visiting every yard sale in a 30-mile radius seeking to buy either a birthday greeting card for your uncle or a T-shirt commemorating the 2000 Presidential election. Be on the lookout for crowded shopping malls.
Your Complete Scope

Two and a half gallons of oil are needed to produce one automobile tire.

"In a restless, creative business with an emphasis on experiment and development, ideas are the lifeblood."

-- Richard Branson, Virgin Group founder

IS-LM
Investment/Saving-Liquidity/Money

Tell us what you think about AmosWEB. Like what you see? Have suggestions for improvements? Let us know. Click the User Feedback link.