DUMPING: Selling the same good to a foreign country at a lower price, often below production cost, than that charged to the domestic buyers. Dumping usually occurs because -- (1) producers in one country are trying to stay competitive with producers in another country, (2) producers in one country are trying to eliminate the producers in another country and gain a larger share of the world market, (3) producers are trying to get rid of excess stuff that they can't sell in their own country, (4) producers can make more profit by dividing sales into domestic and foreign markets, then charging each market whatever price the buyers are willing to pay.




























PURE COMMAND ECONOMY:
An economy, or economic system, that relies exclusively on governments to allocate resources and to answer all three questions of allocation. This theoretical ideal has no markets, government makes all allocation decisions. Then contrasting theoretical ideal is a pure market economy in which markets make all allocation decisions.
Economic Systems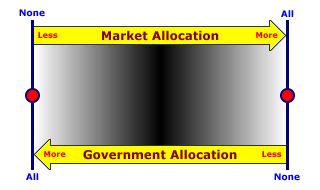 A pure command economy is a theoretical extreme on the spectrum of economic systems that does not actually exist in the real world. It does, however, provide a benchmark that can be used for comparison with real world economic systems.

In pure command economies, governments force all allocation through involuntary taxes, laws, restrictions, and regulations. Governments set forth the laws and rules. If folks do not follow the rules, then they are punished. Governments can punish those who do not follow the rules because... well... because they are the governments. Given a choice, most humans probably would rather NOT pay taxes or have their cars safety inspected. They follow government rules because they have to, because that IS the law.

The real world embodiment of a pure command economy is termed a command economy. The communistic/socialist economies of China and the former Soviet Union are primary examples of command economies.

While, in theory, resource allocation could be undertaken exclusively through markets or governments, in the real world, all economies rely on a mix of both markets and governments for allocation decisions, what is termed a mixed economy.




---
Recommended Citation:

PURE COMMAND ECONOMY, AmosWEB Encyclonomic WEB*pedia, http://www.AmosWEB.com, AmosWEB LLC, 2000-2018. [Accessed: September 18, 2018].
---
Check Out These Related Terms...

| | | | | | | |
---
Or For A Little Background...

| | | | |
---
And For Further Study...

| | | | | | |
---
Search Again?


BROWN PRAGMATOX
[What's This?]
Today, you are likely to spend a great deal of time at the confiscated property police auction seeking to buy either an AC adapter for your CD player or storage boxes for your family photos. Be on the lookout for crowded shopping malls.
Your Complete Scope

In his older years, Andrew Carnegie seldom carried money because he was offended by its sight and touch.

"As the births of living creatures at first are ill-shapen, so are all innovations, which are the births of time. "

-- Sir Francis Bacon, philosopher

MAR
Minimum Acceptable Revenue

Tell us what you think about AmosWEB. Like what you see? Have suggestions for improvements? Let us know. Click the User Feedback link.