EFFICIENT SEARCH, DETERMINANTS: Two factors that affect information search are (1) the amount of purchase and (2) frequency of purchase. Goods that are relatively expensive increase the potential benefit of search. For example, saving 10 percent on the purchase price of a house is significantly more than saving 10 percent on the price of bar of soap. Buyers are thus likely to undertake extensive search when buying a house, but not for soap. Goods that are purchased more frequently also don't require extensive search activities. Since buyers already know the "best places" to buy the "highest quality" products at the "lowest prices" for frequently purchased goods, little can be gained from search.




























PURE COMMAND ECONOMY:
An economy, or economic system, that relies exclusively on governments to allocate resources and to answer all three questions of allocation. This theoretical ideal has no markets, government makes all allocation decisions. Then contrasting theoretical ideal is a pure market economy in which markets make all allocation decisions.
Economic Systems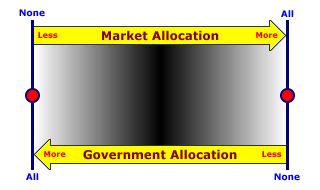 A pure command economy is a theoretical extreme on the spectrum of economic systems that does not actually exist in the real world. It does, however, provide a benchmark that can be used for comparison with real world economic systems.

In pure command economies, governments force all allocation through involuntary taxes, laws, restrictions, and regulations. Governments set forth the laws and rules. If folks do not follow the rules, then they are punished. Governments can punish those who do not follow the rules because... well... because they are the governments. Given a choice, most humans probably would rather NOT pay taxes or have their cars safety inspected. They follow government rules because they have to, because that IS the law.

The real world embodiment of a pure command economy is termed a command economy. The communistic/socialist economies of China and the former Soviet Union are primary examples of command economies.

While, in theory, resource allocation could be undertaken exclusively through markets or governments, in the real world, all economies rely on a mix of both markets and governments for allocation decisions, what is termed a mixed economy.




---
Recommended Citation:

PURE COMMAND ECONOMY, AmosWEB Encyclonomic WEB*pedia, http://www.AmosWEB.com, AmosWEB LLC, 2000-2021. [Accessed: December 3, 2021].
---
Check Out These Related Terms...

| | | | | | | |
---
Or For A Little Background...

| | | | |
---
And For Further Study...

| | | | | | |
---
Search Again?


GRAY SKITTERY
[What's This?]
Today, you are likely to spend a great deal of time at a going out of business sale wanting to buy either a set of luggage without wheels or a how-to book on wine tasting. Be on the lookout for spoiled cheese hiding under your bed hatching conspiracies against humanity.
Your Complete Scope

In the Middle Ages, pepper was used for bartering, and it was often more valuable and stable in value than gold.

"If a man hasn't discovered something that he will die for, he isn't fit to live. "

-- Martin Luther King Jr., clergyman

AAXICO
American Air Export and Import Company

Tell us what you think about AmosWEB. Like what you see? Have suggestions for improvements? Let us know. Click the User Feedback link.