RIVAL CONSUMPTION: Consumption of a good by one person imposes a cost on, or prevents consumption of the good by, another person. Some goods, like food, have extremely rival consumption. One person, and only one person, gets the benefit. Other goods, like national defense, have no consumption rivalry, everyone can benefit simultaneously without imposing a cost on others. This is one of the two key characteristics of a good (the other is excludability) that distinguishes between common-property goods, near-public goods, private goods, and public goods.





























RECOVERY:
The early phase of a business-cycle expansion that occurs shortly after a contraction has ended. During a recovery, the unemployment rate remains relatively high, but is beginning to fall, and real gross domestic product begins to increase, usually rapidly. However, because the contraction remains fresh in the minds of many, it may not be immediately clear that the trough of the contraction has actually ended.
A business-cycle recovery is a transitional period in which the economy is beginning an expansion, but many of the problems of the preceding contraction continue to linger. The unemployment rate generally remains at or close to their contractionary highs, but it is falling. Aggregate production remains low, but it is rising.

The public is "guardedly optimistic" during a recovery, hoping but not absolutely certain that the contraction has ended and that an expansion is underway. Leading indicators might suggest that the economy is heading into an expansion, but a clear confirmation usually occurs only several months after the fact.
A Graphical Highlight
Moving On Up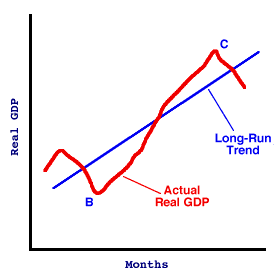 The diagram at the right presents a simple business cycle. The red line represents the value of real gross domestic product (real GDP) over a period of several months. The blue line is potential real GDP, the amount of real GDP that the economy can produce by fully employing all resources.

Click the [Recovery] button to highlight the early recovery of the expansion phase of this business cycle. The shaded segment of the real GDP line between points B and C is the expansion. Clearly real GDP increases over this segment. The early portion of this expansion, near the business-cycle trough, is the recovery.

While there is no official designation of a recovery like there is for expansion and contraction, that portion of real GDP between point B and the blue long-run trend line of potential real GDP can be thought of as the recovery. Over this segment, real GDP lies beneath the long-run trend line and is moving back to potential real GDP and full employment.

While it is graphically convenient to mark the end of the recovery by the intersection of the red actual real GDP line and the blue potential real GDP line, there is seldom a clear-cut end to a recovery like there is for a contraction-ending trough or an expansion-ending peak. A recovery is merely the early part of an expansion. Identifying the end of a recovery is much like identifying the end of childhood when a child becomes an adult.




---
Recommended Citation:

RECOVERY, AmosWEB Encyclonomic WEB*pedia, http://www.AmosWEB.com, AmosWEB LLC, 2000-2023. [Accessed: September 26, 2023].
---
Check Out These Related Terms...

| | | | | | | | | |
---
Or For A Little Background...

| | | | | | |
---
And For Further Study...

| | | | | | | | | | |
---
Related Websites (Will Open in New Window)...

| | | |
---
Search Again?




ORANGE REBELOON
[What's This?]
Today, you are likely to spend a great deal of time waiting for visits from door-to-door solicitors trying to buy either storage boxes for your computer software CDs or a set of tires. Be on the lookout for gnomes hiding in cypress trees.
Your Complete Scope

A lump of pure gold the size of a matchbox can be flattened into a sheet the size of a tennis court!

"My life as a writer consists of 1/8 talent and 7/8 discipline. "

-- John Irving, writer

U
Unemployment

Tell us what you think about AmosWEB. Like what you see? Have suggestions for improvements? Let us know. Click the User Feedback link.