LIMITED PARTNERSHIP: A partnership in which one or more of the partners/owners has/have limited liability. This differs from regular partnerships in which each partner has unlimited liability. The limited partnership legal structure was created to provide liability protection to "partners" seeking investment opportunities, who did not want to participate in the actual management of the firm. While these limited partners are very much like corporation shareholders, the difference is that at least one partner must have unlimited liability.





























TROUGH:
The transition of a business-cycle contraction to a business-cycle expansion. The end of a contraction carries this descriptive term of trough, or the lowest level of economic activity reached in recent times. A trough is one of two turning points. The other, the transition from expansion to contraction, is a peak. Turning points are important because they represent the transition from bad to good or good to bad.
A business-cycle trough means the economy has reached the lowest level of production in recent times. Fortunately, because a trough is a turning point, it means that an expansion is about to begin. Even though a trough is the "lowest," this is not such a bad thing for the economy. It means the economy is making the turn toward prosperity.
A Graphical Bottom
The Lowest Turning Point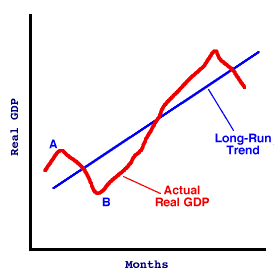 The diagram at the right presents a simple business cycle. The red line represents the value of real gross domestic product (real GDP) over a period of several months. The blue line is potential real GDP, the amount of real GDP that the economy could produce by fully employing all resources. A business-cycle contraction is indicated as the decrease in real GDP from point A to point B.

While contractions are generally bad, fortunately they do not last forever. At least none have so far. There is always fear that the "current" contraction will not end. And people sometimes dismally think that it will not. But so far every contraction has ended. A click of the [Trough] button highlights the business cycle trough at point B which ends the contraction displayed here.
A Lot of Unemployment
Because the trough of a business cycle inevitably lies below the long-run trend, an increase in unemployment occurs. Because the long-run trend represents full employment, when real GDP is less than the potential real GDP, then the economy is trying to produce less than it could by fully employ all resources. The result is unemployment.
Tracking the Numbers
Like other aspects of business cycles, a trough is officially identified by the official business-cycle watchers at the National Bureau of Economic Research. Inevitably an official trough is only officially designated a year or two after the fact, once all of the relevant data has been processed and analyzed.

While knowing when a trough did occur is useful information, anticipating when one will occur is also helpful. Knowing when the current contraction will end and the next expansion will begin makes it possible for consumers and businesses to plan for the ensuing good times. Forecasting a trough is perhaps most useful for government leaders who can implement timely stabilization policies.

Forecasting upcoming troughs is commonly attempted using leading economic indicators, a series of ten economic statistics that tend to reach their "trough" three to twelve months before the actual business cycle. More sophisticated forecasts are also provided by complex mathematical models of the economy.




---
Recommended Citation:

TROUGH, AmosWEB Encyclonomic WEB*pedia, http://www.AmosWEB.com, AmosWEB LLC, 2000-2021. [Accessed: September 22, 2021].
---
Check Out These Related Terms...

| | | | | | | | | |
---
Or For A Little Background...

| | | | | | | | | | |
---
And For Further Study...

| | | | | | |
---
Search Again?




BEIGE MUNDORTLE
[What's This?]
Today, you are likely to spend a great deal of time searching for rummage sales seeking to buy either one of those memory foam pillows or a remote controlled train set. Be on the lookout for infected paper cuts.
Your Complete Scope

In the late 1800s and early 1900s, almost 2 million children were employed as factory workers.

"Always remember that striving and struggle precede success, even in the dictionary. "

-- Sarah Ban Breathnach, writer

JLE
Journal of Law and Economics

Tell us what you think about AmosWEB. Like what you see? Have suggestions for improvements? Let us know. Click the User Feedback link.