OAS: (Organization of American States ) In 1948, 21 nations of the hemisphere met in Bogota, Colombia, to adopt the Charter of the Organization of American States (OAS). Since then, the OAS has expanded to include the nations of the Caribbean, as well as Canada. Currently, all 35 independent countries of the Americas have ratified the OAS Charter and belong to the Organization. Cuba remains a member, but its government has been excluded from participation in the OAS since 1962. The OAS is the region's premier political forum for multilateral dialogue and action. Among OAS' major goals they work for strengthening freedom of speech and thought as a basic human right, promoting greater participation by civil society in decision-making at all levels of government, improving cooperation to address the problem of illegal drugs and supporting the process to create a Free Trade Area of the Americas.




























AVERAGE FACTOR COST CURVE, PERFECT COMPETITION:
A curve that graphically represents the relation between average factor cost incurred by a perfectly competitive firm for employing an input and the quantity of input used. Because average factor cost is essentially the price of the input, the average factor cost curve is also the supply curve for the input. The average factor cost curve for a perfectly competitive firm with no market control is horizontal. The average revenue curve for a firm with market control is positively sloped.
Perfect competition is a market structure with a large number of small participants (buyers and sellers). The good exchanged in the market is identical, regardless of who sells or who buys. Participants have perfect knowledge and perfect mobility into and out of the market. These conditions mean perfectly competitive buyers are price takers, they have no market control and must pay the going market price for all inputs bought.

The average factor cost curve reflects the degree of market control held by a firm. For a perfectly competitive firm with no market control, the average factor cost curve is a horizontal line. For firms with market control, especially monopsony, the average factor cost curve is positively sloped.

Average Factor Cost Curve,
Perfect Competition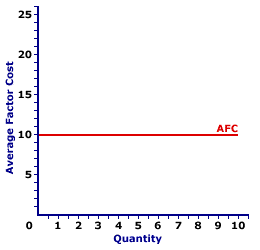 A typical average factor cost for perfect competition is displayed in the exhibit to the right. This particular average factor cost curve is that for labor hired by Maggie's Macrame Shoppe. Maggie's Macrame Shoppe is one of thousands of small retail stores in the greater Shady Valley metropolitan area that hires labor with identical skills. As such, Maggie pays the going wage for labor.

The vertical axis measures average factor cost and the horizontal axis measures the quantity of input (workers). Although quantity on this particular graph stops at 10 workers, the nature of perfect competition indicates it could easily go higher.

First and foremost, the average factor cost curve is horizontal at the going factor price of $10. This indicates that if Maggie hires 1 worker, then she pays an average factor cost of $10. Alternatively, if she hires 10 workers, then she pays an average factor cost of $10. Should she hire 100 workers, then she might move well beyond the graph, but she pays an average factor cost of $10.

The "curve" is actually a "straight line" because Maggie is a price taker in the labor market. She pays $10 for each worker whether she hires 1 worker or 10 workers or 100 workers. The constant price is what makes Maggie's average factor cost curve a straight line, and which indicates that Maggie has no market control.




---
Recommended Citation:

AVERAGE FACTOR COST CURVE, PERFECT COMPETITION, AmosWEB Encyclonomic WEB*pedia, http://www.AmosWEB.com, AmosWEB LLC, 2000-2018. [Accessed: September 18, 2018].
---
Check Out These Related Terms...

| | | | | | | | | | |
---
Or For A Little Background...

| | | | | | | | | | | |
---
And For Further Study...

| | | | | | | | |
---
Search Again?


ORANGE REBELOON
[What's This?]
Today, you are likely to spend a great deal of time at a garage sale hoping to buy either an AC adapter for your CD player or storage boxes for your family photos. Be on the lookout for fairy dust that tastes like salt.
Your Complete Scope

A scripophilist is one who collects rare stock and bond certificates, usually from extinct companies.

"As the births of living creatures at first are ill-shapen, so are all innovations, which are the births of time. "

-- Sir Francis Bacon, philosopher

SAFEX
South African Futures Exchange

Tell us what you think about AmosWEB. Like what you see? Have suggestions for improvements? Let us know. Click the User Feedback link.