NATURAL MONOPOLY: A special type of monopoly that's able to lower its price when it produces and sells a larger quantity. This somewhat remarkable ability results because a natural monopoly uses a great deal of capital. In that capital carries an up front cost that must be paid regardless of production, a natural monopoly can spread these costs over larger quantity--if it produces more. The larger the quantity sold, the lower the cost for each unit. A single natural monopoly is thus able to produce and supply a good at a lower cost, and price, than two or more firms. In other words, if two or more firms try to supply the same good, the market will "naturally" end up with just one.




























MARGINAL COST OF SEARCH:
The incremental cost incurred by additional search effort is the marginal cost of search. Marginal cost of search, also termed marginal search cost, is comparable to marginal cost of short-run production analysis. Marginal cost of search increases with an increase in search effort and is represented by the marginal cost of search curve. This is one half of the efficient information search decision. The other is marginal benefit of search.
Marginal cost of search is the additional cost generated through extra effort directed toward the production of, or search for, information. The cost of information search includes the opportunity cost of using the four factors of production -- labor, capital, land, and entrepreneurship. The extra cost generated by search effort increases with the amount of search.

The marginal cost of search is combined with the marginal benefit of search to identify the efficient amount of information search. Acquiring information is beneficial, but doing so incurs a cost. Information is produced. Information is consumed. Efficiency is achieved by equating the incremental opportunity cost incurred in the production or acquisition of information (marginal cost of search) with the increment benefit generated from the information (marginal benefit of search).
Opportunity Cost of Resources
The Curve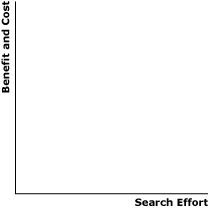 One half of the efficient search decision is based on the cost incurred in the search. This is embodied in the marginal cost of search. Information search incurs the same types of cost as the production of most goods:
Labor: An important component of search cost is human search effort. The time a person spends making phone calls, reading through a newspaper, and driving around town is an important search cost. And of course, comparable to other goods, the production of information goods such as newspapers, television programs, and advertising all require labor effort.


Capital: The cost of using assorted capital -- buildings, vehicles, tools, and equipment -- is incurred for search effort as it is for the production of other goods. A car is used to drive from store to store. A telephone is used to call about prices. Printing presses are used to produce newspapers and magazines. Computers are used to access information over the Internet.


Land: The cost of land, especially the cost of raw materials, is the third search effort cost. The cost of gasoline to fuel vehicles, of the paper used in printed materials, of the coal used to generate electricity used to operated computers, are all information search cost components.


Entrepreneurship: Lastly, the normal profit incurred in the use of entrepreneurial services is as important for information search and production is for any other goods.
Marginal cost of search increases with an increase in search effort, comparable to increasing marginal cost for any type of production. Additional search effort requires additional scarce resources with alternative uses and increasing opportunity cost. For example, the first hour of searching for the lowest price of Wacky Willy Stuffed Amigos might entail an inexpensive walk to a nearby drug store. The next hour might then require a more distant and expensive drive to a discount super center. Further searching requires additional increasingly cost resources.
Marginal Cost of Search Curve
The marginal cost of search is represented by the positively-sloped marginal cost curve. Click the [MCS] button to reveal this curve. The MCS curve is positively-sloped like a standard market supply curve.


---
Recommended Citation:

MARGINAL COST OF SEARCH, AmosWEB Encyclonomic WEB*pedia, http://www.AmosWEB.com, AmosWEB LLC, 2000-2018. [Accessed: April 26, 2018].
---
Check Out These Related Terms...

| | | | | | | | | | |
---
Or For A Little Background...

| | | | | | | | | |
---
And For Further Study...

| | | | | | | | | | | | | | | |
---
Search Again?


ORANGE REBELOON
[What's This?]
Today, you are likely to spend a great deal of time surfing the Internet trying to buy either a computer that can play video games and burn DVDs or a black duffle bag with velcro closures. Be on the lookout for rusty deck screws.
Your Complete Scope

Two and a half gallons of oil are needed to produce one automobile tire.

"Sometimes when you innovate, you make mistakes. It is best to admit them quickly and get on with improving your other innovations. "

-- Steve Jobs, Apple Computer founder

I
Income

Tell us what you think about AmosWEB. Like what you see? Have suggestions for improvements? Let us know. Click the User Feedback link.