LABOR: One of the four basic categories of resources, or factors of production (the other three are capital, land, and entrepreneurship). Labor is the services and efforts of humans that are used for production. While labor is commonly thought of as those who work in factories, it includes all human efforts (except entrepreneurship), such as those provided by clerical workers, technicians, professionals, managers, and even company presidents.




























PURE COMMAND ECONOMY:
An economy, or economic system, that relies exclusively on governments to allocate resources and to answer all three questions of allocation. This theoretical ideal has no markets, government makes all allocation decisions. Then contrasting theoretical ideal is a pure market economy in which markets make all allocation decisions.
Economic Systems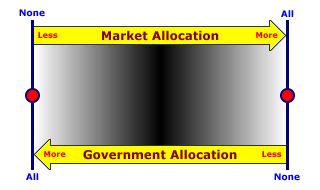 A pure command economy is a theoretical extreme on the spectrum of economic systems that does not actually exist in the real world. It does, however, provide a benchmark that can be used for comparison with real world economic systems.

In pure command economies, governments force all allocation through involuntary taxes, laws, restrictions, and regulations. Governments set forth the laws and rules. If folks do not follow the rules, then they are punished. Governments can punish those who do not follow the rules because... well... because they are the governments. Given a choice, most humans probably would rather NOT pay taxes or have their cars safety inspected. They follow government rules because they have to, because that IS the law.

The real world embodiment of a pure command economy is termed a command economy. The communistic/socialist economies of China and the former Soviet Union are primary examples of command economies.

While, in theory, resource allocation could be undertaken exclusively through markets or governments, in the real world, all economies rely on a mix of both markets and governments for allocation decisions, what is termed a mixed economy.




---
Recommended Citation:

PURE COMMAND ECONOMY, AmosWEB Encyclonomic WEB*pedia, http://www.AmosWEB.com, AmosWEB LLC, 2000-2021. [Accessed: April 13, 2021].
---
Check Out These Related Terms...

| | | | | | | |
---
Or For A Little Background...

| | | | |
---
And For Further Study...

| | | | | | |
---
Search Again?


BLUE PLACIDOLA
[What's This?]
Today, you are likely to spend a great deal of time watching the shopping channel hoping to buy either a solid oak entertainment center or a remote controlled ceiling fan. Be on the lookout for letters from the Internal Revenue Service.
Your Complete Scope

North Carolina supplied all the domestic gold coined for currency by the U.S. Mint in Philadelphia until 1828.

"Education is the ability to listen to almost anything without losing your temper or your self-confidence. "

-- Robert Frost

IRPP
Institute for Research on Public Policy

Tell us what you think about AmosWEB. Like what you see? Have suggestions for improvements? Let us know. Click the User Feedback link.