NEED: This is often thought of as a physiological or biological requirement for maintaining life, such as the need for air, water, food, shelter, and sleep. Satisfaction is achieved by fulfilling needs. Physiological needs should be contrasted with psychological wants that make life more enjoyable but are not necessary to stay alive. However, when push comes to shove, and the nitty gets down to the gritty, it matters very little to markets if people need goods or want goods, so long as they are motivated to satisfy them. This motivation is what drives economic activity.




























RECOVERY:
The early phase of a business-cycle expansion that occurs shortly after a contraction has ended. During a recovery, the unemployment rate remains relatively high, but is beginning to fall, and real gross domestic product begins to increase, usually rapidly. However, because the contraction remains fresh in the minds of many, it may not be immediately clear that the trough of the contraction has actually ended.
A business-cycle recovery is a transitional period in which the economy is beginning an expansion, but many of the problems of the preceding contraction continue to linger. The unemployment rate generally remains at or close to their contractionary highs, but it is falling. Aggregate production remains low, but it is rising.

The public is "guardedly optimistic" during a recovery, hoping but not absolutely certain that the contraction has ended and that an expansion is underway. Leading indicators might suggest that the economy is heading into an expansion, but a clear confirmation usually occurs only several months after the fact.
A Graphical Highlight
Moving On Up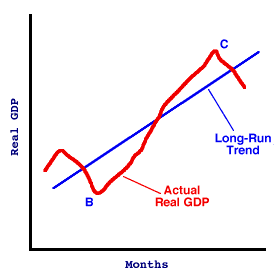 The diagram at the right presents a simple business cycle. The red line represents the value of real gross domestic product (real GDP) over a period of several months. The blue line is potential real GDP, the amount of real GDP that the economy can produce by fully employing all resources.

Click the [Recovery] button to highlight the early recovery of the expansion phase of this business cycle. The shaded segment of the real GDP line between points B and C is the expansion. Clearly real GDP increases over this segment. The early portion of this expansion, near the business-cycle trough, is the recovery.

While there is no official designation of a recovery like there is for expansion and contraction, that portion of real GDP between point B and the blue long-run trend line of potential real GDP can be thought of as the recovery. Over this segment, real GDP lies beneath the long-run trend line and is moving back to potential real GDP and full employment.

While it is graphically convenient to mark the end of the recovery by the intersection of the red actual real GDP line and the blue potential real GDP line, there is seldom a clear-cut end to a recovery like there is for a contraction-ending trough or an expansion-ending peak. A recovery is merely the early part of an expansion. Identifying the end of a recovery is much like identifying the end of childhood when a child becomes an adult.




---
Recommended Citation:

RECOVERY, AmosWEB Encyclonomic WEB*pedia, http://www.AmosWEB.com, AmosWEB LLC, 2000-2023. [Accessed: December 2, 2023].
---
Check Out These Related Terms...

| | | | | | | | | |
---
Or For A Little Background...

| | | | | | |
---
And For Further Study...

| | | | | | | | | | |
---
Related Websites (Will Open in New Window)...

| | | |
---
Search Again?


RED AGGRESSERINE
[What's This?]
Today, you are likely to spend a great deal of time looking for a downtown retail store looking to buy either a how-to book on fine dining or a coffee cup commemorating the first day of winter. Be on the lookout for the happiest person in the room.
Your Complete Scope

The Dow Jones family of stock market price indexes began with a simple average of 11 stock prices in 1884.

"A ship ought not to be held by one anchor, nor life by a single hope. "

-- Epictetus, philosopher

IRPP
Institute for Research on Public Policy

Tell us what you think about AmosWEB. Like what you see? Have suggestions for improvements? Let us know. Click the User Feedback link.