Today's Index
Yesterday's Index
343.5


Help us compile the AmosWEB Free Lunch Index. Tell us about your last lunch.

More About the Index


ADB: An abbreviation that stands for either the African Development Bank the Asian Development Bank. The African Development Bank is a regional multilateral development institution engaged in promoting the economic development and social progress of its member countries in Africa. The Bank, established in 1964, started functioning in 1966 with its Headquarters in Abidjan, Cote d' lvoire. The Bank borrows funds from the international money and capital markets. Its shareholders are the 53 countries in Africa as well as 24 countries in the Americas, Europe, and Asia. The Asian Development Bank is a multilateral development finance institution dedicated to reducing poverty in Asia and the Pacific that engages in mostly public sector lending for development purposes in its developing member countries. They pursue this goal by helping to improve the quality of people's lives providing loans and technical assistance for a broad range of development activities. ADB raises fund through bond issues on the world's capital markets but they also rely on members' contributions. The ADB was established in 1966 and has its headquarters in Manila, Philippines. As of September of 2003, the ADB had 58 member countries.




























KEYNESIAN AGGREGATE SUPPLY CURVE:
An aggregate supply curve--a graphical representation of the relation between real production and the price level--that reflects the basic principles of Keynesian economics. The Keynesian aggregate supply curve actually comes in two versions. The basic version is reverse-L shaped, with a horizontal segment connected to a vertical segment at a sharp corner. The modified version is also reverse-L shaped, but the vertical and horizontal segments have positive slopes and connecting corner is rounded. An alternative is the classical aggregate supply curve.
An aggregate supply curve is a graphical representation of the relation between real production and the price level. Keynesian economics implies that the aggregate supply curve contains two segments. One segment is more or less horizontal, indicating that price rigidity in the downward direction results in a reduction in real production. The other segment is more of less vertical, indicating that full employment is more or less maintained at higher price levels.

Keynesian AS Curve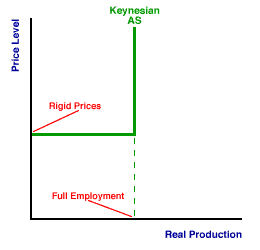 The exhibit to the right illustrates a basic Keynesian aggregate supply (AS) curve. The obvious characteristic is that the curve is shaped like a reserve L, with a horizontal segment joining a vertical segment at a sharp corner. The horizontal segment of the curve reflects the Keynesian notion that a decline in demand leads to a decline in real production, primarily because prices remain constant. The vertical segment is a recognition that the total quantities of resources are fixed and that total production is ultimately limited, which results in full employment.

While this reverse-L shaped curve captures the original essence of Keynesian economics, the Keynesian view has changed over the years. A more refined version of the Keynesian aggregate supply curve can be illustrated by clicking the [New Keynesian AS Curve] button.

This new curve retains the same basic reverse-L shape, but the horizontal segment has a slight, positive slope rather than being perfectly horizontal and the vertical segment has a steep, positive slope rather than being perfectly vertical. Moreover, the vertical and horizontal segments are joined by a curved segment rather than a sharp corner.

This version of the Keynesian aggregate supply curve is both more realistic and looks a great deal like the short-run aggregate supply curve used in modern aggregate market analysis.




---
Recommended Citation:

KEYNESIAN AGGREGATE SUPPLY CURVE, AmosWEB Encyclonomic WEB*pedia, http://www.AmosWEB.com, AmosWEB LLC, 2000-2014. [Accessed: October 23, 2014].
---
Check Out These Related Terms...

| | | | | | |
---
Or For A Little Background...

| | | | | | | | | | |
---
And For Further Study...

| | | | | | | | | | | |
---
Search Again?


State of the ECONOMY

Personal Income
July 2014
$14,799.0 billion
Up 0.2% from June 2014

RED AGGRESSERINE
[What's This?]
Today, you are likely to spend a great deal of time strolling around a discount warehouse buying club wanting to buy either a 50-foot blue garden hose or a turbo-powered vacuum cleaner. Be on the lookout for slow moving vehicles with darkened windows.
Your Complete Scope

Three-forths of the gold mined each year is used to manufacture jewelry.

"When we do the best we can, we never know what miracle is wrought in our life or in the life of another. "

-- Helen Keller, lecturer, author

ABE
Association of Business Executives

Tell us what you think about AmosWEB. Like what you see? Have suggestions for improvements? Let us know. Click the User Feedback link.