FAVORABLE BALANCE OF TRADE: An imbalance in a nation's balance of trade in which the payments for merchandise exports received by the country exceed payments for merchandise imports paid by the country. This is also termed a balance of trade surplus. It's considered favorable because more goods are exported out of the country than are imported in, meaning that foreign production is replaced with domestic production, which then increases domestic employment and income. A balance of trade surplus is often the source of a balance of payments surplus.




























AVERAGE PRODUCT CURVE:
A curve that graphically illustrates the relation between average product and the quantity of the variable input, holding all other inputs fixed. This curve indicates the per unit output at each level of the variable input. The average product curve is one of three related curves used in the analysis of the short-run production of a firm. The other two are total product curve and marginal product curve.
The average product curve illustrates how average product is related to a variable input. While the standard analysis of short-run production relates average product to labor, an average product curve can be constructed for any variable input.

Average Product Curve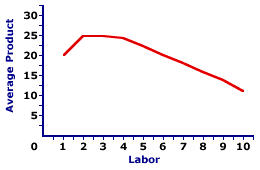 The diagram to the right graphically represents the relation between average product and the variable input. This particular curve is derived from the hourly production of Super Deluxe TexMex Gargantuan Tacos (with sour cream and jalapeno peppers) as Waldo's TexMex Taco World restaurant employs additional workers. The number of workers, measured on the horizontal axis, ranges from 0 to 10 and the average Gargantuan Taco production per worker, measured on the vertical axis, ranges from 0 to 25.

The shape of this average product curve is worth noting. For the first two workers of variable input, average product increases. This is reflected in a positive slope of the average product curve. After the third worker, the average product declines. This is seen as a negative slope. While average product continues to decline, it never reaches zero nor becomes negative. To do so would require total product to become zero and negative, which just does not happen.

The hump-shape of the average product curve indirectly results from increasing and decreasing marginal returns. The upward-sloping portion of the average product curve, up to the second worker, is indirectly due to increasing marginal returns. The downward-sloping portion of the average product curve, after the third worker, is indirectly due to decreasing marginal returns. and the law of diminishing marginal returns.




---
Recommended Citation:

AVERAGE PRODUCT CURVE, AmosWEB Encyclonomic WEB*pedia, http://www.AmosWEB.com, AmosWEB LLC, 2000-2018. [Accessed: April 25, 2018].
---
Check Out These Related Terms...

| | | | | | | | | |
---
Or For A Little Background...

| | | | | | | | | | | | | |
---
And For Further Study...

| | | | | | | |
---
Search Again?


BEIGE MUNDORTLE
[What's This?]
Today, you are likely to spend a great deal of time flipping through the yellow pages seeking to buy either a coffee cup commemorating next Thursday or a replacement remote control for your stereo system. Be on the lookout for strangers with large satchels of used undergarments.
Your Complete Scope

Francis Bacon (1561-1626), a champion of the scientific method, died when he caught a severe cold while attempting to preserve a chicken by filling it with snow.

"The greatest things ever done on Earth have been done little by little. "

-- William Jennings Bryan

SAFEX
South African Futures Exchange

Tell us what you think about AmosWEB. Like what you see? Have suggestions for improvements? Let us know. Click the User Feedback link.